'Bar Rescue' star: Seismic shift will rattle Vegas' nightclubs and bars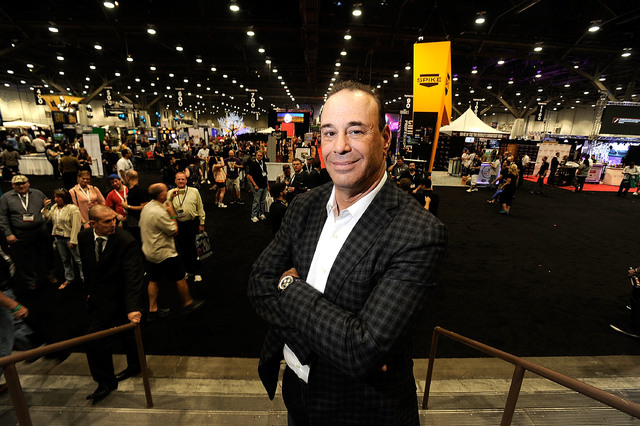 Jon Taffer of "Bar Rescue" says the writing is on the wall: Vegas nightclubs will experience a decline in allure, while bars rise up to replace clubs in relevancy.
On Monday, Taffer launched his annual Nightclub & Bar Show in Vegas. Ludacris opened the convention. Today, Adam Carolla cuts the ceremonial ribbon, there's partying at Tryst nightclub, followed by a Calvin Harris DJ set at Hakkasan nightclub.
So what's the big trend Taffer spots?
"Eight of 10 people who come to our convention want to go to a bar more than a nightclub. They're over 35. They don't want to hear thumping all night long. Conventioneers want to sit in a bar, socialize, network," Taffer says.
Taffer and I are on the same page. Since I moved here in 2000, the biggest frustration locals and tourists convey to me in emails and in person is: What bar can an adult over 25 go to, to have a drink in a cool environment full of sexy/easy/friendly/powerful people?
I used to refer people to the Chandelier Bar in the Cosmopolitan, but that supernova dimmed. Years ago, I sent people to V Bar in The Venetian and MGM's Tabu until they were ruined by L.A. clubbers, and even to MGM's open-air bar when it was hot for five minutes, and the goofy fun "Star Trek" bar, long gone from the LVH.
The problem is, ultra bars burn out or get bastardized into something dumb. To be clear, I'm talking about fancy bars. If you have fun in Margaritaville, I salute you. There's nothing wrong with those bars. I am a fan of the smoky little Stage Door. But we're talking about getting-dressed-up bars.
I asked Taffer (a longtime nightclub runner) if the demographic of bar-seeking people is big enough, rich enough or young enough for hotel-casinos to spend more money making more awesome bars.
He says the sweet spot of the gaming demo actually aligns more with bars than with clubs.
"So if they'll fund a nightclub, I suggest they'll fund a bar," he says.
Taffer is fond of saying Vegas has the greatest clubs and restaurants in the world.
"But nobody ever says Las Vegas has the greatest bars in the world. There has been a black hole in the bar business in Las Vegas, particularly on the Strip in tourist areas," he says.
For instance, he likes it that the fancy yet accessible Double Barrel Roadhouse opened in front of Monte Carlo.
"Don't get me wrong. I'm a nightclub guy," Taffer says. "But I'm suggesting there has been a demographic and experiential void. It's good to see that hole is starting to get filled by some good bars."
Taffer himself plans to open a bar in months, as he is in final talks with, he says, "one of the two big casino operators" in Vegas.
As for clubs?
"There's a concern in the general industry about, 'What happens when the DJ thing really starts to turn?' It seems to be flattening a little. I mean, how many times are people gonna come see Tiesto? How many times are you going to drive here for that?
"It starts to become a been-there-done-that, a little bit.
"I think two years from now, these nightclubs are not going to be full because of the nightclub DJ. I just don't believe that trend — these pay rates and this entertainment focus — can last forever."
I said to Taffer another problem clubs face is they haven't done a lot of good community partnering in Vegas, so many institutions won't care if clubs begin to disintegrate.
"I can tell you they spend a lot on billboards in L.A.," Taffer says.
Exactly. Los Angeles billboard salesmen are really counting on Vegas clubs to succeed.
Doug Elfman's column appears on Tuesdays, Thursdays and Saturdays. Email him at delfman@reviewjournal.com. He blogs at reviewjournal.com/entertainment/reel.