Beckford returns to 'Chippendales'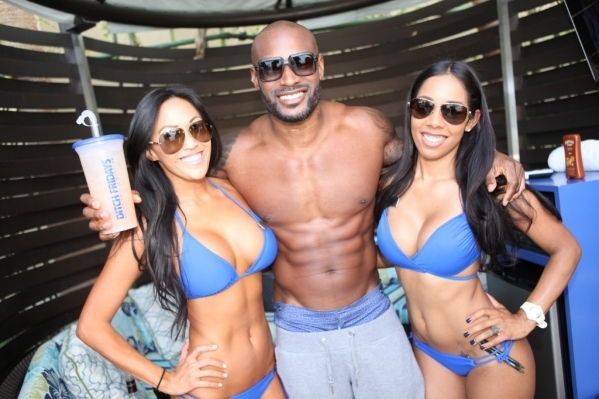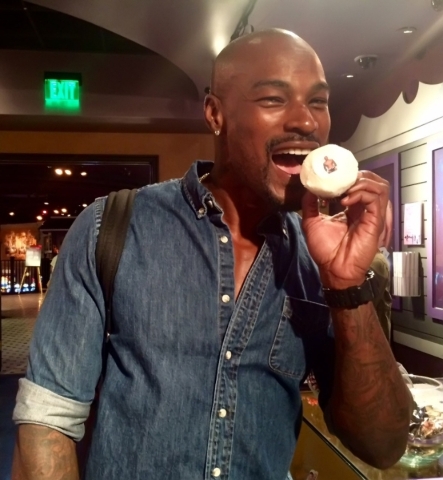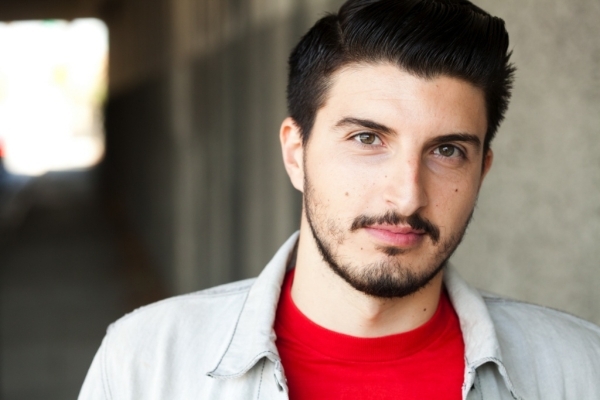 Model Tyson Beckford will return to Rio's "Chippendales" show for another month of "hey girl" guest dancing, as he did in in May when he signed up for the Full Vegas of going strip clubbing, judging bikini models and getting into a gun-video spat with the perfectly reasonable singer Chris Brown.
Let me catch you up on all that.
Beckford tore off his shirt at "Chippendales" for a limited engagement in May.
During his off hours, he posed for a reportedly innocent selfie with Karrueche Tran (ex-girlfriend of Brown) at the Palms hotel. That led to Brown's threatening Beckford on Twitter, so Beckford posted a retaliatory video of himself firing a rifle at a gun range, then Brown didn't say anything further. Guns are scary.
Beckford also judged the "Bikini Battle Royale" at Wet Republic pool, he took friends to Crazy Horse III strip club for sushi and vodka, flexed his pecks in Mariah Carey's "Infinity" Vegas video, dined with TV chef Giada De Laurentiis at her Cromwell restaurant, told me how he keeps in shape for an interview column, went to the "2015 Gumball 3000 Rally" race party at XS nightclub and hung with DJ Zedd, danced at club Omnia, took buds to club Surrender, went shirtless for cameras at Encore Beach Club and "Ditch Friday" pool party, chatted with Sports Illustrated models at Foxtail Pool Club, went to Kaskade's grand opening of XS nightclub's "Nightswim," saw the Britney show and met her, went "surfing" at FlowRider Wave-in-a-Box, went to "iHeartRadio Summer Pool Party" (where Brown also went but nothing weird happened), and he made an appearance at Sprinkles Cupcakes.
My point: Not since Holly Madison's debut at Planet Hollywood, years ago, has a celebrity transplant done up Vegas in a way that mixed so much pleasure with so many national sightings in a short burst of time. The guy is a machine. He's back on stage here Aug. 27-Sept. 27.
COMICS ARE LESS 'PARTY-PARTY-UNTIL-YOU'RE DEAD'
Comedian Nick Youssef is on the Strip this week, performing now through Sunday with headliner Ben Gleib at Harrah's Improv, and Youssef told me he likes to hike.
So, naturally, I pointed out that many of today's comedians are more into exercising and eating healthy than the old days when they died of cocaine-heroin speedballs.
"You're right," Youssef said. "The 2000s now, versus the late '80s-early '90s, it's a different ballgame. It's not party-party-party-until-you're-dead."
Youssef said when people do drugs now, they're also doing improved/designed drugs, which they're more Internet-familiar with.
"Marijuana is a lot better than it used to," he said. "You can get specific types of pot and have it do exactly what you want. It's more of an accessory to life, as opposed to, 'Let's get (expletive)-faced and have no control over our lives.'"
And, he said, "You're way more informed. You're like, 'Why would I want to do crystal meth?' I've known it was bad since I was a teenager. People are just smarter about their drug use, which is awesome."
Youssef (who also writes about style in Esquire, and podcasts on "Occasionally Awesome" in Los Angeles) is in his 30s, so he's in a different mindset.
"If you talked to me maybe six years ago, I would have been like, 'Where are all the bars? Where are the sluttiest possible girls?' I got all that out of my system, I think," he said.
Getting drunk in bars started boring him, he said.
"I still like chasing girls and having fun. That'll never get old. But the way I used to do it got old," he said.
"You have to listen to your body," he said. "When I was younger, I was like, 'Go out and get laid at all costs, and get drunk, and have a great time.'
"Then I got a little older, and my body was like, 'Rein it in a little.'"
Youssef (nickyoussef.com, @nickyoussef) thinks it's helpful not to miss out on partying in your 20s, or else you could end up trying to cram it all in during your 30s.
But his thought process is, when you're sick of the same old crap, consider moving on.
"I want to always try new things, and learn new things. The point of living is to experience the world, and knowledge, and people," he said.
"When people nowadays go, 'Have you been to this bar?' I go, 'No. I know what it is. It's a bar. It's going to have drinks. It's going to have cool, weird lighting. It's going to have young party girls. I've done all that.'
"If it's not new, and I can't learn something from it, I just go, 'No.' That's your mind and your body telling you something."
Tickets for the Gleib/Youssef/Joe Dosch show cost $33-$48. On Tuesday night, comedian Ron White went to their show and added his own surprise 20-minute walk-on set of new material.
Contact Doug Elfman at delfman@reviewjournal.com. He blogs at reviewjournal.com/elfman. Find him on Twitter: @VegasAnonymous