Beer enthusiasts find Las Vegas a little dry
August 28, 2015 - 10:51 pm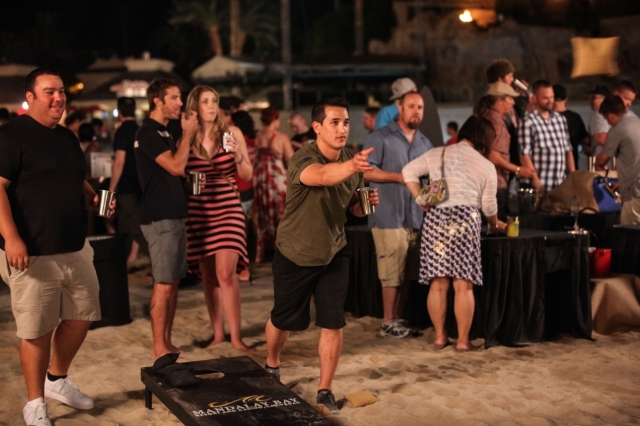 Have you ever eaten at a fancy restaurant in Las Vegas, and you look at the menu for an after-dinner beer, and you're faced with choices like Budweiser instead of something exotic?
That's because Las Vegas is lagging behind many American cities in the beer department, says Sarah Johnson, Nevada's first female certified cicerone (beer geek).
"We don't have a lot of brands distributed to Nevada, because we haven't historically been a great beer state," she says.
"Brewers haven't necessarily wanted to come here, because they thought, 'We're not gonna sell any beer, they're not gonna take care of our beer, no one's going to present it well.'"
What's the deal?
A century ago, Prohibition outlawed alcohol. Prohibition was repealed, but laws continue to challenge people and businesses from buying bulk alcoholic without going through distributors.
And Johnson says it has been a struggle to convince distributors that they and other companies are losing lots of money in Las Vegas by not bringing in higher-priced beers for aficionados.
"People want this. We talk about having brand identity, and being leaders in the industry, and we're behind right now. We have a large demographic coming from Southern California asking for it," she says.
Instead, these beer enthusiasts (who spend way more money than wine and liquor drinkers) are faced with big national brands in luxury restaurants, which Johnson equates to asking for a dessert menu and getting a Twinkie.
Johnson says she likes big beer companies like Budweiser, but demand exists for expensive beers, and the people who should be jumping all over this untapped exotic beer money are vice presidents of food and beverage departments, presidents of properties, corporate purchasing teams, and providers such as in-town distributors.
For now, Johnson (who yearns to import bottles as delicious as Michigan's Bell's beer) will host Saturday's "Mandalay Bay Beach Beer and Barrel Festival" ($50-$100) featuring more than 30 local and national breweries, plus food and entertainment.
This isn't a big drunken beer frat party, she said. It's for connoisseurs AND drunken frat and sorority alumni.
Contact Doug Elfman at delfman@reviewjournal.com. He blogs at reviewjournal.com/elfman. Find him on Twitter: @VegasAnonymous