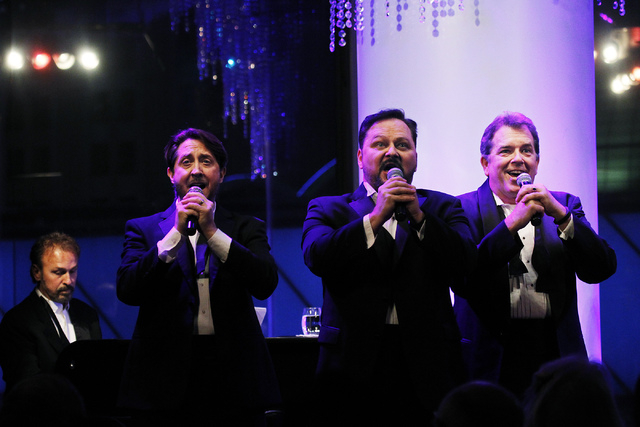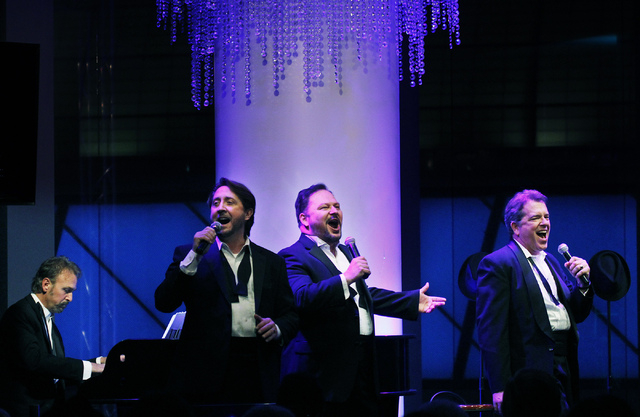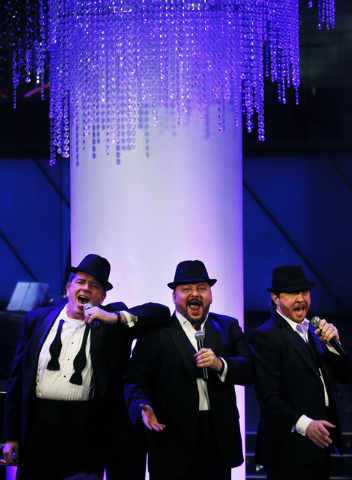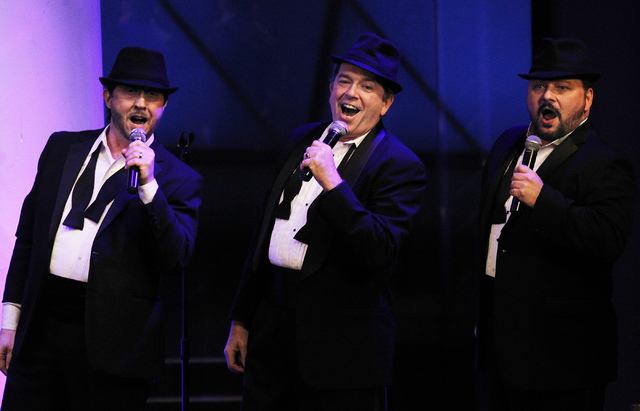 Yes, people tried to talk them out of it. But in the true spirit of The Phat Pack, they sing to us why that's not going to happen.
The song about living "My Dream," explains Bruce Ewing, came from friend and composer Keith Thompson as the result of "a common experience where people were trying to discourage him from writing and trying to discourage us from doing this."
It's just one example of why "this" is both unique in the sea of Las Vegas shows and a little hard to explain: a cabaret show born of the talent and resources of Las Vegas' entertainment community, but one that marches to its own piano.
The Phat Pack are a trio of Broadway-quality singers who worked together in "Phantom — The Las Vegas Spectacular," and decided to create their own opportunity for "Men of a Certain Age" (another original by "Phantom" friend Thompson) when that show closed in 2012.
They created something familiar to those who know cabaret as a genre: a compelling, if hard-to-explain mix of original songs and Broadway favorites, delivered by almost-famous theater veterans telling their own life stories.
Test performances packed a Las Vegas church and The Smith Center's Cabaret Jazz. But friends and supporters gave way to sparse houses of tourist customers at the Plaza, where the trio toughed out nearly a year, overqualified and underfinanced.
"Last year was humbling, because we know we have a good show," Ewing says of a self-promoted run that started promisingly, but faded along with the larger relaunch of the Plaza and upheavals in its showroom management.
"It was a lot of sacrifice," adds Randal Keith, who has the group's strongest resume with nine years of starring in "Les Miserables" as Jean Valjean. "We wanted to make this work no matter how long it took. I turned down several things on the road, but I wanted to stay and make this work."
Now the group gets a second chance, moving its act to the Windows Showroom at Bally's, a former buffet that Caesars Entertainment Corp. now leases out to producers Ken Walker and Andrew Van Slee.
The Phat Pack now fields its trio from four singers — the others are Ted Keegan and Kevan Patriquin — to make it more feasible for any of them to accept short-term singing engagements on the road.
There are still challenges, beginning with a name that's a fading allusion to their "Phantom" experience, but is often mistaken for a Rat Pack tribute.
"We had someone this year ask us if this was a Vietnamese trio," Ewing says.
But there's a contagious optimism that makes all this funny, not sad.
"All four of us have taken this so personally," says Ewing, whose other job on the staff at Community Lutheran Church makes him probably the best-known of the singers outside the show community. "We just believe in this and we just feel like this is the right place for us here," he says. "And on the road," he adds, drawing a chuckle from the others.
That's because the singers have worked as guest stars with orchestras around the country and believe this show could get them there again.
The nonorchestra version — with Philip Fortenberry's piano as the lone accompaniment — shares a trait with TV competitions such as "American Idol" and "The Voice": letting you get to know the performers and their personal stories.
Each trio member takes 10 minutes or so to explain where he grew up and how he got into show business, with that early, often-inexplicable love of musical theater as the common denominator.
"If someone's telling somebody else's story it never works," Ewing says. "I think it always works better when it's a real, true connection and it's all honest."
Patriquin, who was the stunt coordinator for "Phantom," cheered his friends on as an audience member several times before they asked him to come onboard while Keegan traveled.
"That was my favorite part," Patriquin says of the blocks of solo time. "I had been working with these guys for years and didn't know half that stuff."
Audiences "love hearing the backstories," he adds. "They love hearing how people got from nowhere to somewhere," he says. "I think it's the idea of the possible, the hopeful. People reaching for something and attaining it and not stopping there. And wanting to continue to grow."
And so this open-ended story keeps searching for its happy ending.
"We had some dire financial situations in the past year," Ewing says. "But the one good thing is no matter how bad the day got with whatever we were dealing with, honest to God, when we get to sing together — and this sounds so Judy Garland and Mickey Rooney — all that crap falls off and it just feels good and right."
Contact reporter Mike Weatherford at mweatherford@reviewjournal.com or 702-383-0288.
Preview
The Phat Pack
4:30 p.m. Wednesday-Sunday
Bally's, 3645 Las Vegas Blvd. South
$38.45-$82.50 (702-777-2782)