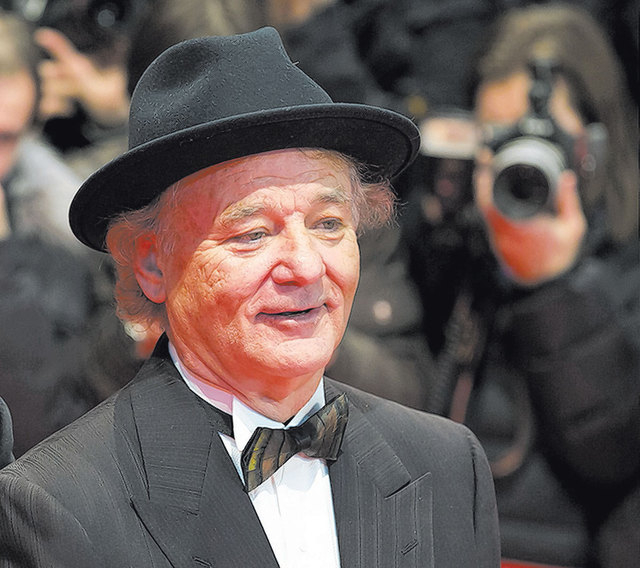 Kerry Simon remembers his pizza-slingin' days with Bill Murray as a slice of heaven.
They were co-workers at a Little Caesars in a Chicago suburb. Simon was a 15-year-old with a guitar and a rock 'n' roll dream.
Murray, a former golf caddy, lead singer of a rock band and med school dropout, was a wise-cracking 23-year-old on the cusp of an extra-large career.
"You could tell he was different. Just naturally funny. A natural," Simon said Thursday via telephone from the Mayo Clinic in Minnesota, where he is receiving stem cell injections.
"I tried to talk him into being a chef," Simon said. "I think he made the right move."
Years later, after Murray replaced megastar Chevy Chase on "Saturday Night Live" and hit it big, the former pizza makers ran into each other in Miami.
"He remembered me for my guitar," Simon said.
Murray will be among the emcees at Thursday's Simon Says Fight MSA benefit at the Lou Ruvo Cleveland Center for Brain Health.
Simon, 56, learned late last year that he MSA, multiple system atrophy, a rare condition similar to Parkinson's disease.
The benefit to raise awareness of MSA will include a slew of rocker friends of Simon, who was given the nickname the rock 'n' roll chef for the celebrity crowd he attracts to his restaurants.
The music lineup will include Alice Cooper, Sammy Hagar, Slash, Vince Neil, Todd Rundgren, Matt Sorum and John Dolmayan.
Stars chefs throwing their support behind the event include Daniel Boulud, Kim Canteenwalla, Wylie DuFresne, Grant McPherson, Michael Mina, Rick Moonen, Charlie Palmer, Megan Romano, Mark Tarbell and Simon's friend Jean-Georges Vongerichten.
For more information go to: keepmemoryalive.org
'BROADWAY ROCKS VEGAS'
Three stars from the Las Vegas musicals "Jersey Boys," "Million Dollar Quartet" and "Rock of Ages" are kicking off the series "Broadway Rocks Vegas" Monday at Vinyl at the Hard Rock Hotel.
Radio host Bart Torres and "Jersey Boys" star Jeff Leibow are co-hosting the 10 p.m. show which features Graham Fenton, who plays Frankie Valli in "Jersey Boys," Martin Kaye (Jerry Lee Lewis in "Million Dollar Quartet") and Justin Mortelliti, who is cast as Drew in "Rock Of Ages."
They will team up on hits and their original songs with their own bands.
Torres, who is presenting the series, is host of "The Las Vegas Connection," a Vegas-centric entertainment show which airs on Friday and Sunday nights at 7 p.m. on Highway Radio (99.7 FM, 98.9 FM and 99.7 FM).
THE SCENE AND HEARD
The chef community is also rallying around another colleague.
A fundraising event featuring cuisine from top restaurants is being held Sunday for Ryen Idica at Tommy Rockers, 4275 Dean Martin Drive, from 8 p.m. to midnight. Idica suffered a stroke in December and requires continued health care.
He has been working as executive chef at Hachi at Red Rock Resort. Idica moved here from Hawaii in 2005 to work for Jean-Marie Josselin's Restaurant 808 at Caesars Palace.
SIGHTINGS
UNLVino founders Larry Ruvo and Dr. Jerry Vallen were presented honorary game balls at the UNLV-New Mexico game Wednesday to commemorate the wine extravaganza's 40th anniversary, April 9-12.
THE PUNCH LINE
"Charlie Sheen is engaged to an adult film star. Not only is he going to marry her, but she'll be working the bachelor party." — David Letterman
Norm Clarke's column appears Sunday, Monday, Wednesday and Friday. He can be reached at 702-383-0244 or email him at norm@reviewjournal.com. Find more online at www.normclarke.com. Follow Norm on Twitter @Norm_Clarke.