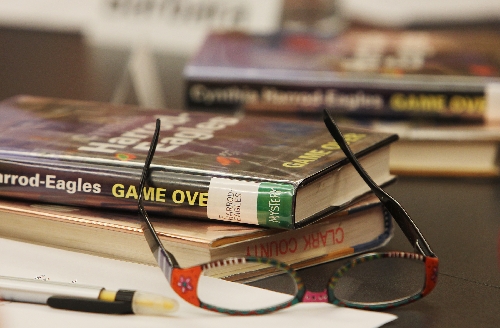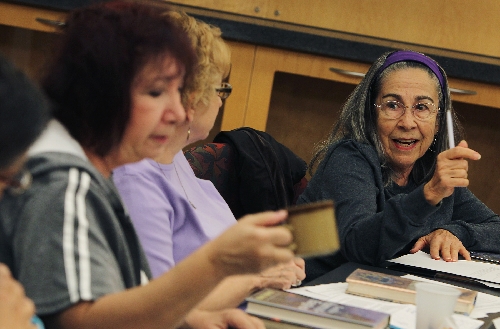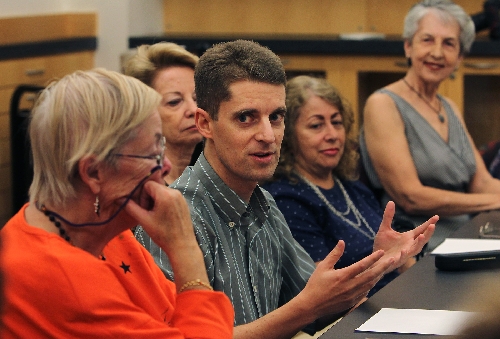 Forget whatever it is that Democrats and Republicans are arguing about these days, and toss this one around for a while:
Did Tony Hillerman spend too much time describing Navajo customs and history in "The Wailing Wind" and too little time crafting a solid mystery?
OK, it's not something upon which the fate of the Republic will rest. But during the October session of the Murder in the Library book discussion group, it still made for one lively debate.
Murder in the Library, which meets on the second Tuesday of each month at the Sahara West Library, is one of the numerous book clubs and book discussion groups in the Las Vegas Valley. Although their modes of operation and literary leanings vary, the clubs have one thing in common: passionate book lovers who enjoy talking about books with other readers.
Murder in the Library has been meeting for more than a decade now. Moderator Wendy Tucker became acquainted with the mystery-oriented group several years ago after noticing a sign at the library that its members would be discussing a book she had just finished.
"I was curious and I just showed up," Tucker says. "I really enjoyed it. I love the library, and it's very nice because you have something in common with these people."
Kristine Lowe-Martin, adult services assistant at the Whitney Library and moderator of the Whitney Book Lovers' Bistro (which meets at 5:30 p.m. on the second Tuesday of each month), says she has been a book club member since March.
Why do readers join discussion groups?
Certainly because they love books and love talking about them, Lowe-Martin says.
Then, she continues, "I think for a lot of them, it's the social interaction. I've had people come to the desk, and they'll say they're new to town and they want to meet people."
Becky Hricsina, a member of the Murder in the Library group whose duties include helping to select the monthly titles, says many readers "come to book clubs because they love to read and they want the intellectual stimulation they may not get in other types of clubs."
This social interaction doesn't necessarily end when members wrap it up for the night. After their hourlong discussions, Tucker says, members of Murder in the Library meet for dinner to become better acquainted and – it goes without saying -  talk about books.
There are now about 30 people on the group's mailing list.
"But they don't all come every single time," Hricsina says.
Eighteen members attended last week's session, and newcomers need merely to stop by to join in.
"You don't even have to have read the book," Tucker says. "It would be more fun for you if you read the book, but it's OK to come and say, 'I read the first chapter and I just couldn't stand it and I put it down.' "
A few participants in last week's discussion of "The Wailing Wind" – the 15th in Hillerman's mystery series featuring Navajo Tribal Police officers Jim Chee and Joe Leaphorn – did just that.
As the fast-moving discussion begins, some members say the Native American vocabulary Hillerman incorporated into the story was off-putting, while others like it. Some think Hillerman spends too much time on Navajo traditions and ways, and others disagree. Some think the mystery at the core of the novel is shallow, and others – you knew this was coming – think it's fine.
A few who like the book suggest that those who don't might wish to check out earlier volumes in the series. A few who don't like the book express no intention of ever revisiting Hillerman.
It's a fun, unstructured but on-point discussion, sometimes emphatic but always respectful. Mostly, it's like a freewheeling Freshman Lit course, but without the threat of a term paper or midterm exam hanging over anybody's head.
"We have a very good group," Tucker says. "That's one of the things that is so nice about this collection of people: Everyone has their own opinion, but it's OK if your opinion is different from theirs. They're just happy you've come and read the book."
Out of 18 participants this time, Tony Rizzo is the only man. Whitney Library's Lowe-Martin says that, for whatever reason, men do seem to be the minority in the discussion groups she has seen.
Rizzo says he has been a member of book discussion groups before, and joined Murder in the Library about six months ago.
"The thing that made me start is, if I'm not in a book club, I don't read," he says. "So I looked on the library website to find books that seem interesting and (clubs) that fit into my work schedule and I read the book where, otherwise, I wouldn't."
Just about any genre will provide fodder for a lively discussion. Kevin Scanlon, head of adult services at Green Valley Library, says his library has monthly discussion groups devoted to readers of business books, classics, and general fiction and nonfiction. Elsewhere around the valley, mysteries and romances are common books for discussion group members.
The best books for discussions should be intriguing, in some way, Scanlon says.
"Something that people could look at from different vantage points and have different interpretations about," Scanlon says.
Hricsina also has noticed that discussions tend to be livelier when – as in the case of the Hillerman book – opinions are sharply divided.
Although the bulk of the valley's book discussion groups meet at libraries and bookstores, readers who prefer a more intimate at-home experience can check out Henderson Libraries' "Book Club in a Bag." Each backpack in the series includes six copies of a title and materials to help kick off a discussion, Scanlon says.
"People just come into check them out like they would a regular book," he adds. "But it's already packaged in a backpack. And, we have them for children, teens and adults."
In a wired world in which readers immediately can seek out online blogs, book reviews and buyers' comments on online bookstore sites, sitting in a room to talk about a book can seem retro, if not downright quaint.
But, Scanlon says, nothing can replicate the "instantaneous opportunity" book discussion groups offer to "express your insights and hear other people's."
Contact reporter John Przybys at
jprzybys@reviewjournal.com or 702-383-0280.