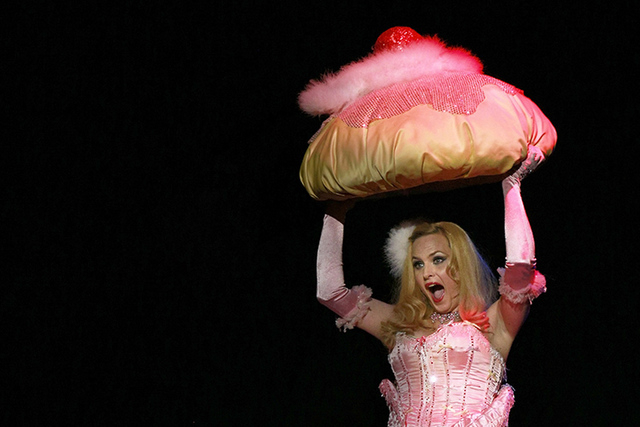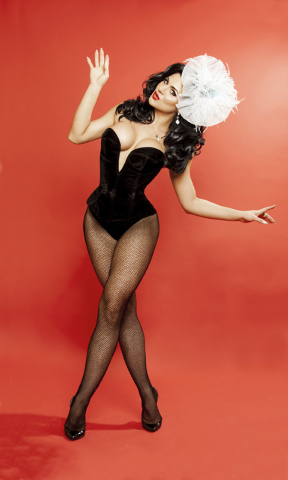 With a shimmy and a shake, a bump and grind, burlesque performers entice audiences by introducing them to the art of the tease.
Although burlesque can be seen nightly in shows around town, the Las Vegas Burlesque Festival is bringing together artists from across the country to celebrate the art form.
The event starts Thursday and goes until Sunday at the Gold Coast.
The festival features 75 performers and includes a parade, performances, burlesque classes and clothing vendors who sell the attire — feather boas, corsets and long white gloves — used in the art form.
Cory Royer, the festival's executive producer, often is asked to explain what burlesque is.
"It is the art of the striptease," he says. "There is also comedy associated with a lot of burlesque."
Shows include a variety of music, dance and acting. But Royer says the comedy of performances sets burlesque apart.
"That's what caused me to get bit by the burlesque bug years ago," he says.
Royer says with shows such as "Zombie Burlesque" or "X Burlesque," the art form is more prevalent nowadays.
One performer, Cha Cha Velour, started the festival last year, Royer says.
"It allowed the local community and people who do burlesque as a hobby to have a fun stress release," Royer says. "It was also a place where performers can come and bump elbows with other performers and learn from one another."
Having the festival also opened the doors to the international community to have another festival to come check out.
"I was part of the creative process for the inaugural year," Royer says. "It was a great weekend."
After the first year, he says that Velour, who is also a performer locally, wanted someone to take over the event because of time constraints.
"I ended up buying the event from her," Royer says.
Royer says his main vision was to have a festival without a competition. Other festivals in the country feature performers vying for top accolades in burlesque.
"We just wanted to celebrate the art without people competing," he says.
Along with a chance to see actors showcase their works in the parade or performances throughout the event, people can attend classes on burlesque.
"We have classes like Burlesque 101," Royer says. "You learn basic moves like how to strut or take off your glove. It is the basic moves of sexuality. Any Joe or Jane can come off the street and learn to be a little more sexy."
There are also advanced classes teaching how to master the bump and grind or the shimmy.
Royer adds the event is open to all body types, too.
"It isn't just about the Barbie doll figure," he says. "It encompasses everyone. Even if you're a larger size, we can show you how to control that jiggle (in the shimmy)."
Many people have found their calling as a burlesque dancer by trying a class.
Buttercup Delight, her stage name for her character at 1923 Bourbon &Burlesque, took a class from Cha Cha Valour about three years ago.
Delight previously studied acting and had worked in film and onstage.
"I moved to Vegas and thought I'd never perform again," she says.
But the course opened doors for her and taught her to master the tease and even develop a stage persona.
She was hooked on burlesque and wanted to be a performer.
"I knew I wanted to express myself," Delight says. "Sometimes, it's hard to make people listen to you. But when you're half-naked, everyone starts paying attention to you. Burlesque is a great platform to tell a story."
Delight says when entering the industry, a performer can decide what kind of persona to develop. Her alter ego was Buttercup Delight.
"I had a lover who used to call me Buttercup," she says. "I thought, 'What a great way to share myself and offer something so personal.' "
Her character is who she wishes she was in real life.
"I like being Buttercup," she says. "She is very sexy and immaculate all the time. She is everything I always wanted to be."
Delight has performed locally while she auditioned for bigger roles.
"But I don't do cold auditions well," she says. "Most of the roles I've gotten is from other people seeing me around town."
One role she recently landed was at 1923 Bourbon &Burlesque at Mandalay Bay.
Delight will be a featured performer at the upcoming festival and will teach Burlesque 101.
Royer says although many people who perform are coming to the event, there are also people in the burlesque community who just do it as a hobby.
Whichever category people fit in, all are welcome to try out the festival.
The festival ends Sunday with a burlesque brunch.
"Because there is nothing better than a striptease with your eggs," Royer says.
Royer already has plans to continue to grow the festival for next year.
"We want to partner with a charity in 2015," he says.
Royer says he thinks the festival will help people who don't know what burlesque is begin to understand the performance art.
"People think it is raunchy or afraid to come because what they might see," Royer says. "But I encourage people to give it a chance."
Delight hopes that one day when she gives her profession to people, she isn't met with distasteful comments and obvious grimaces.
"When I tell people, I get some profane and crass questions," she says. "I can't wait until the art form has gained acceptance as a whole."
Preview
What: Las Vegas Burlesque Festival
When: Thursday-Sunday, times vary
Where: Gold Coast, 4000 W. Flamingo Road
Tickets: $17-$73; VIP and three-day passes available (www.LVBurlesqueFestival.com)