Giada feared recipe for disaster before firing chef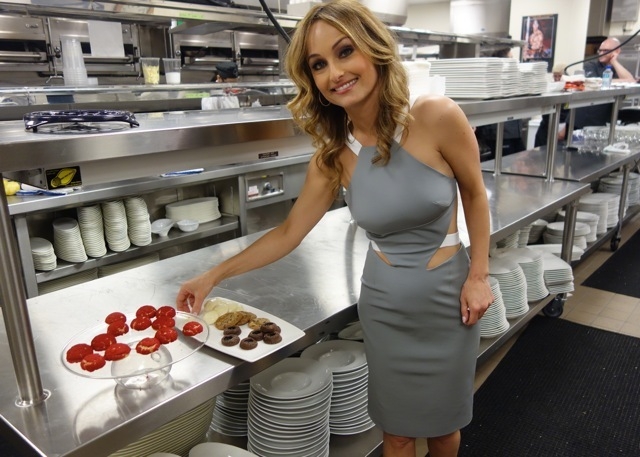 Giada De Laurentiis chose her words carefully while explaining the stunning firing of her executive chef two weeks before the opening of her first restaurant.
Arturo Moscoso didn't stick to her recipes, said De Laurentiis, so she "did what needed to be done."
"He just couldn't (pause) wrap his (pause)," she said Monday, on the eve of the opening of Giada's at The Cromwell.
Continuing, she said, "Obviously I don't make traditional Italian food. I have a certain vision for my food and I want it my way. And it's only through building a relationship with someone that I eventually allow that person to put their own tweaks on it."
Without referring to Moscoso by name during the interview, she said, "That person wanted to put their own tweaks on it right away. He would say yes to me and then I would turn around and leave for a day and come back and it was not the same way again.
"So I just decided, 'We're done. You don't get it, we're done.' " De Laurentiis made the comments during a break in Monday's V.I.P. party at Giada's.
"So," she said, "six weeks into it I asked the Caesars team to please allow me to do what needed to be done."
She turned to Kurtess Mortensen, a 20-year fire-tested veteran who will carry out her vision for 90 days while the Food Network star searches for a new head chef.
He has been overseeing restaurants at Flamingo, The Cromwell and The Quad. He worked at Bouchon in The Venetian for about six years and moved to the Hard Rock Hotel as executive chef at 35 + Martinis in 2011.
Moscoso, from northern Italy, was most recently running the kitchen at Buddy V's Ristorante at the Palazzo for "Cake Boss" Buddy Valastro.
Moscoso's star was on the rise after Campo, a Reno hot spot where he was chef, ranked among Esquire's top 20 new restaurants of 2012.
REMEMBERING FAMILY
De Laurentiis said it was important for her to pay homage to her family history on the walls of Giada's.
In the lounge, family and friends gathered Monday under a wide Warhol-like panel that features her and her famous grandparents, film director and producer Dino De Laurentiis and his actress wife, Silvana Mangano.
Nearby is a poster of the sci-fi film "Barbarella, which her grandfather produced. Many other posters of his movies are on the kitchen walls.
"My grandfather was a big sci-fi fan, and 'Barbarella' was one of his favorite films. It kind of established Jane Fonda," De Laurentiis said.
Pasta has a delicious history in the De Laurentiis family.
"My grandfather's family owned a pasta factory in Naples before World War II, and my grandfather and his siblings would go door to door to sell their parents' pasta and sauces," she said.
"When World War II hit, they lost the factory. My grandfather had this dream he wanted to be an actor. So he took $100 his dad gave him, and he moved to Rome. Tried to be an actor and realized he wasn't handsome enough and too short (at 5 feet 4 inches). So he started to produce movies instead.
"The brilliant thing he did is he married Miss Rome, who was a big actress and model, and together they built an empire. He made over 600 movies in 60 years," she said.
Among them: "Barabbas," starring Anthony Quinn and Mangano; "Serpico," with Al Pacino; "Death Wish"; the remake of "King Kong," with Jessica Lange; and "Hannibal," with Anthony Hopkins.
Her grandfather died in 2010 at the age of 91.
SIGHTINGS
Tony Curtis' widow, Jill Curtis-Weber, donating the actor's 1993 "Bouquet Crescent" acrylic to Palm Mortuary on Tuesday. She remarried a year ago and travels the country with her husband, Todd Weber, selling decorated horseshoes. Their traveling companions are four dogs and two chickens named after famous bucking bulls Asteroid and "Bushwacker. The couple met at Stoney's Rockin' Country saloon. He was in town with the Pro Bull Riders tour at the time. … Nicolas Cage and Carrot Top, having lunch at Vinter Grill on Monday. Last week, Condoleeza Rice was the featured guest at a gathering hosted by Bill and Lynn Weidner.
THE PUNCH LINE
"We're learning more about the sale of the L.A. Clippers. Insiders say it came down to a bidding war between Steve Ballmer and Oprah. I'll let you guess who Donald Sterling rooted for." — Craig Ferguson
Norm Clarke's column appears Sunday, Monday, Wednesday and Friday. He can be reached at 702-383-0244 or email him at norm@reviewjournal.com. Find more online at www.normclarke.com. Follow Norm on Twitter @Norm_Clarke.