How many calories does it burn to drum Led Zeppelin songs?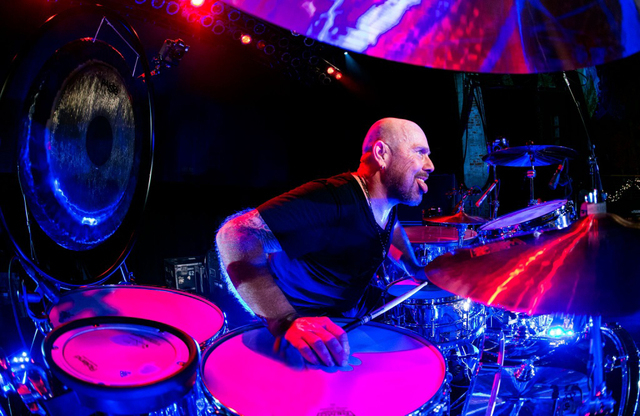 Mythologically, rock drummers exert so much activity, they can spontaneously explode onstage — or at least Animal of "The Muppets" did once.
Acclaimed drummer Jason Bonham wanted to get to the bottom of how much energy he spends pounding rock tunes in concert, so he turned to a leading brand of physics measurement.
"I wear the Fitbit onstage," he says.
He burns about 3,000 calories per show, according to his wrist tech.
"My wife (Jan Charteris) is, like, 'No way. If you did that, why are you so fat?'" he quotes her, laughing. "I'm like, 'Thanks a lot.' Yeah, 25 years of marriage will do that to you, (that kind of) honesty."
Bonham will be wearing his Fitbit Thursday during "Jason Bonham's Led Zeppelin Experience" at Brooklyn Bowl (Tickets: $37-$75).
Bonham is the son of John Bonham, the legendary Led Zeppelin drummer who accidentally died at age 32, in 1980, after drinking many vodka shots.
But Jason Bonham is a revered drummer in his own right, and by the way, he has been sober for 15 years.
Jason says he used to get so trashed, he woke up in a Vegas hotel room in the late 1990s, looked outside, saw a rare snow blanketing the Strip, and he thought it might be a practical joke.
"I was, like, 'This is not right. I really need to stop drinking. This is really freaking me out,'" he recalls.
"It snows a lot in Vegas, but for the wrong reasons, if you catch my drift," he adds. "It was always snowing, but never a skier in sight."
His addiction could have been worse, he says.
"I was very fortunate I didn't kill anybody else, other than myself," he says. "It was all playful, boisterous stupidity. Overdrinking.
"
Bonham got so ripped so quickly, he received advice once from John Entwistle, the Who bassist who would later die at age 57, in Room 658 of the Hard Rock Hotel in 2002, of a cocaine-induced heart attack with a stripper-groupie by his side.
"I remember John Entwistle said to me once, 'Jason, you've got to learn to pace yourself. It's not all about the first hour of the party. It's how long you can make the party last.'"
Bonham enjoys music more, sober.
He's six years into playing these Zeppelin gigs.
"The hardest part of doing these shows is picking the songs, the set list. I fiddle around on my iTunes playlist for weeks and weeks and weeks, putting them in different orders," he says.
"There are certain songs which have to be in there, the 'Kashmirs,' the 'Stairways' and the 'Whole Lotta Loves,'" he says.
When he performs drum fills his dad invented, in tandem with videos of his father playing the same songs, Jason Bonham looks more worn out than his dad.
Bonham, 49, figured out why. His dad is in his early 20s in those videos.
"I'm like, 'Is that why it's tough to keep up?'" he realized. "I'm huffing and puffing."
And burning 3,000 calories toward an after-show meal.
GORDON RAMSAY'S PREMATURE EXASPERATION
A diner at Gordon Ramsay Pub &Grill was preparing to propose to his girlfriend. He told the maitre d' he was going to do this. The maitre d' informed TV chef Ramsay. And that's where things went wrong.
Ramsay got ahead of himself and ordered two glasses of Champagne to be sent to the table.
But the guy hadn't proposed yet.
"When the Champagne arrived, I went over to congratulate them, and he hadn't asked her," the TV chef said, according to London's Telegraph newspaper. "I was, like, 'How am I going to get out of that?' "
Ramsay got out of it in Gordon Ramsay fashion, giving the waiter a "dressing down," blaming the mix-up on the waiter confusing verb tenses of, I guess, "propose" and "proposed."
SIGHTINGS
Comedian Dave Chappelle and a group of friends luxuriated in a swirl of vodka in a VIP bungalow at Encore Beach Club on Sunday, listening to DJ Avicii, and posing for photos with Amir Khan, after Khan got knocked out the night before by Canelo Alvarez in T-Mobile Arena.
Singer/actress Ashanti and Super Bowl champion linebacker Von Miller separately took their mothers, fathers and other family to see Cirque du Soleil's "One" show on Friday. Ashanti danced in front of her seat.
Nice guy Joe Jonas and his "Cake By the Ocean" band DNCE took eight friends to see Cirque's "Beatles Love" on Saturday.
Doug Elfman can be reached at delfman@reviewjournal.com. He blogs at reviewjournal.com/elfman. On Twitter: @VegasAnonymous