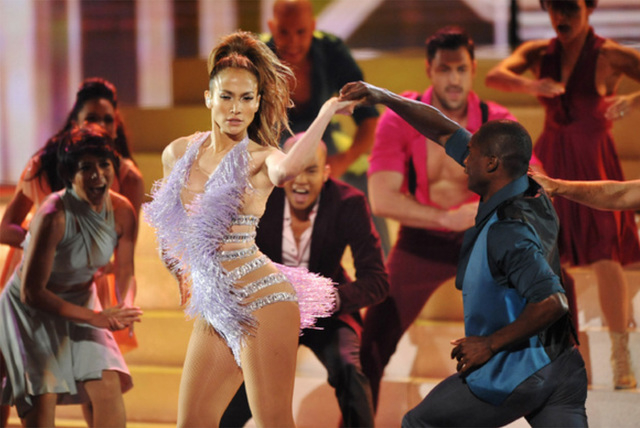 With Celine Dion on leave and Shania Twain leaving Caesars Palace, is Jennifer Lopez at the top of AEG and Caesars' "get" list?
The presence of Lopez, along with longtime manager Benny Medina, at Twain's show on Friday ignited speculation that J-Lo may be considering her first Las Vegas headliner residency.
She has been on a roll since 2011 when she signed as a judge on "American Idol."
Her singing and acting career had slumped in 2009 when her song "Louboutins" failed to stir interest.
She had failed to crack the Top 10 as a lead artist for nearly a decade.
DUCKS ON THE POND
Bellagio's Dancing Fountains have become the unlikely home to a fast-growing duck family.
"We started with two; now we have 38," said chef Julian Serrano from his lakefront patio at Picasso last week.
He was pointing to his latest restaurant project, Lago, formerly Osteria del Circo, when duck drama unfolded.
A young duck had ventured into the largest ring of fountain heads just as the water show was beginning. Smaller fountains were zipping across the lake.
Belatedly sensing danger, the duck headed back toward Bellagio, furiously paddling to escape the imminent big blast that sends a towering pillar of water skyward.
Just as the duck left the ring, the fountain exploded. Apparently too young to fly and unable to swim fast enough, the duck disappeared under the wall of water that came crashing down.
Several seconds passed with no sign of the duck. Then it popped to the surface like a cork and shifted into speedboat mode before water "walking" about 10 feet.
People on the patio burst into laughter during the duck's determined escape.
"In all my years here," Serrano said, "I've never seen that happen."
Lago, Italian for "lake," is scheduled to open in early 2015 with a half-moon patio that seats about 50.
The restaurant will accommodate about 200 and specialize in Italian fare, small plates style.
Besides Picasso, Serrano also operates the tapas-centric Restaurant Julian Serrano at Aria in CityCenter. He has operated Picasso since Bellagio opened in 1998.
FATHER-SON CASTING
Las Vegas-based boxing analyst Al Bernstein and his 15-year-old son, Wes, are cast in an upcoming film about former heavyweight champion Ken Norton.
"They wrote in a part for me and found out Wes was an actor and wrote a part for him," Bernstein said. "Wes will play the part of a friend of Norton in his early years."
Norton not only beat Muhammad Ali but broke his jaw during their March 31, 1973, fight in San Diego.
He finished his career with a 42-7-1 record, which included two losses to Ali in their follow-up fights.
Norton died Sept. 18, 2013, in Henderson at 70.
SIGHTINGS
Sammy Hagar, with wife Kari, their three kids and Hagar's band, dining at Andiamo at The D on Saturday after his 67th birthday concert that was moved to Las Vegas because of the hurricane that hit Cabo San Lucas. … Also there: Chad Kroeger of Nickelback, Chad Smith of Hagar's Chickenfoot band and a former member of the Red Hot Chili Peppers, Hard Rock Hotel executive Don Marrandino and Alicia Jacobs and Tony Hsieh. … Hagar was with a large party at Restaurant Julian Serrano on Friday with family members and Marrandino and Jacobs. … Quinton "Rampage" Jackson, with friends at Chateau Nightclub &Rooftop (Paris) on Friday.
THE PUNCH LINE
"The head of the TSA announced he's retiring. His employees toasted him with less than 3 ounces of champagne. Then they gave him a gold watch, and he had to take it off and put it in a bin." — Conan O'Brien
Norm Clarke's column appears Sunday, Monday, Wednesday and Friday. Reach him at 702-383-0244 or norm@reviewjournal.com. Find more at normclarke.com. Follow @Norm_Clarke on Twitter.