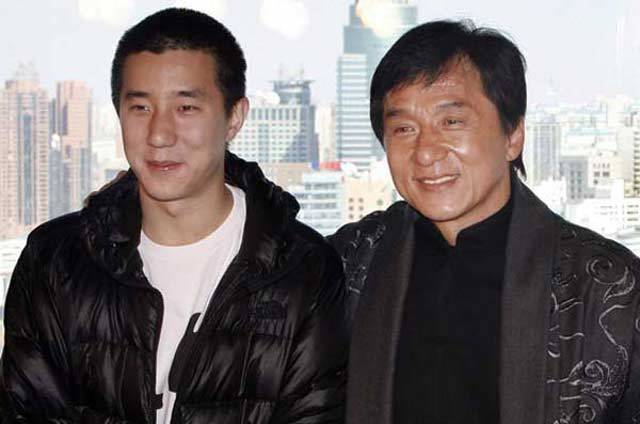 Being Jackie Chan does have its sore spots ­— literally. The 63-year-old legend who has a penchant for flamboyant stunts will take you on an informal "damages tour" of his body. He starts with his head. "Concussion, stitches," he says. He touches his nose. "Broken three times." Teeth: "Four gone in a bad jump." Fingers: "Sprained, broken, broken, broken."
Worth it? The Hong Kong action star has succeeded where so many have failed in breaking into the American and international markets. In his latest movie, he voices the kindly, but tough and masterful Master Wu, a martial arts and life motivator who leads the way in "The Lego Ninjago Movie."
Review-Journal: What is a typical Sunday like for Jackie Chan?
Chan: Sunday is a day of happiness and peace. What you want to do is pursue both being happy and at peace on your one day off. It's up to you to figure out what that means. My happy is not resting that much. I like to do a light workout and see friends and family if I'm home. You will never find me on the couch. You might even find me cleaning and organizing on a Sunday. I love to clean. If I work all day then I give myself a treat. Ice-cream!
You love … to clean?
It makes me so happy to be surrounded by clean.
That's because you're a perfectionist. I interviewed you once in a hotel room and you didn't like the layout, so you rearranged the furniture. Why go to all that trouble?
I can't help it. I like things to be perfect and organized.
You've worked and traveled all over the world. What do you think of Las Vegas?
Oh, nonstop excitement and all those beautiful lights. It's so playful and I love that part of it, plus there are so many great shows and amazing performers.
In "Lego Ninjago," you play a martial arts expert who counsels the younger ninjas. Your stunt team also choreographed the fight moves. How did that happen?
First, they hire me to be the voice of Master Wu who teaches six young ninjas how to defend their home and become warriors. I tell the director, 'I speak no perfect English. Why me?' I heard, 'That's what we want. We want you to speak Jackie Chan English.' Then I see the action. It don't make sense. I tell the director, 'It should be like this and then this and then this. You kick here and move there.' Then I said, 'Why don't you just hire my stunt team?' They did and we teach them movement when it comes to the body and how to move things. It was so much fun.
Why was it important for you to do a film that kids of all ages can embrace?
I do a lot of action movies children can't get to see. But I want children to know Jackie Chan, too. Now with the Lego movie, I can travel around the world and hear, 'Oh Jackie, I watch your movies when I was growing up.' I've been making movies for 57 years. Before I pass away, I want the children to say, 'He's really cool. He taught me something about being brave or dealing with life from just watching his movie.' I love that my Lego character will never die.
In Las Vegas, there are so many martial arts classes. Why should the average person walk in that door?
It will change your life. At first, treat martial arts like exercise — and it's so good for you. You can do it for your brain and your health. Most of all, martial arts will teach you to respect everyone including your parents, your partners and fellow students.
In the movie, you tell the young ninjas that they need to occasionally change their perspective. Good advice for all of us?
If only we could change our point of view and point ourselves toward empathy. I believe empathy is a big part of becoming an adult.
Your story would make a great movie. You were 12 pounds when you were born via C-section in Hong Kong.
The delivery was delayed because my parents couldn't afford to pay $26 for the surgery. A female doctor finally approached my father with a deal. If my father would allow her to adopt me, she would pay for my mother's surgery and medical expenses. In Hong Kong, poor children were regularly given to their wealthier friends. But my parents always said they knew I was a special one. They said no to this doctor, and our family friends helped them pay the expenses.
You did martial arts as a little boy, correct?
My dad would wake me up at dawn for tough workouts of running, lifting bags of sand and doing military-style push-ups. We would spend hours practicing martial-arts moves and working on mental, plus physical strength. By the time I was 5, I was learning the basics of Northern-style kung fu.
And you spent 10 years at China Drama Academy, where you worked with famed martial artist Yu Jim-yuen?
He was such a tough master. He gave you food, protection and the best training in the world. I learned martial arts and acrobatics. But there was a steep price. I don't know how I survived. Sometimes, I say 'Thank you' to my childhood because it was the toughest training of all. I do not like to complain. I have it easy.
You left that school to do stunt work on films being made in Hong Kong where you earned a reputation for being fearless.
I was risking my life for a few dollars a day, but they kept hiring me. I was called whenever the most dangerous scene needed to be shot. That's why I still have no fear.
You must be afraid of something.
Needles. I hate getting shots.
Do you have a life philosophy?
Enjoy every moment. Accept yourself. Be kind and give back. Be young in your heart. And go to the gym, so you can eat a little ice cream.