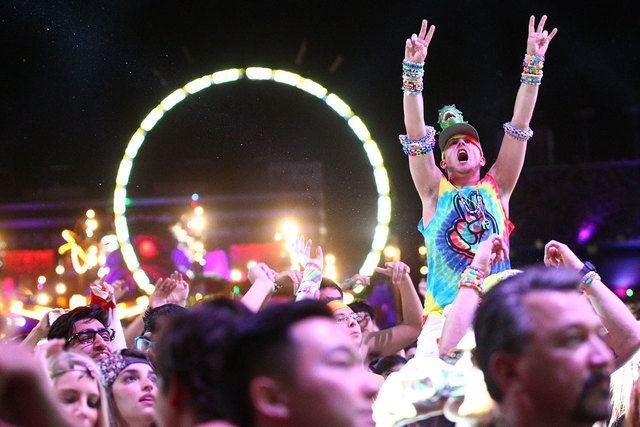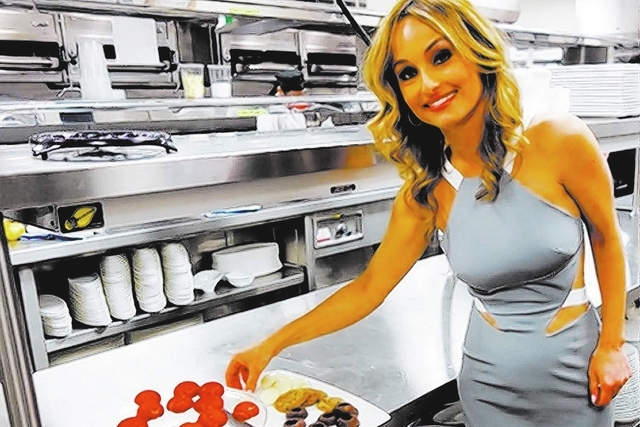 With the last hours of 2014 counting down, we ask the question: Who or what will have the biggest impact on Las Vegas in 2015?
■ Will it be the return of Celine Dion and her incredible international appeal?
■ Britney Spears continues to pull big crowds who don't mind that she's lip-synching all the way to the bank.
■ Will Jennifer Lopez be the wild card? Her New Year's Eve concert at The Colosseum at Caesars Palace is titled "The Best is Yet to Come." That's a huge hint that she's heading for a resident headlining spot in Caesars' lineup.
■ Don't underestimate the powerhouse that is electronic dance music.
"The trajectory is still going up," said Sean Christie, operating partner of Surrender and Encore Beach Club.
EDM has dramatically changed the entertainment landscape in Las Vegas.
Just last month, John Meglen, president of global touring for AEG Live, who operate The Colosseum at Caesars Palace, acknowledged that his industry has "lost ground" to the nightclubs in recent years.
The phenomenon means "DJs are becoming the new pop stars of the younger generations of kids in their late teens and early 20s," Christie said. "They are claiming this as their music. It's not going anywhere."
Reinforcing Christie's claim is the arrival in May of the four-day Rock in Rio, the biggest festival ever held on the Strip. It will be the first Rock in Rio festival held in the U.S. organizers are predicting 80,000 per day.
Could the next step for EDM be a move to the largest arenas and theaters in Las Vegas?
"Absolutely they could," Christie said. "Two of our resident headlining DJs, Skrillex and Diplo, are headlining at Madison Square Garden on New Year's Eve under their project name of Jack You.
GIADA, HUSBAND SPLIT
Celebrity chef Giada De Laurentiis has split with her husband of 11 years, fashion designer Todd Thompson.
The Food Network star, 44, opened her first restaurant, Giada, in June at The Cromwell.
Thompson attended the opening. They were married 11 years and have a 6-year-old daughter.
"After an amicable separation in July, Todd and I decided to end our marriage," she said Monday in a statement that also appeared on her Facebook page.
"Although our decision to separate comes with a great deal of sadness, our focus on the future and overwhelming desire for our family's happiness has given us the strength to move forward, yet always connected paths.
"Todd and I share a beautiful daughter and a lifetime of great memories that we both treasure more than anything. We are so thankful for our friends and family, and really appreciate the support in this time of change."
FRANKIE RANDALL R.I.P.
Entertainer Frankie Randall, one of Frank Sinatra's crooning pals, died Sunday in Palm Springs, Calif.
He would have been 77 in January.
Fresh out of college, Randall was hired by Sinatra's right-hand man Jilly Rizzo to perform at Rizzo's New York nightclub, Jilly's.
It was there where Randall caught the ear of Sinatra, who called Randall "my favorite piano player."
Randall's career took off, and he appeared in several movies, including Sonny and Cher's first one, "Wild on the Beach" in 1964.
He was also a favorite of Steve Wynn, who hired him as a performer and as entertainment director at the Golden Nugget in Atlantic City and Las Vegas.
Randall lived in Las Vegas from 1968 to 1975 and from 2001 to his death.
THE SCENE AND HEARD
Andy Walmsley's next EntSpeak show featuring six local entertainment personalities will be held Feb. 2 at the Inspire theater downtown. The lineup will include singer Bob Anderson, "ShowStoppers" singer Nicole Kaplan, magician Mac King, blogger Robin Leach, The Smith Center for the Performing Arts chief executive Myron Martin, and "Fantasy" producer Anita Mann. Each will tell his or her life story in 15 minutes.
SIGHTINGS
Electro pop artist Kiesza, dining at Katsuya with friends before her Monday appearance at Foxtail nightclub at SLS. … Jerry Seinfeld made a surprise 30-minute appearance at The Improv in Harrah's on Christmas Eve. He was trying out his new material for his weekend shows at the Colosseum at Caesars Palace.
THE PUNCH LINE
"Google has found that Ouija boards are one of this year's most popular toys. You know, because it wasn't bad enough dealing with your LIVING relatives." — Jimmy Fallon
Norm Clarke's column appears Sunday, Monday, Wednesday and Friday. Reach him at 702-383-0244 or norm@reviewjournal.com. Find more at normclarke.com. Follow @Norm_Clarke on Twitter.