Michael B. Jordan in fighting form with 'Black Panther,' 'Creed II'
November 18, 2018 - 1:18 pm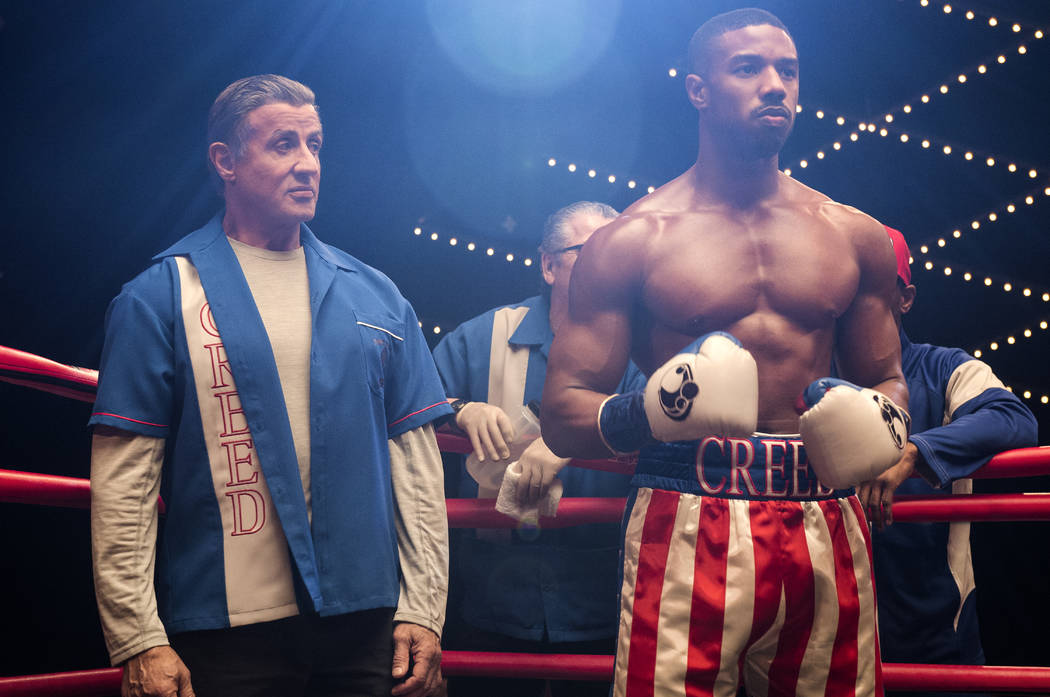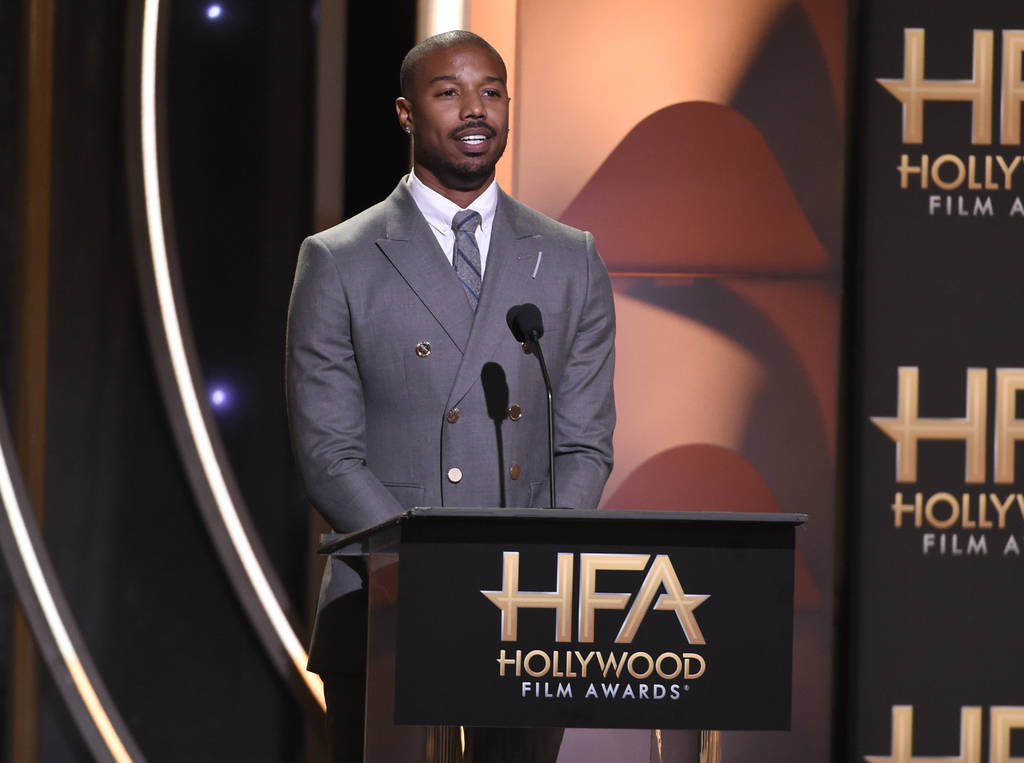 He's not one of those Hollywood types whose motives are on the ropes. Ask the man who plays Adonis Creed what he wants to do with his art, and he's going for the knockout. "My goal as an actor is to reach past the stereotypes," said Michael B. Jordan, 31. "I want to be the one who makes the difference and opens up more than a few eyes."
He did that as the villain Erik Killmonger in the megahit "Black Panther," which raked in $1.3 million at the worldwide box office. Jordan steps back onto equally hallowed grounds as Adonis Creed, the son of Apollo, in the much awaited holiday sequel "Creed II."
The Newark, New Jersey native said that the new film won't equal a one-two punch. "It's part of the 'Rocky' franchise. There needs to be a lot of numbers after the word 'Creed,' " he said with a laugh.
Review-Journal: What is your idea of a perfect Sunday?
Michael B. Jordan: I've been training so hard for "Creed II," which is something I like to keep up because you feel good. To that end, I eat really clean all week with the chicken and the brown rice. Sunday is for the pizza. You need to have a great cheat meal and mine is pizza all the way. And I'm eating a lot of it, which makes for a great Sunday.
Didn't your acting career begin in a doctor's office?
It's true. I was 11 and my mom dragged me to her doctor's appointment because there wasn't anyone to watch me. I was bored out of my mind in the waiting room and the nurse out of the blue said to my mom, "You know, you should get your son into modeling." It seemed really funny to me. I was this ugly kid in my own mind with all my growing pains. I always thought I was weird-looking … and she thought I should be a model!
So what happened?
I ended up crashing a modeling audition and booked the gig. Then I ended up modeling for Modell's Sporting Goods and Toys R Us. The next thing I knew I was on "go-sees" and booking jobs. A theatrical agent was the next step. That's the amazing thing in life. You just need to take the first step and it becomes the snowball effect. I didn't know at the time that I would do this for a living. But as a kid who worked in the business, I liked getting out of school early to do jobs, plus they fed you great snacks.
Let's talk about "Creed II," where you return as Adonis Johnson, a boxer with a chip on his chiseled shoulders.
It's the next chapter in Adonis' story. We meet up with him a few years later and find out that he still has his issues. Yes, he has found some success. But he's like a lot of men who feel like they are living in the shadow of their father. Apollo's shadow looms large, even in death. You could say that Adonis is still trying to find his way, despite the fact that he still has so many questions that will never have answers because he can't ask his father, who abandoned him.
Enter Rocky.
He turns to Rocky, his father's best friend, when Viktor Drago, son of his father's killer, Ivan Drago, challenges him. Rocky becomes the father figure he needs. He becomes the Mickey figure of the film. He's there to push me, but he doesn't want me to fight this particular fight. He held my father in his arms after Ivan Drago killed him in the ring. He's afraid that I'll lose my life, too. Of course, Adonis isn't listening.
How did you nab the role of Adonis?
(Director) Ryan Coogler approached me when we were doing "Fruitvale Station" and asked if I wanted to play the younger Creed. Basically, I said, "Cool." It was just that easy. The interesting thing is we hadn't even shot "Fruitvale Station" yet. So, it was really, "Do you want to play the son of Apollo Creed one day if it happens?" It was a big "if" at the time. But I never stopped thinking about this character of Apollo's son. He weighed on me. I watched the first "Rocky" about a million times like everyone else and then all the sequels. I thought, "Rocky. This World. The Legacy." "Exciting challenge" seemed like an understatement.
How bad was the diet to get in fighter shape?
The hardest thing about it is letting go of the bad foods. You know what foods. I know what foods. You take away the sugar, dairy, cheese, bread, carbs and pasta. Instead, I'd eat high protein and low portions, eating about every two and a half hours. It's a lot of broccoli, brown rice, chicken and more brown rice. At first, it's pretty rough. But once you let the other food go, it becomes pretty easy. Your body stops craving it. Most of the time when you're eating every few hours, you're not even hungry.
And the gym part?
It's six days a week in the gym, sometimes two or three times a day. You do that hard-core and your body will change. I promise you!
We know that the boxing is movie magic, but do you ever get hit by accident?
There are some punches that land for real. Sly calls that my School of Rocky. I do know what it really means to see stars. One punch landed hard and I said, "That was 70 percent hard." But Sly shook his head and said, "Nah, that's only 30 percent."
What is it like to work with Sly? And do you really call him Sly?
From the start, Sly took the weight off my shoulders. It was never "Rocky 7" and now "Rocky 8." He said, "These are your movies. It's called 'Creed' and not 'Rocky.' Do your own version." And I do call him Sly. Or Unc, which stands for uncle. Or I call him OG.
Does Unc dish out life advice?
Sly gives me advice about the business, like, "Take it one day at a time." He told me, "A lot is going to happen to you in a little bit of time. It's really important to just live in the moment because the moments will pass by."
Switching gears … can you believe the success of "Black Panther"?
It's amazing. I'm proud of it because I brought something different to the bad guy. I said, "If I'm going to be a villain, I need to bring some humanity to him. I want some empathy for him. I wanted people to know where he came from and why he's pushed the edge."
What role sticks with you the most?
"Fruitvale Station," about the life of Oscar Grant who was shot by a transit cop. I read the script and started crying so hard. I had to stop reading. But then the next day, I began to read it again and had the same exact reaction. Then I looked at the real footage. My emotions were in turmoil.
That film opened a lot of eyes.
You want to go out there and change the world with a movie. You want to stop bad things from happening again by shedding some light.