NHL observer offers blueprint for success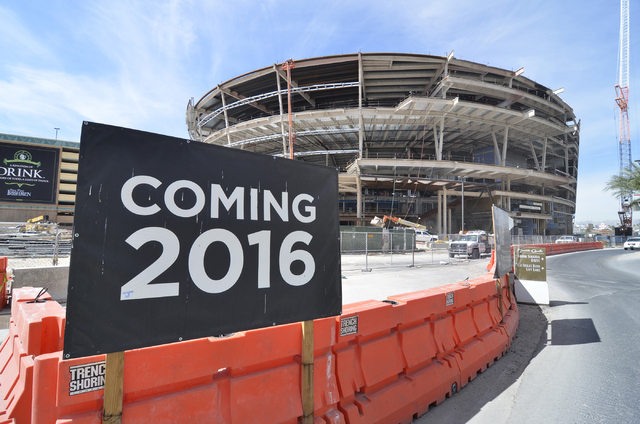 The NHL "wants a Las Vegas franchise to happen. But they want another Anaheim or San Jose, not another Arizona or South Florida."
Sports columnist Mark Purdy witnessed the birth of the San Jose Sharks, one of NHL's best success stories.
Purdy, an old sportswriting friend who was in town Tuesday, agreed, at my urging, to offer his perspective on what it will take Las Vegas to thrive, not just survive, as a hockey town.
Purdy reported in detail on the Sharks' successful expansion team rollout in a nontraditional hockey market well before the team started playing the 1991-92 season.
"My opinion is that Las Vegas represents a huge opportunity for the NHL and could become a signature franchise for the league — as long as the ownership, organizational planning and marketing strategy is handled in a first-rate way.
"Just like in Northern California, there a lot of other entertainment/recreational options in Las Vegas," he said via email.
"But the Sharks were very intelligent about how they introduced themselves to the Bay Area market and to San Jose — the Bay Area's largest city, but in 1991 still a city with no team in any of the four major North America pro sports leagues."
He continued, "The Sharks identified their target audiences and beginning a year or so in advance began cultivating these potential customers."
Ownership began a "Sharks in the Parks" program by distributing free street hockey equipment to city recreational centers and programs to get kids playing the game.
"The Sharks began identifying Silicon Valley companies (some with CEO's who grew up in hockey-loving areas) that might become sponsors and luxury box buyers, then sent the team mascot and hockey front office types to company outings."
Team management identified Bay Area residents who were transplants from Canada and reached out to them, Purdy said.
And management teamed up the San Jose Chamber of Commerce to identify local companies and residents who weren't hockey fans but were eager to support a San Jose major league team.
The Sharks' model included partnering with the city to open and operate an indoor ice rink that the team not only usued for practice but also helped form youth leagues.
"It has since become the West's largest ice complex with four sheets of ice that are always busy, plus a pro shop and restaurant, etc.
"All of this was orchestrated by a canny marketing exec named Matt Levine," Purdy wrote.
"End result is, while the Sharks have yet to win a Stanley Cup, they were an attendance success right out of the gate and have played to more than 95% capacity through their first 24 seasons, making the playoffs more often than not."
Maybe all of this would have happened, Purdy said, "without all the excellent groundwork. But I don't think so.
"The NHL is not the NFL or NBA or MLB. I think it's a really fun and exciting product, but with hockey in most USA markets, you just can't just create a team, open the box office and expect people to line up for tickets.
"You have to have a good plan and execute it. Vegas could become a winter getaway for Canadian fans — that happens in San Jose, where during one playoff series again Vancouver, thousands of fans flew in from B.C. because the flight plus game ticket was cheaper than the game ticket alone in Vancouver.
"The Canucks fans practically took over one large downtown San Jose restaurant/bar and some hotels.
"But in Vegas, the team could cater to more out-of-towners and tourists because there are so many of them. But I still think that local fans must make up the majority support."
I would be surprised if prospective owner Bill Foley wasn't working off the NHL's checklist for success, long before the ticket drive.
SMALL WORLD DEPT.
Tony-winning Annaleigh Ashford's recent weekend engagement at Cabaret Jazz at The Smith Center for the Performing Arts was not her Las Vegas debut, it turns out.
Before The Smith Center's opening in March 2012, Ashford was of the two cast members of "Wicked" who gave a preview at the Cleveland Clinic Lou Ruvo Center to introduce The Smith Center's first Broadway season.
Ashford played Glinda, and Teal Wicks played Elphaba.
Ashford went on to receive a Tony nomination for "Kinky Boots" and last month won the Tony for best featured actress in a play for her role in "You Can't Take It With You." (I mistakenly had her winning the Tony for "Kinky Boots" in a recent column).
Wicks is currently in "Finding Neverland" on Broadway and also appeared in Frank Wildhorn's "Jekyll & Hyde."
Myron Martin, president and CEO of The Smith Center, was giddy when Ashford won the Tony.
"Small world," he said. "How lucky were our audience members to see these two amazing rising stars."
THE SCENE AND HEARD
Piero's headliner Pia Zadora is appearing on ABC's "Celebrity Wife Swap" tonight. She is matched with Broadway star Cloris Leachman, still kicking it at age 89.
SIGHTINGS
Tess Holliday, the first plus-size model to grace the cover of People magazine, got married Monday, her 30th birthday, to Australian businessman Nick Holliday in cowgirl and cowboy outfits at The Little Church of the West. … Elvis impersonator Ted Torres of "All Shook Up," touring the "Elvis Exhibition" on Tuesday with his entourage at Westgate hotel-casino.
THE PUNCH LINE
"After making insulting remarks about Mexicans, Donald Trump has been kicked off NBC and Univision. On the bright side, Trump's hair has a new show on "Animal Planet. " — Conan O'Brien
Norm Clarke's column appears Sunday, Monday, Wednesday and Friday. He can be reached at 702-383-0244 or email him at norm@reviewjournal.com. Find more online at www.normclarke.com. Follow Norm on Twitter: @Norm_Clarke