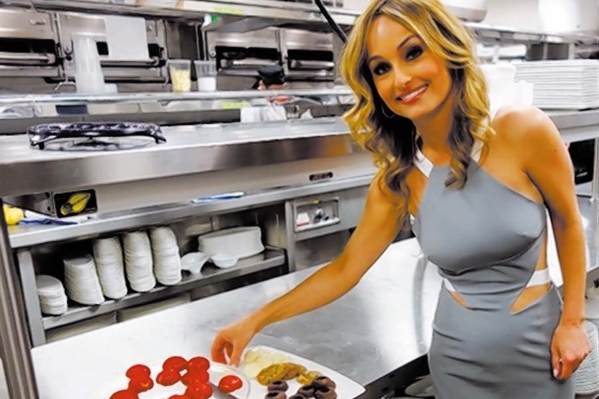 Food Network star Giada De Laurentiis forked over a lot of cabbage in her divorce from husband Todd Thompson.
According to the final divorce judgment obtained by TMZ.com, Thompson receives their $3.2 million home in the Pacific Palisades neighborhood of Los Angeles, $300,000 in arts and furnishings and $9,000 a month in child support.
That's not all.
Because there was no prenuptial agreement, De Laurentiis has to give up 50 percent of advances for some cookbooks. That includes a $2.5 million balance for "At Home/Weeknights with Giada," $2.3 million for "Giada Feel Good Food" and $757,000 for "Everyday Pasta/Giada's Kitchen."
She was awarded all rights to an untitled Italian cookbook and her production company, Linguine Pictures, and GDL Foods Inc.
She opened her first restaurant, Giada, at The Cromwell last year. It was not mentioned in the TMZ report.
Thompson, 52, keeps his membership to the Bel-Air Bay Club and his Porsche. She also keeps her Porsche.
Thompson, a fashion designer, has an estimated worth of $15 million. Hers is estimated at $20 million, according to records. They were granted joint custody of their 7-year-old daughter, Jade. They were married in 2003.
A Brady backer's theory
Shawn Tempesta, half of the "Morning Blend" duo on KTNV-TV, Channel 13, is a true-blue New England Patriots fan.
During my weekly Thursday segment with Tempesta and host Dao Vu, he was over the moon when federal judge Richard Berman overturned the NFL's four-game suspension of quarterback Tom Brady.
Tempesta loves Brady, but he offered a theory about why the quarterback refused to turn over his cellphone.
"I'm of the belief," Tempesta said, "that his text messages had nothing to do with deflated footballs but may have had something to do with infidelity which is why we're hearing rumors that Tom and Giselle (Bundchen) are on the rocks."
Those rumors have been getting louder in recent months after Brady and his Brazilian supermodel wife spent their birthdays apart.
The scene and heard
ESPN 1100 sports radio host Mitch Moss is launching a nightlife-centric podcast today.
"I've wanted to do a nightlife podcast for a while, and with the launch of our new website (LVsportnetwork.com), management was asking for content ideas. This is what it's morphed into," he said.
He has invited me to be his first guest. Moss will cover nightlife, restaurants, bars, events and shows.
After today, the podcasts will run Wednesdays. They will be Available starting at 9 a.m. …
The new center bar at the Hard Rock Hotel will be officially christened over the weekend, but earlybirds can check it out starting today. …
Martin Kaye, a sensation as Jerry Lee Lewis in "Million Dollar Quartet" at Harrah's, performs his one-man "Odd Socks" at the Art Square Theater on Saturday. The show, mostly biographical, starts at 8 p.m.
On this day
Sept. 4, 1953: Las Vegas Park stages its first thoroughbred races on what is now the grounds where the course and club of the Las Vegas Country Club is located. On Oct. 15, 1956, a NASCAR race was held there and won by Norm Nelson, the only NASCAR victory for the USAC legend. The poorly attended race was called because of darkness.
Sightings
Former Heisman Trophy winner Herschel Walker, pulled onto the stage Wednesday during Terry Fator's show to perform in the "human puppet" skit.
The punch line
"The State Department just released another batch of Hillary's emails from when she was secretary of state. In the emails, Hillary asked an aide what time 'The Good Wife' was on, how to charge her iPad and how to get Wi-Fi. Hillary sounds less like the secretary of state and more like my mom at a hotel." — Jimmy Fallon
Norm Clarke's column appears Sunday, Monday, Wednesday and Friday. He can be reached at 702-383-0244 or norm@reviewjournal.com. Find more online at www.normclarke.com. On Twitter: @Norm_Clarke.