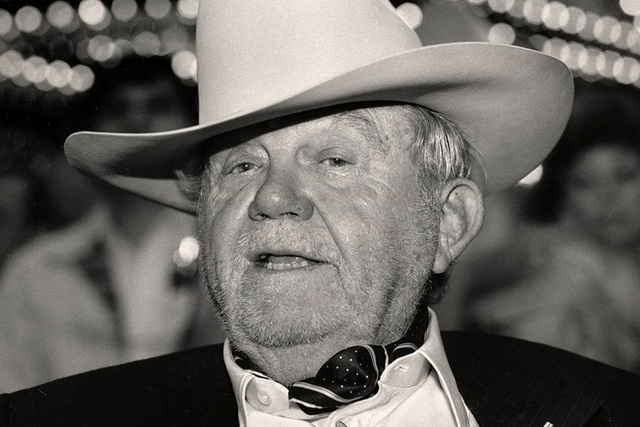 A book that paints gambling legend Benny Binion as an FBI informant is heading for Hollywood, and his family isn't happy about it.
Nick Behnen, who is married to Binion's daughter Becky, said he plans to take legal action again the author of "Blood Aces: The Wild Ride of Benny Binion, the Texas Gangster Who Created Vegas Poker."
Behnen said the family is intent on blocking the movie because it "would perpetuate the lie that Benny was an informant."
Author Doug Swanson, a Dallas Morning News investigative reporter, emailed this response: "Benny Binion's status as a confidential informant is documented in his FBI file, which is available to anyone who files a Freedom of Information Act request with the bureau."
Behnen, in an interview with the Review-Journal, said he has hired Angela Clemente, an FOIA expert, who contends the informant claim is "all crap, 110 percent." He added, "(Swanson) has started a litigious fire that will never go out."
The screen rights to "Blood Aces" were recently acquired by Relativity Media.
Binion, the longtime owner of the Horseshoe hotel-casino in downtown Las Vegas, is considered the father of the World Series of Poker. He died in 1989 at the age of 85.
CELINE OPENS UP
A frail Rene Angelil made an appearance on ABC's "Good Morning America" on Tuesday during Celine Dion's tear-filled interview.
She wept while explaining Angelil, 73, can't eat because of complications from throat cancer.
"He's got a feeding tube. I have to feed him three times a day," she said during her interview with ABC News' Deborah Roberts.
It was Dion's most revealing interview about her husband's health since she took a break to be at his side.
It was announced earlier this week that she will return to Caesars Palace in August after the year layoff.
Angelil stepped down as her manager late last year. They live in Lake Las Vegas with their three sons. Dion said she has been open with the boys about their father's struggle.
THE SCENE AND HEARD
Stephanie Styles, who played the female lead in "Newsies" at The Smith Center last week, credits Las Vegas for her show business blood. Her mother, Bridget Hahn, was a UNLV cheerleader when the Thomas &Mack Center opened in 1983. Styles' family often returned to Las Vegas to visit relatives. "Las Vegas was my introduction to entertainment … Siegfried &Roy, Danny Gans," she said. Styles, 23, grew up in Houston. "I wouldn't be where I am today without the arts of Las Vegas," she said. …
An automation glitch stopped "Steve Wynn's ShowStoppers" on Saturday. The system failed to move set pieces for "Cell Block Tango," with two numbers left in the 7 p.m. performance. After a delay, it was announced full refunds would be offered. The 10 p.m. show went off without a hitch. …
Henderson resident Jerry Izenberg, a longtime New Jersey-based sports columnist, is signing his book "Rozelle: A Biography" on Sunday at the Barnes &Noble store, 567 N. Stephanie St. Izenberg covered NFL commissioner Pete Rozelle's era while working for the Newark (N.J.) Star-Ledger. Izenberg delves into Rozelle's biggest crisis: cracking down on two of the league's biggest stars, Green Bay Packers running back Paul Hornung and Detroit Lions defensive lineman Alex Karras for betting on games. …
Cirque du Soleil's "One Night for One Drop" is moving to The Smith Center for the Performing Arts next year. Saturday's third edition of the show raised $6 million at The Mirage. The philanthropic event promotes One Drop's water-access initiatives, a pet project of Cirque founder Guy Laliberte. …
Diana Ross of the iconic Supremes opens her Las Vegas residency at The Venetian in April. Her 71st birthday is Thursday, and Clark County is declaring it Diana Ross Day. How big were the Supremes? Between July 1964 and May 1965, they came up with five consecutive No. 1 singles.
SIGHTINGS
Rosanne Cash, oldest daughter of country icon Johnny Cash, in the audience at Elton John's show on Tuesday at The Colosseum inside Caesars Palace. … Former Dallas Cowboys star Michael Irvin at Crazy Horse III on Monday. … JJ Hamblett and band members from the British boy band Union J, popping champagne in the Foundation Room at Mandalay Bay on Saturday. … Snowboarding icon Shaun White, on hand for sister Kari's 30th birthday celebration at Tao in The Venetian on Friday. The party moved up to the nightclub, where Kari was presented a cake by a cocktail server who "snowboarded" through the crowd. Also in the club: NFL Hall of Famer Jerry Rice. … Australian singer Sia, meeting her idol, Flamingo headliner Olivia Newton-John, after her show.
THE PUNCH LINE
"People are questioning if Ted Cruz can legally run for president because he was born in Canada. And the last thing we want to do is pave the way for a President Bieber." — Conan O'Brien
Norm Clarke's column appears Sunday, Monday, Wednesday and Friday. He can be reached at 702-383-0244 or email him at norm@reviewjournal.com. Find more online at www.normclarke.com. Follow Norm on Twitter @Norm_Clarke.