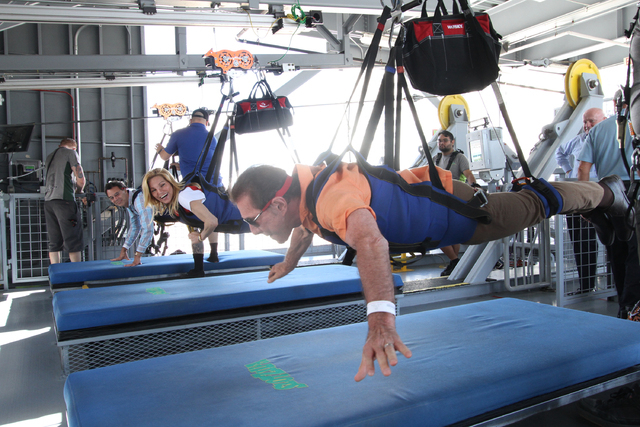 It must have been a sight to behold: 74-year-old gaming icon Steve Wynn, arms outstretched in a Superman pose, zooming above Fremont Street on SlotZilla.
"It was a surreal moment," said Scott Roeben, who photographed Wynn's two flyovers on Monday.
There was no announcement, no fanfare, Roeben said.
"He just showed up, out of the blue, in midafternoon" said Roeben, the interactive marketing manager for the Fremont Street Experience.
Accompanying Wynn on his two trips — first on SlotZilla's upper "Zoomline" in the prone position and then seated on the lower "Zipline" — was his wife, Andrea.
"She was with him every step of the way," said Roeben, who reported the extraordinary event on his blog, VitalVegas.com.
"While Steve Wynn's vision is severely impaired — he suffers from an eye disease, retinitis pigmentosa — he was fearless as he flew over Fremont Street," Roeben wrote.
Wynn, through an intermediary, described the outing as "great fun." Wynn spokesman Michael Weaver said Wynn made the SlotZilla runs "because he's looking at that for his Paradise Park project. He said he plans to make it a bit more elaborate but he wanted to experience it."
Roeben said a man described as a "lead designer" joined Wynn, as well as a fourth man.
Wynn recently revealed plans for a $1.5 billion development project on the former Desert Inn golf course, which covers 130 acres. It includes a 1000-room tower and expanded meeting space as well as the lake and other amenities.
Plans call for the lake to be surrounded by a boardwalk and white sand beaches. There will be water skiing, paddle boarding, parasailing and nightly fireworks.
CELINE OPENS UP
Celine Dion turned to the Disney movie "Up" to help break the news to her young children that their father had died.
In interviews with ABC News and People magazine, Dion said she waited several days before informing 5-year-old twins Nelson and Eddy Angelil of the Jan. 14 passing of their father, Rene Angelil. Days before Angelil's funeral in Montreal, Dion held a glitter and balloon-filled party for her three sons, including Rene Charles Angelil, now 15.
"Before I told them that their dad was not there, I talked about when we, everybody, gets sick. Then I said, 'Do you remember the movie, 'Up?'" It was one of their favorite movies, she said.
Then she revealed that "Papa" had "gone up" on balloons.
She took her boys outside and, after releasing what she called "pixie dust," they released balloons.
Dion, 48, said she got emotional when her husband's body was removed from their home.
"When they took him away, I chased the truck a little, like it was my kids going to school for the first day," she said.
THE SCENE AND HEARD
An invite-only Champagne salute to singing legend Tony Bennett will take place on the Brooklyn Bridge in front of New York-New York on Thursday at sunset, as marquees along the Strip dim. The tribute begins at 7:30 p.m. The public can view the kickoff event for Saturday's Keep Memory Alive gala from the sidewalk. Bennett is this year's honoree.
SIGHTINGS
Among the attendees at the opening of Beauty & Essex at The Cosmopolitan over the weekend: Bethenny Frankel, Busta Rhymes, Anthony Anderson, Dan Bilzerian, celebrity chef Scott Conant, musician Andrew Wyatt, Austin Stowell, Chris Ivery, Jonathan Cheban and Angie Everhart.
THE PUNCH LINE
"Audio has surfaced showing that in the 1980s and '90s Donald Trump may have used a fake name to pose as his own publicist. Or, maybe a little-known publicist named John Miller used a fake name to pose as a New York real estate mogul and run for president." — Seth Meyers
Norm Clarke's column appears Sunday, Monday, Wednesday and Friday. He can be reached at 702-383-0244 or norm@reviewjournal.com. Find more online at www.normclarke.com. On Twitter: @Norm_Clarke