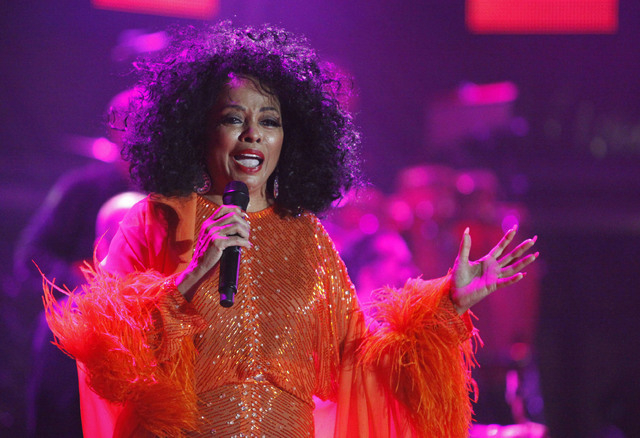 You will find female impressionist Frank Marino front and center every Friday during Diana Ross' current run at The Venetian.
There's a reason he has front-row seats: Ross was the inspiration for Marino's career. Shortly before his 18th birthday, in his first try, he won a lip-sync contest by impersonating the diva.
After the show, a talent booker approached him. Marino was hooked.
"I owe her my career," Marino said.
He saw her right after her 71st birthday last week, and "I have to say I thought she had more energy and excitement in her performance that when I saw her for the first time in her early 30s."
During childhood, Marino posted dozens of pictures of Ross on his wall. He has seen the former Supremes superstar perform more than 100 times.
"My designer just made a big ruffled white boa for me to give her as a gift," said Marino, the star of "Divas Las Vegas" at The Linq since 2010. Before that, he was the star of "Evening at La Cage" at the Riviera, hosting as Joan Rivers, for nearly 25 years.
In June, he will be christening a new showroom. A "Divas" poker pit was recently added to The Linq's casino.
On Sept. 19, he will celebrate in the "Hangover" suite at Caesars Palace the 30th anniversary of his arrival in Las Vegas as a headliner.
Ross performs every other night through the 18th.
SHECKY FLASHBACK
Longtime entertainer Nelson Sardelli is taking comedy icons Shecky Greene and Marty Allen to Bob Anderson's "Frank: The Man. The Music." on Thursday at the Palazzo.
"Maybe Bob will have someone beat up Shecky," said Sardelli, referring to Shecky's famous comedy line: "Frank Sinatra saved my life once. Some guys were beating me up, and I hear Frank say 'OK, boys, that's enough.' "
Greene turns 89 today. Allen celebrated his 93rd on March 23.
THE SCENE AND HEARD
Brian Unger of "The Daily Show With Jon Stewart" features old Vegas history in the April 20 premiere his new show "Time Traveling Wth Brian Unger" on the Travel Channel. He takes viewers back to Fremont Street in the 1940s and 1950s, when Clark Gable and Marilyn Monroe were among the many flocked to Las Vegas to get divorced. The show will explore the former sites of the "divorce ranches," where visitors seeking divorces had to spend a required six weeks residency. …
The 17th edition of Tiger Woods' Tiger Jam charity weekend will, for the first time, incorporate golf outings at Shadow Creek. Most of the event will be held May 15-16 at the MGM Grand. Proceeds benefit the Tiger Woods Foundation's college-access programs. …
The Las Vegas Sands and Rob Goldstein, a longtime executive, will be honored at the Governor's Black-Tie Invitational this week. The annual golf and social event supports nonprofit groups for children, teens and women in need throughout the Las Vegas community. …
Comedian Jeff Ross, who led Comedy Central's Justin Bieber roast, joins Dave Attell at the House of Blues on May 15. …
Entertainer Frankie Scinta is the guest speaker at the F.I.O.R.E. luncheon Thursday at the Italian American Club, 2333 E. Sahara. Tickets: $25. RSVP by today at Nonclubclubfiore@aol.com.
SIGHTINGS
Ryan Serhant of Bravo's "Million Dollar Listing" and Noah Baumbach's "While We Were Young," dining at Gordon Ramsay Steak at Paris Las Vegas on Sunday.
THE PUNCH LINE
"According to The New York Times, Jeb Bush identified himself as Hispanic on his 2009 voter registration form. While Hillary Clinton identified herself as 'President.' "— Seth Meyers
Norm Clarke's column appears Sunday, Monday, Wednesday and Friday. He can be reached at 702-383-0244 or email him at norm@reviewjournal.com. Find more online at www.normclarke.com. Follow Norm on Twitter @Norm_Clarke.