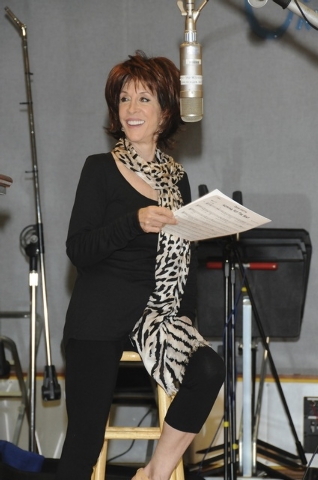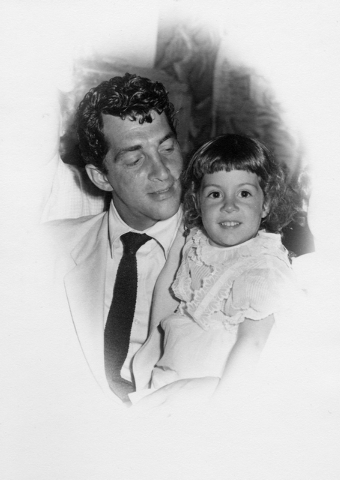 Deana Martin's happy to be bringing her Christmas show back to The Smith Center's Cabaret Jazz for the second consecutive year.
"What a great room," she says of the intimate cabaret, where she performed last year. "It gives me a feeling like the old days."
And when Deana Martin says "the old days," she knows the territory.
After all, Martin's been visiting Las Vegas since she was a young girl, when she watched her dad — legendary singer Dean Martin — perform, along with "Uncle Frank" (Sinatra) and "Uncle Sammy" (Davis Jr.), in old-style Strip showrooms.
No high-tech effects necessary, she says, "just the piano and band."
And, of course, the singer and the songs.
In this case, Deana's the singer and the songs make up "The Deana Martin Christmas Show." But, despite the title, don't expect a nonstop barrage of seasonal tunes.
"If you go to see a Christmas show, if it's all just Christmas songs, by about 40 minutes into it, you get a little tired," Martin says during a telephone interview from her home in Branson, Mo.
So audiences will hear some nonholiday favorites, too — including selections from her most recent recording, "Destination Moon." (In addition to computer download and CD, "Destination Moon" also is available on vintage-format vinyl LP, which prompted Martin's grandson to ask, " 'What is this, a really big CD?' " she says, laughing.)
Besides "My Favorite Things," a frequent holiday favorite, "Destination Moon" also features a duet between Deana and her dad Dean on "True Love."
When Deana recorded the Cole Porter ballad, singing along with her father's original recording, she had "the original handwritten Nelson Riddle arrangement" to consult.
"It was so amazing," she says, to be "standing there, holding my dad's sheet music."
But that's not the only memorable duet Deana's recorded.
Her 2011 album "White Christmas" features Martin's rendition of Irving Berlin's title Oscar-winner alongside a holiday-tune veteran: Andy Williams.
"It was the last recording he ever made," Martin says, expressing the delight she felt when Williams agreed to perform the song with her.
Martin has other memories of Williams — including one from childhood when he walked into a restaurant where she was dining with her famous father, and Dean Martin greeted Williams with a jaunty " 'Hey, Christmas.' "
Then again, plenty of people approach Deana Martin after her performances to tell her, " 'For me, it's not Christmas till I hear your dad sing 'Marshmallow World,' " which was featured on 1966's "The Dean Martin Christmas Album." (Cabaret Jazz audiences will, in all likelihood, hear Deana's rendition.)
"So many songs, so many stories," Martin muses. No wonder she says, "It's hard for me to edit some songs out" of the holiday show.
Yet, to Martin, that's part of the fun — to "mix and mingle to make it flow" by choosing which songs to perform.
"It's all the process," she says. "I love the work, I love the rehearsals, I love putting things together."
Among the holiday melodies likely to turn up this weekend: "all the favorites," including "Silver Bells" and "Let It Snow."
To say nothing of her traditional closer: her dad's 1964 signature tune, "Everybody Loves Somebody."
Besides the Dean Martin songs, Deana Martin says she tells a few Dean Martin stories.
"When you can pull a story in with a song, it touches people more," she says.
Some of those stories may involve Deana's recollections of childhood holiday celebrations, featuring a huge Christmas tree strung with lights, around which the family — including all seven kids — would gather, "all of us hanging out with all the great music."
And while Deana Martin also enjoys performing that great music in larger concert halls, there's something about the intimate Cabaret Jazz that creates a special mood, she says.
"It's so much fun — the audience is right there," Martin says, citing the venue's living-room atmosphere and "being in Las Vegas — it's exciting."
After all, there's no place like home for the holidays.
Contact reporter Carol Cling at ccling@reviewjournal.com or 702-383-0272.
Preview
What: "The Deana Martin Christmas Show"
When: 7 p.m. Friday and Saturday, 2 p.m. Sunday
Where: Cabaret Jazz, The Smith Center for the Performing Arts, 361 Symphony Park Ave.
Tickets: $37-$66.60 (702-749-2000, www.thesmithcenter.com)