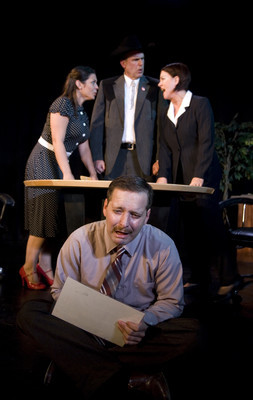 In some ways, the title to Cockroach Theatre's current production at the Onyx is misleading.
Marc Wellman's script is a very conventional, what might be called "safe" comedy, about a conservative senator and his staff who are sent seven pictures featuring someone they may or may not know in various sex acts. They all get uptight, naturally; they all condemn the lewdness, while trying to hide their getting turned on.
On a bad day, Neil Simon could have written most of this, but Wellman was smart enough to give his routine work a title that stands out: "7 Blowjobs." That sounds naughty, but apart from some sporadic adult language, there's no nudity, no audience peeking at the pics, no sex acts. This has been advertised as provocative theater, but I found it as provocative as a repeat "According to Jim" episode.
You can have some occasional fun with Wellman's one-note characters. There's a charismatic preacher (played by the enormously charismatic Ernie Curcio) who goes on the make for the attractive but outwardly straight-laced administrative V.P. (the versatile Evelyn Barnett); the nerdy, perpetually aroused assistant (the beautifully befuddled Levi Fackrell), and the senator himself (the authoritative Taylor Hanes) who works hard (and in vain) to maintain an aura of dignity.
Wellman's milking dry of the obvious jokes is one major problem. Actor Curcio's decision to direct is the other. Curcio conducts at a frantic pace from beginning to end.
The only way to make some of this comedy work, I would think, is to find enormously different levels for it. The play needs to build into its own ridiculousness. What I kept seeing was the same scene being played over and over again.
Curcio is a too all over-the-place actor to be able to direct himself. His energy and intensity need to be channeled. And certainly the rest of the cast could have benefited from a detached eye guiding the proceedings. Why do so many talented actors shortchange the importance of a director? I'd argue it's physiologically impossible for an actor to behave honestly in character moment-to-moment while also watching and evaluating all the other performers and production elements.
Scott Fadale's set consists of pieces of nondescript desk furniture that do nothing to establish the feel of Wellman and Curcio's world.
But since this play doesn't really have a world, Fadale's neutral blandness is at least consistent.
REVIEW What: "7 Blowjobs" When: 8 p.m. Friday-Saturday; 8 p.m. Oct. 3-4; 11 p.m. Oct. 3 Where: Onyx Theatre, 953 E. Sahara, No. 16 Tickets: $18 (732-7225) Grade: D-