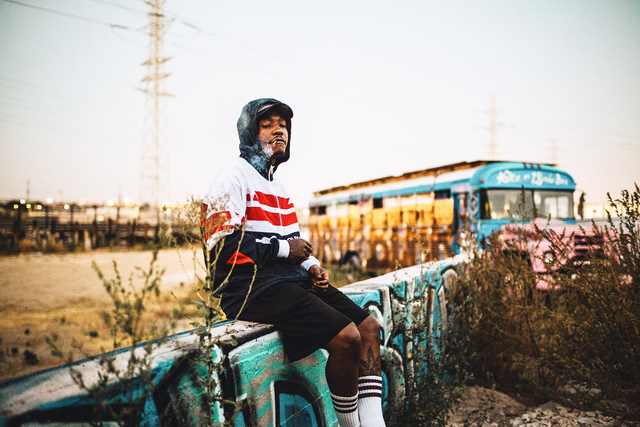 Las Vegas isn't known as a hotbed for hip-hop. But with the city's biggest rapper leading the charge with a brand-new record label, that's about to change.
Think of Dizzy Wright as The Killers or Imagine Dragons of hip-hop. The 25-year-old Wright, who recently parted ways with Funk Volume, his label for the past five years, is putting out music on his own, with his hometown firmly in mind.
Wright's new record, "702," is setting the stage for his new label, Still Movin'. His goal, Wright says, is to lift the city up — and not just by creating exposure, but by making a real difference in the community.
"For me, it's more than just signing the artists. I want it to be something bigger than just music," he says. That includes everything from launching a back-to-school backpack drive to helping feed the homeless. He'd also like Still Movin' to do things like sponsor basketball tournaments and register people to vote.
As for the music, Wright's been talking to a few artists, but he's not ready to reveal whom just yet. Whoever they are, they'll benefit from Wright's knowledge and experience and be exposed to an audience that's already very engaged.
With nearly a million followers on Facebook, Wright has built up a devoted fan base nationally, with a relaxed, confident cadence that finds him flipping between club-friendly party tunes and positive, thought-provoking material with equal ability.
In 2013, fans voted for him to be included on the cover of XXL Magazine, one of rap's premier publications, for its annual freshman issue, which lists the hottest rappers in the country.
Wright had just been discovered at the end of 2011 by Funk Volume, the independent record label founded by Hopsin, a rapper capable of getting a million views in one day on YouTube himself.
Wright's stock was already rising, but the XXL nod sent it through the roof. His first album on Funk Volume, "Smokeout Conversations," was so well received that he was soon headlining a 35-date tour on his own.
In the past six years, Wright has put out a ton of music (two albums, four EPs, and eight mixtapes) and toured extensively. As far as he's come, though, it's not nearly far enough. Wright can take care of his kids, but he's not at a point where he can put them both through college, "which means I've got some work to do," he says.
But Wright's been working hard all his life. Born in Flint, Michigan, he moved to Las Vegas with his mom when he was 3 and started rapping not long after that.
His mom, who worked as a tour manager for Bone Thugs-N-Harmony, got him started. Inspired by the popularity of Lil Bow Wow and Lil Romeo, she saw a future for her son and pushed him toward it. She wrote some of Wright's first rhymes and even gave him books on the industry.
Her influence inspired him, but eventually the experience soured him and he stepped away from the mic for a few years. His love for rap was reignited in high school, though, when he met a friend who had a home studio. Wright really started focusing on his music and eventually caught the attention of Funk Volume at a talent competition.
Joining the label took Wright's skills to the next level. Performing alongside his label mates, particularly Hopsin, whose stage presence was undeniable, pushed Wright to step up his game. He loved being on the label and never planned to leave. But then a disagreement between Funk's co-founders changed everything.
The dispute stemmed from the notion that the label — which by then had secured a distribution deal with Warner Bros. — wasn't living up to its full promotional potential.
Everybody agreed that more was needed, but when CEO Dame Ritter spoke with Hopsin, he didn't choose the right words, evidently, and the rapper felt alienated. That led to the end of the label, which was disappointing to Wright, mostly because he feels like it could have been worked out.
Rather than dwelling on the negative or speaking ill of Funk Volume, Wright is focusing on the positive, taking all of his energy and everything he learned from that label and pouring it into his own.
That's great news from a guy who's already given Vegas a good rap.
Read more from Dave Herrera at reviewjournal.com. Contact him at dherrera@reviewjournal.com and follow @rjmusicdh on Twitter.