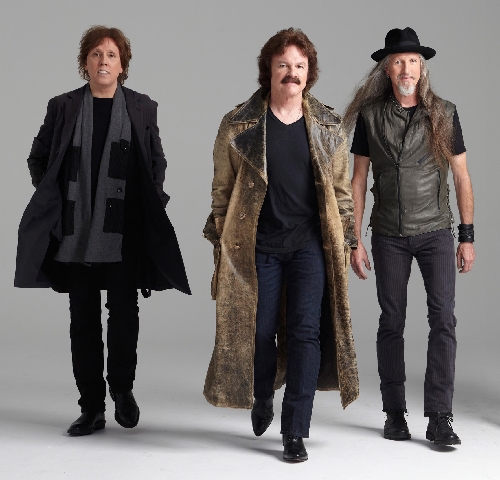 For the thousandth time, Pat Simmons is being asked whether he smokes marijuana. That's what happens when you name your band after '70s slang for a joint.
"Oh, I wouldn't …," the guitarist says, pausing to consider the legal risks of yet another current confirmation.
"Yes," he says, laughing.
The Doobie Brothers is a stupid name for a rock band.
"It's such a stupid name," agrees Simmons, 61, best known for writing and singing the band's first No. 1 hit, 1974's "Black Water."
Then again, the former moniker of this San Jose, Calif.-based outfit was no better: Pud.
The Doobies enjoyed many highs since forming in 1970, a few even involving their career. After lacing rock radio with their mellow acousticness, they hooked up with Michael McDonald — the fluid voice of "What a Fool Believes," "Takin' It to the Streets" and other poppy soul hits — in 1975.
"When he joined the band, I didn't even know that he wrote songs," Simmons says. "He just was a guy playing keyboards and singing some background parts."
While in the studio, Simmons asked this guy if he had any of his own tunes to offer up. McDonald played a few.
"We went, 'Those'll work,' " Simmons says.
McDonald's tenure lasted only until 1983, however. He never returned as a full-time member.
"This band has had so many people come and go through the years," Simmons says. (The only other co-founder still around, guitarist Tom Johnston, quit for several years in the late '70s and Simmons sat out several months in 1981 and 1982.)
"We're worse than Fleetwood Mac in that sense," Simmons says.
Perhaps. But at least when you see Fleetwood Mac in concert today, its lineup includes Stevie Nicks. (She's the singer who, like McDonald, joined midstream to voice its greatest hits and become its most recognizable face.)
"It's just the way it is with bands," Simmons says. "They're just people. Sometimes, people move onto other things, people get sick, people have problems that take them other directions." (Two longtime Doobies — bassist Skylark and drummer Michael Hossack — currently are sidelined with health issues, a bummer weighing heavily on Simmons' mind.)
Relations with McDonald are warm, Simmons says. The singer will appear on the band's first album in 10 years, "World Gone Crazy," which drops Sept. 28. (The band will preview three of its new songs at the Las Vegas Hilton on Saturday and Sunday.)
"I'm real close with Mike still," Simmons says before reminiscing about his 1995 reunion tour with the band.
"That was pretty fun," he says. "I'd like to see something like that again. I don't know if we'll ever do it, but it's something that's possible, I think."
Simmons even extends a reunion branch to lead guitarist Jeff "Skunk" Baxter, the second most famous missing Doobie. (He joined in 1974, after splitting from Steely Dan, the band from which he later pulled McDonald.)
"Jeff's a little strange," Simmons says. "I don't really talk to him all that much but, you know, I like him."
Simmons says there's "no question" all surviving one-time members will reunite when the band gets inducted into the Rock and Roll Hall of Fame. However, there is a question as to whether that will happen; the band has qualified for the honor since way back in 1995.
"I don't know what's up with that and I don't really care," Simmons says. "I'm not really sure exactly what the Rock and Roll Hall of Fame is or how it came to be in Cleveland, Ohio."
Perhaps its voters don't like stupid band names.
Contact reporter Corey Levitan at clevitan@reviewjournal.com or 702-383-0456.
Preview
Who: The Doobie Brothers
When: 8 p.m. Saturday and Sunday
Where: Las Vegas Hilton Theater, 3000 Paradise Road
Tickets: $59-$89 (800-222-5361)