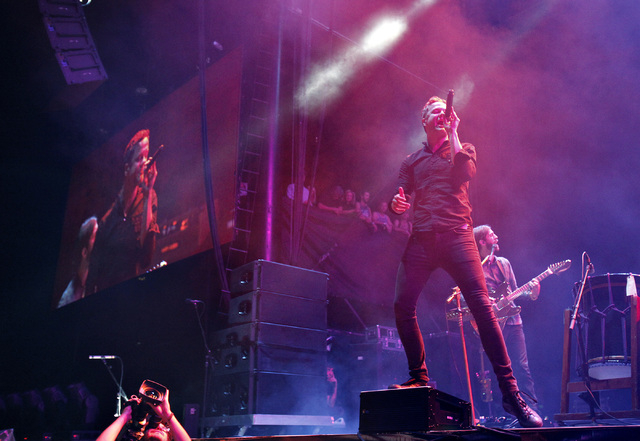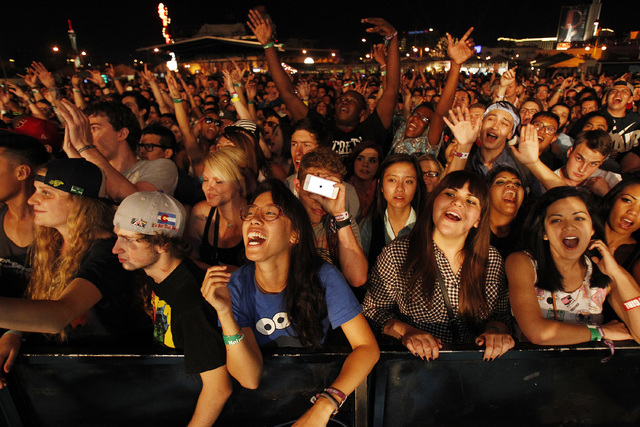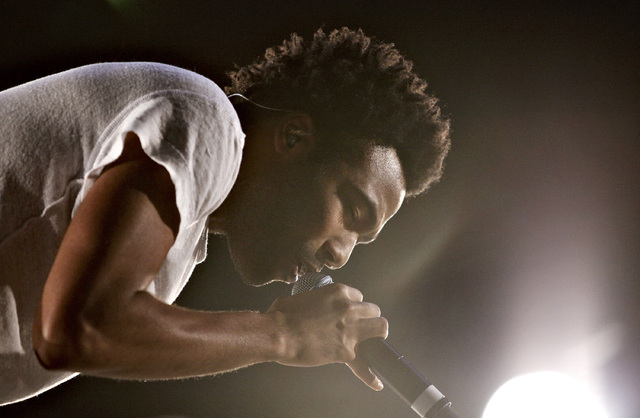 Singing from the back of his heels with arms outstretched, Dan Reynolds looked like the letter "T" confronting a stiff wind, said gale spreading the guy's good cheer like the seeds from a dandelion clock.
"Don't hold back," the Imagine Dragons frontman urged in song, and Reynolds never does: He hand-delivers his emotions to you like a baton in a relay race.
"I can't tell you how much this means to us," he said from the massive Downtown stage at the Life Is Beautiful festival Saturday, right after recounting how he and his bandmates purchased a house on Sahara and Jones avenues four-and-a-half years ago, playing cover songs at places like O'Sheas to make ends meet
Now, here they were, drawing the biggest crowd of the day, a reflection of both their rising popularity and the festival's scheduling — on the other big stage, the Ambassador, the far lesser-known Purity Ring played.
Imagine Dragons' sound was made with moments like this in mind, all ringing, U2-esque guitars, an almost comical surplus of live percussion and choruses delivered with fists in the air, perfectly suited for large throngs of people to echo in between sips of beer.
The band's desire to please all comers will likely come off as ingratiating to some, but it's hard to question their sincerity, especially coming from Reynolds, whose voice quavered with emotion when he addressed the crowd between songs.
Wielding a T-shirt gun, pounding on some drums larger then he was, jumping and swinging his arms like he was skipping an invisible rope, Reynolds was all-in on this night, as well as on the promise of Life Is Beautiful itself.
"I feel like it marks the beginning of a brand new Las Vegas," he said of the festival.
That remains to be seen, though Life Is Beautiful certainly got off to a promising start with a big crowd and plenty of memorable sets.
There were the outsize performances meant to move tens of thousands of people at a time: Kings of Leon's snarling, blustery showing, a mix of soulful come-ons and inflamed kiss-offs from a band well-practiced in the not-so-delicate art of total, willful overstatement; Beck's thrift store of sounds, where he brought elemental, harmonica-fired blues, hooky garage rock, bohemian hip-hop and even '80s metal to a boil and then reduced the heat to a low simmer on the gorgeous, resigned ballad "Lost Cause."
And then there were the smaller pleasures that offered a break from the bustle of a festival of this size: Dean Wareham and wife Britta Phillips at the Fremont Country Club, scoring black-and-white Andy Warhol screen tests with hazy, cloud-covered songs as striking as the footage of Edie Sedgwick; Vegas indie rock changelings A Crowd of Small Adventures putting a charge in the night air on the Homegrown stage.
Befitting the festival's name and spirit-lifting agenda — "Believe There is Good in the World" read the T-shirts of some fest staffers — the mood was buoyant, elevated by the breathy, blissful synth pop of Alpine, the space age yacht rock of Poolside, the hip-hop-influenced party-till-you-puke-then-party-some-more boosterism of Wallpaper and the throwback grooves of Capital Cities, who underscored their fondness for disco with a cover of the Bee Gees' "Stayin' Alive."
Of course, few bands could resist the obvious play on the festival's moniker.
"Thanks for hanging out with us at Life Is Beautiful — because it is," smiled Family of the Year singer-keyboardist Christina Schroeter near the end of their set, which culminated with Schroeter and singer-guitarist Joseph Keefe crouched down, tweaking their effects pedals to conjure a squall of sound. "Everyone's going to say that today," she noted, correctly. "But we were the first."
There was one jarring tonal shift during all the well-wishing, rapper Earl Sweatshirt's confessional, confrontational, thrilling and wholly polarizing performance, where he gave unflinching, sometimes abhorrent voice to the muddled identity of a kid who grew up being dismissed as "too black for the white kids and too white for the blacks."
"I'm indecisive, I'm scatterbrained and I'm frightened, it's evident," he announced on "Chum," which, like most of the songs he performed, was propelled only by a menacing, gut-roiling bass throb and a spare, barely there beat.
Life is beautiful?
Depends upon who you ask.
In the same spot Sweatshirt performed, the midsized Huntridge stage, Portugal. The Man later electrified with vaguely psychedelic rock songs embedded with a pop core that they built up and then seemed to relish tearing apart, like kids smashing sand castles after painstakingly constructing them.
"All Your Light," a song that spans less than four-and-a-half minutes on the band's 2011 disc "In the Mountains in the Cloud," was stretched to three times that length live, with guitar, bass and keys all warring with one another to see who inflicts the most damage on the bounds of the song.
The band ended with a reprise of the first number they played, "Purple Yellow Red and Blue," intercut with Pink Floyd's "Another Brick in the Wall (Part 2)," exploding with guitars, crowd-feverish.
It was a snapshot of the festival itself: overstuffed, overstimulated, far too much to digest at once, and deliberately so.
Contact reporter Jason Bracelin at jbracelin@reviewjournal.com or 702-383-0476. Follow @JasonBracelin on Twitter.