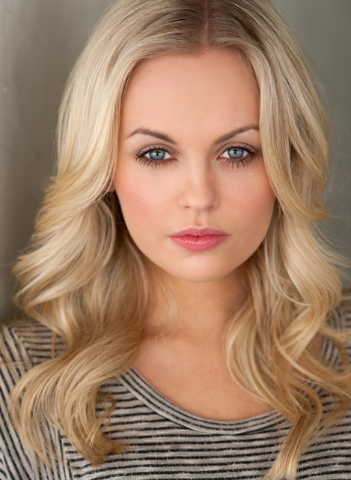 Northwest-area native Chelsea Rae Bernier has led an eventful life. She's danced on the television show "The Mindy Project," performed with Las Vegas entertainer Tony Sacca and recently played the iconic Mattel doll Barbie in a musical.
Now with hard work and dedication, the 25-year-old is taking the next step of her career as the alternate actress in the "Duck Commander Musical," which was scheduled to premiere April 15 at the Rio, 3700 W. Flamingo Road.
"I'm super grateful to be a part of this musical," Bernier said. "I've been on the road for a couple of years, and I'm looking to stay still. I've never been (an alternate) before, but this is a great learning experience and opportunity."
Bernier is a graduate of Gilbert Elementary School, Brinley Middle School and Las Vegas Academy.
Following high school, she moved to Los Angeles, where she worked extensively in film and television, while balancing school full-time online and working various jobs in between.
She received a bachelor's degree in health care administration from the University of Phoenix.
She grew up with a love for acting, which she said may have been instilled by her mother.
"My mom was a model when she first moved to Las Vegas. She modeled all over the city and even did a New Year's Eve lighting event with the mayor at the time," Bernier said. "I think that got passed down to me. From the time I could walk and talk, I enjoyed performing in front of others."
Her mother, Nancy Bernier, attributes her daughter's rising success to the schools she attended in Las Vegas.
"School is what you make of it, and it's up to children to take every single opportunity they're presented with," Nancy Bernier said. "That's what Chelsea did. I've never seen anyone as hardworking and as dedicated as her. Growing up in Las Vegas also exposed her to people in the entertainment field. It taught her that anything is possible."
Before being cast as an alternate actress, Bernier toured throughout Southeast Asia and Australia as the lead actress of the "Barbie Live!" musical.
Despite each musical's differences, Bernier said both have a positive message.
" 'Barbie Live!' was about being brave and teaching others to believe in themselves and be kind," Bernier said. "In the 'Duck Commander Musical,' the idea is the same. It's a beautiful show about a family and the pursuit of the American Dream."
The musical, which is based on the book "The Duck Commander Family" by Willie and Korie Robertson of A&E's "Duck Dynasty," is set feature 90 minutes of the Robertson family's rags-to- riches story.
The musical is scheduled at 7 p.m. Sunday through Tuesday and Friday and at 7 p.m. and 10 p.m. Thursday and Saturday.
Tickets range from $49 to $125 and can be purchased at duckcommandermusical.com.
"This is not another episode of 'Duck Dynasty.' It's a story about redemption and of a family sticking together through thick and thin," said director Jeff Calhoun. "It's great for families of all ages. Not only is the music extraordinary, but the story has great heart."
To reach North View reporter Sandy Lopez, email slopez@viewnews.com or call 702-383-4686. Find her on Twitter: @JournalismSandy.