EDC's eclectic celebration of never growing up on full display
Updated May 19, 2018 - 3:31 pm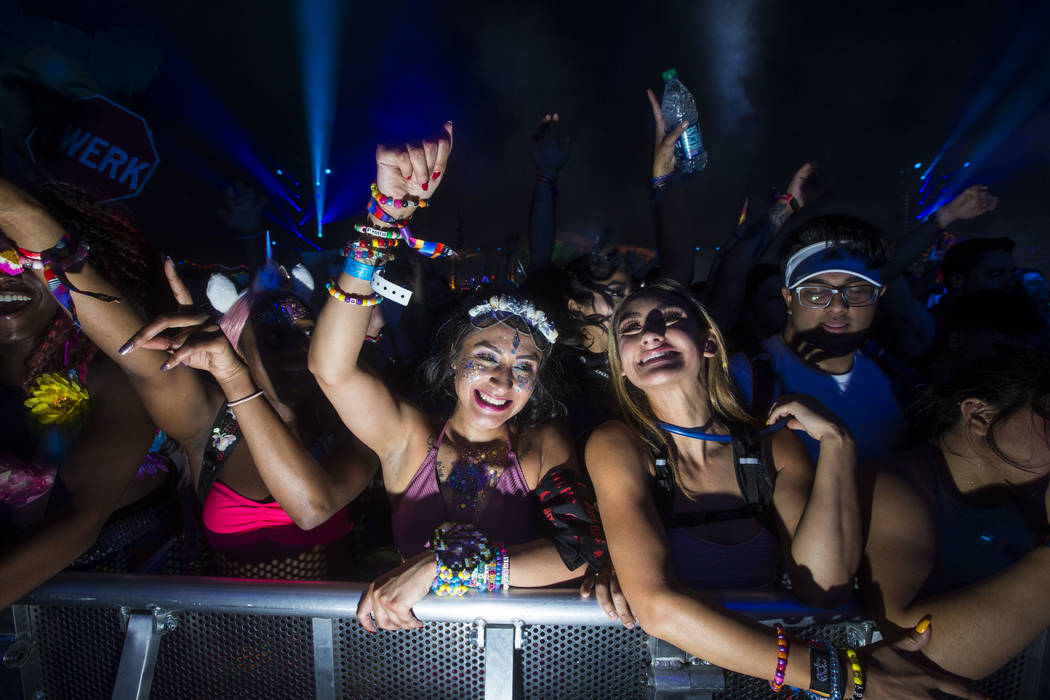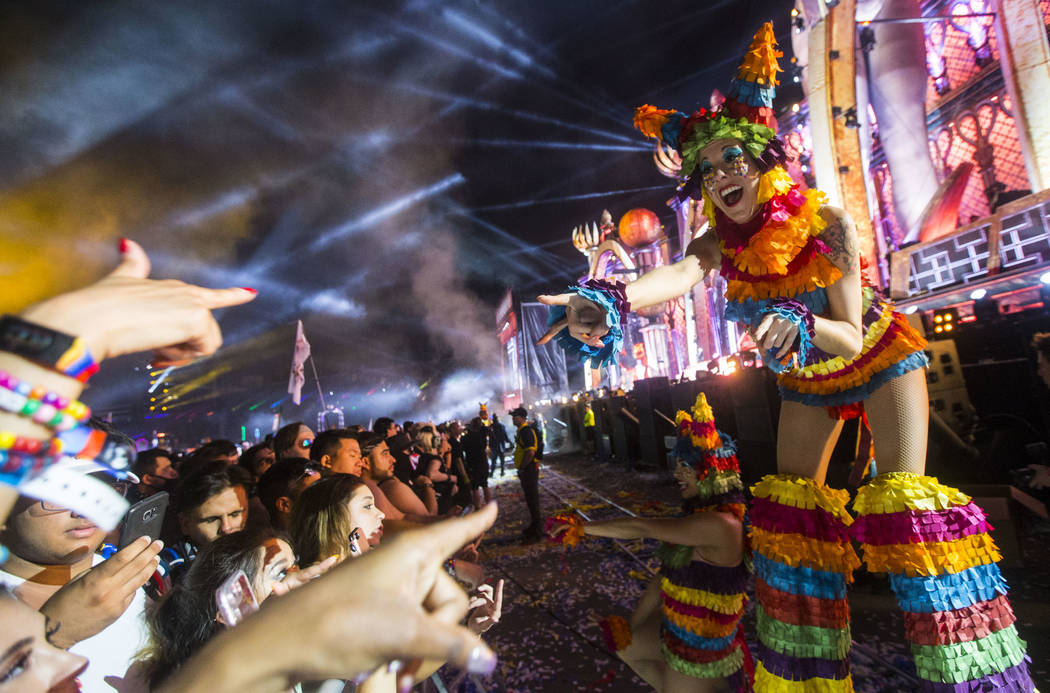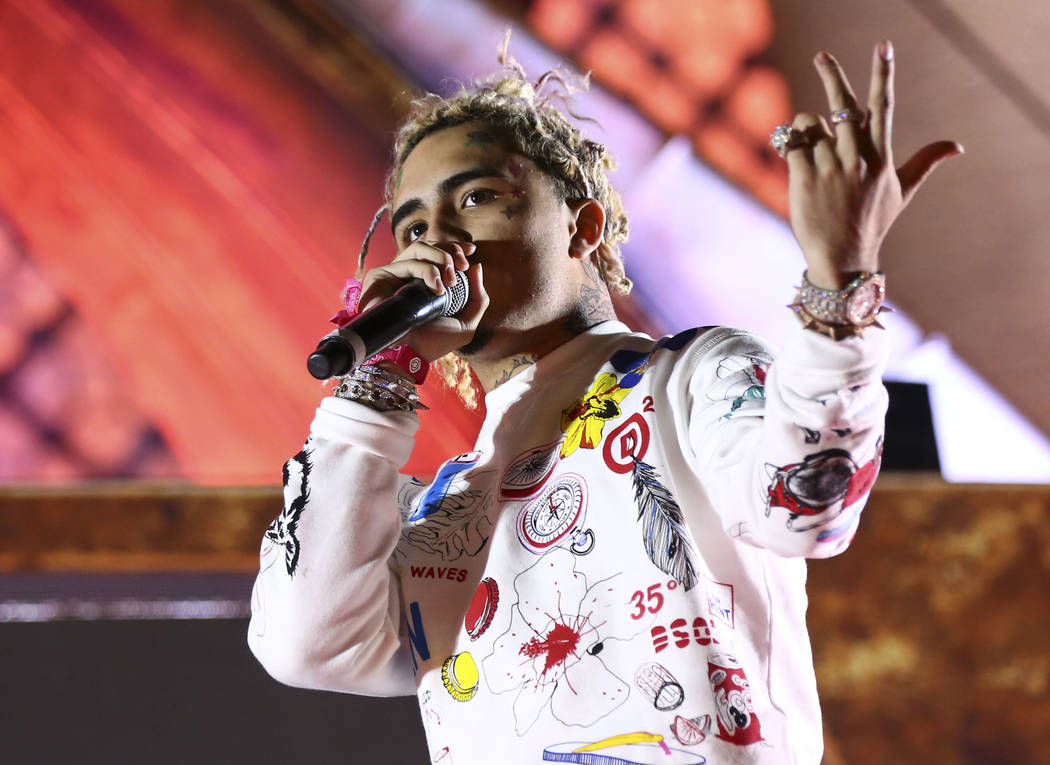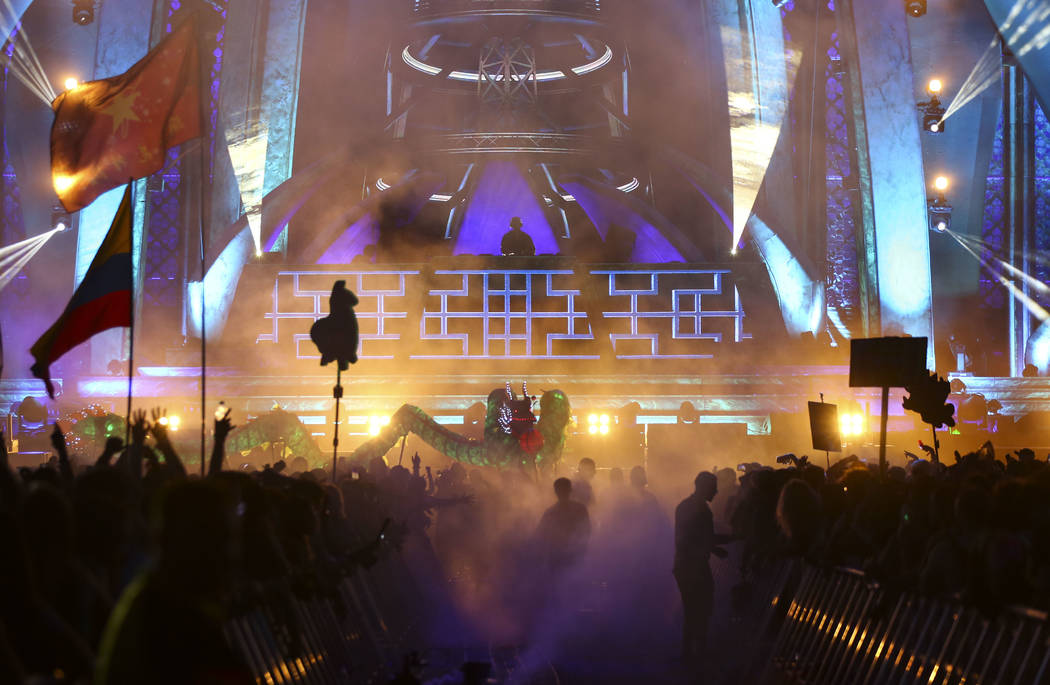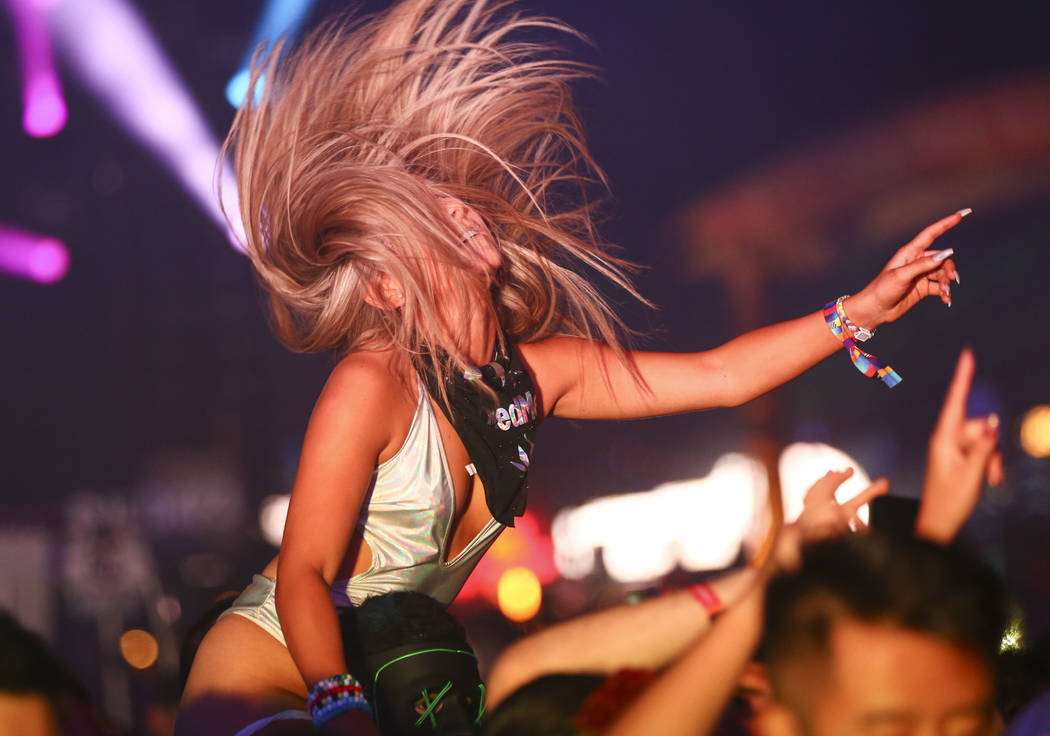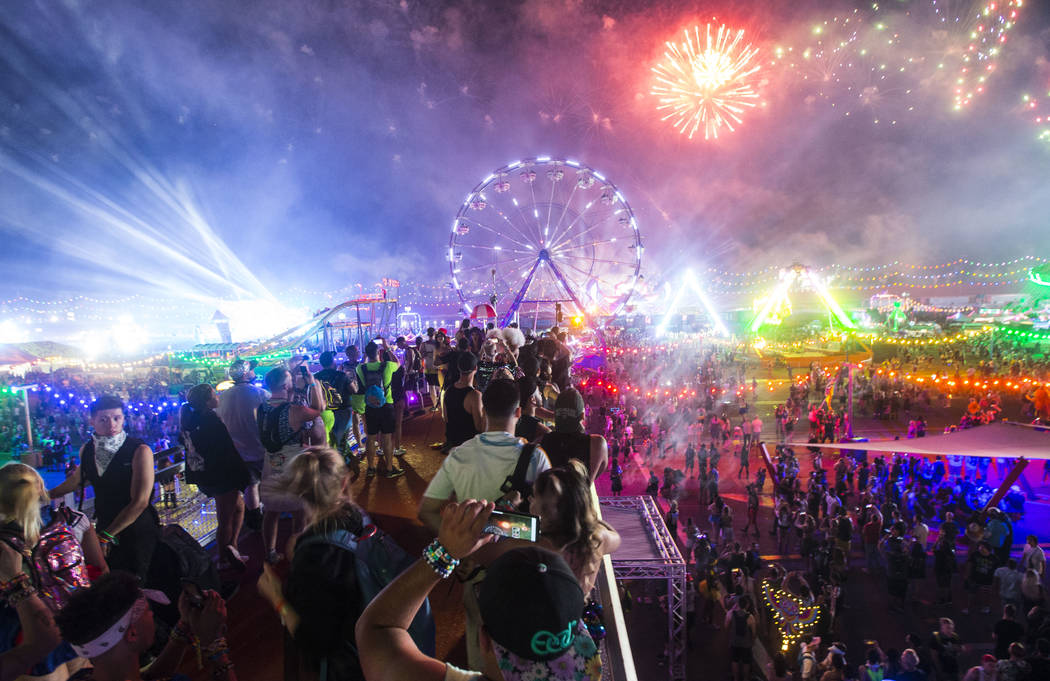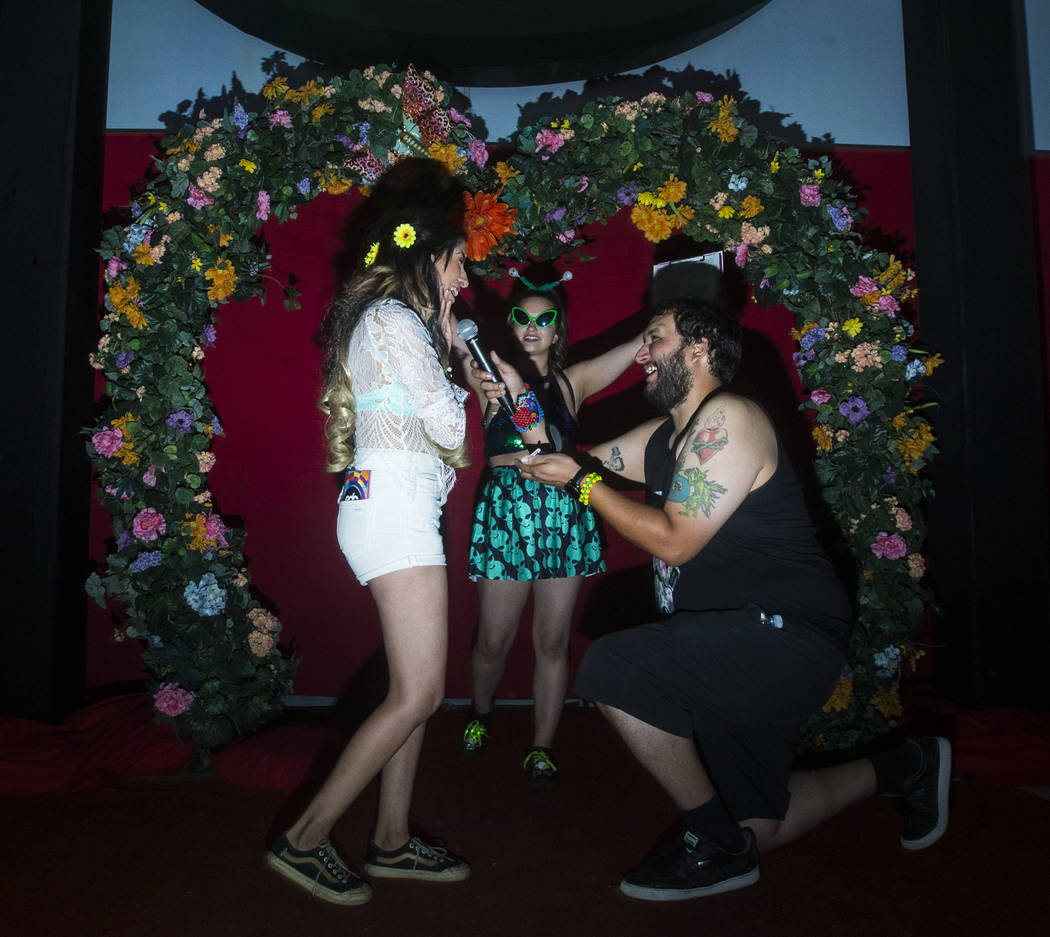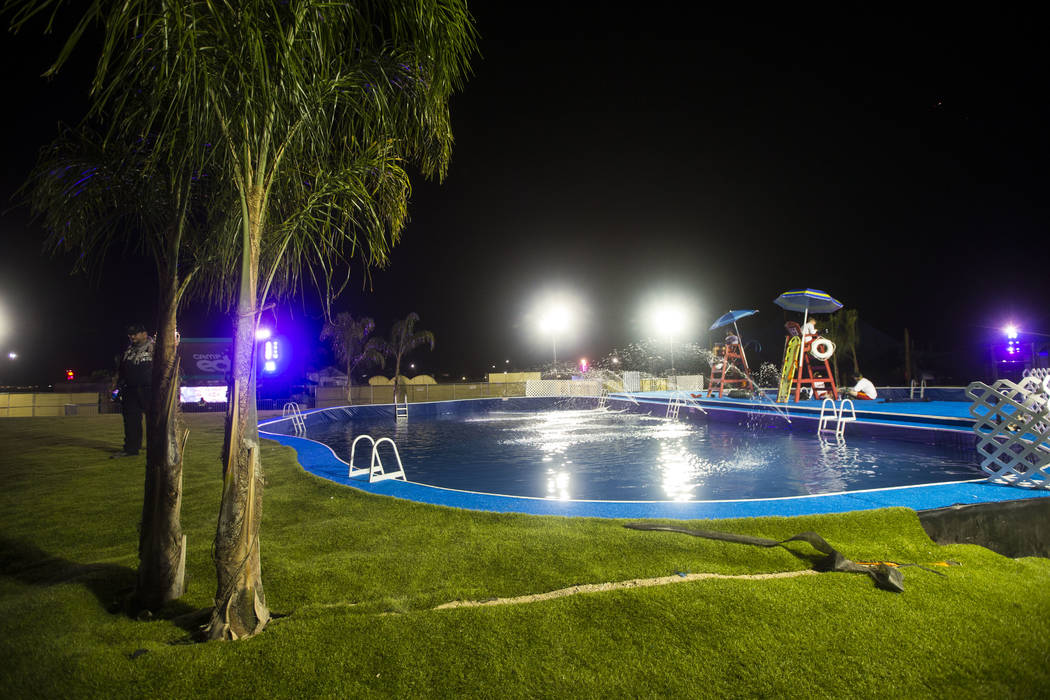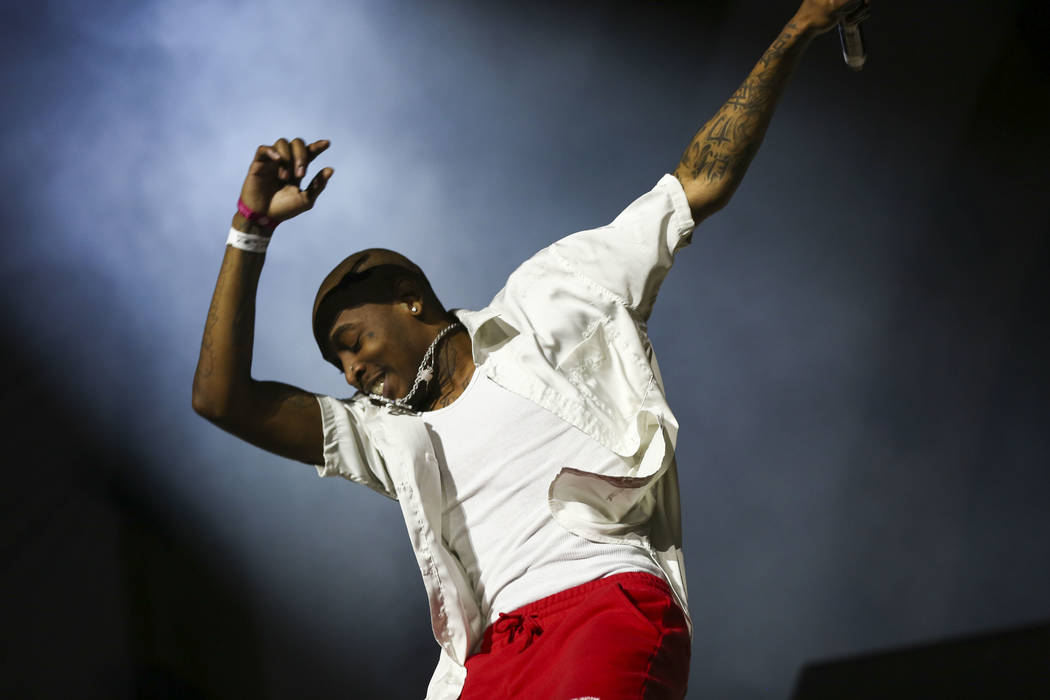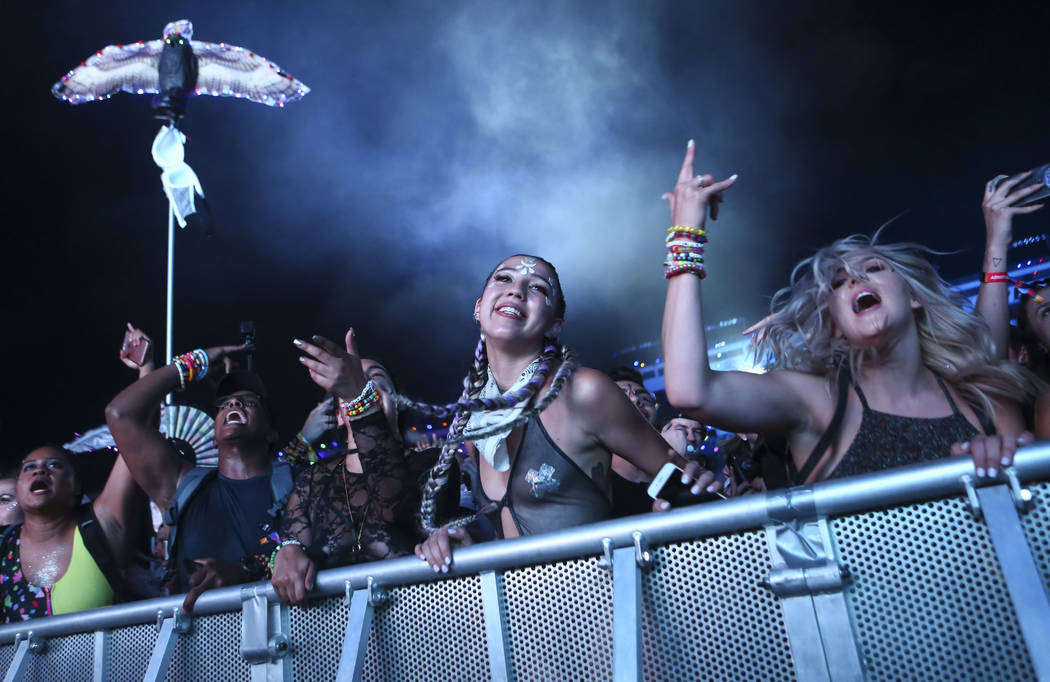 The mission statement was spelled out in stringed-together gold letters affixed to a pirate ship.
"Never grow up."
This Peter Pan-approved sentiment appeared in a Peter Pan-worthy landscape: the Electric Daisy Carnival.
As the three-day, fairy-godmother-of-all-dance-music festivals returned Friday to the Las Vegas Motor Speedway, expecting to draw some 140,000 fans a night, the prevailing mood was one of childlike whimsy in an adult theme park, blow-up pickles and all.
It was a lot to take in.
Some Cliffs Notes:
The sounds
"If you feel like you're having an out-of-body experience right now, come up front."
And with that, plenty shuffled toward the stage.
Said command, bellowed by one of producer Mike Will Made-It's hype men, came at the onset of his sing-a-long heavy set at the Cosmic Meadow, capturing the frenzied vibe that hung in the air like the pockets of heat that lingered upon all the pyro blasts.
Mike Will Made-It's set was an EDM-enhanced survey of his deep repertoire of hip-hop hits, from Kendrick Lamar's "DNA" to 2 Chainz's "No Lie," many of them outfitted with the zigzagging bass lines and pneumatic beats common to this setting.
His performance, which included a guest spot from Wiz Khalifa, was indicative of one end of the EDC spectrum: the singles-heavy hit spree, which were mostly heard on the stage in question and the Kinetic Field, where Diplo got in said game, hopscotching between a dyed-in-wool techno staple like Darude's "Sandstorm," the Yeah Yeah Yeahs' "Heads Will Roll" and Drake's "God's Plan" in a game of tag between the concussive and the anthemic, joined at one point by mumble rap teen Lil Pump.
But there were also deliberately, pleasurably less-immediate experiences, where the point was to get fully immersed in deep, slow gestating grooves, like Lee Foss' deep house set at the Neon Garden, where subtle melodic accents were gradually added to the four-on-the-floor rhythms, or the eruptive climax to Cold Blue's performance at the Quantum Valley, where his soft, radiant melodies took a decidedly hard turn.
Speaking of hard, there was Snails at the Cosmic Meadow. Favoring dissonance over melody, while sampling thrash riffs and beats that approximated the crack of a bullwhip, the "vomitstep" purveyor urged onlookers in song to invest in neck braces. Money well spent.
The extracurriculars
It's just like the county fair, but with more body glitter and less pants.
We're talking about all the amusement rides checkering the EDC grounds, adding still more pulsating color and gleeful squeals to this realm of pulsating color and gleeful squeals.
Who wants to crash bumper cars in a thong? Better question: Who doesn't?
The lines for the Ferris wheels, the Big Splash water log ride — new to EDC this year — and the Pharaoh's Fury ship were long and winding throughout the night. Scads queued up to climb aboard the swinging High Voltage ride, which in turn vomited up assorted glow sticks and other illuminated party gear stolen by gravity from its upside-down patrons.
It was a suitable complement to the music.
Scratch that; it was the same: The pursuit of adrenaline, by beat or machine, the difference was trivial.
The "headliners"
What kind of party crapper stops busting moves just because they're waiting in line for chicken tenders or shopping for inflatable furniture?
We'll let you know when we find one here.
There's a reason that EDC organizers refer to attendees as "headiners," and it's more than just feel-good hyperbole: The crowd is as fun to watch as just about anyone on stage.
What grew in the Neon Garden on Friday, you ask?
Just a pair of dudes dressed as Jesus spinning lights and boogieing down as a fellow costumed as the pope watched nearby.
There were sexy unicorns, sexy Wonder Women, and a not-so-sexy Super Mario riding a canvas Yoshi.
They wielded inflatable aliens, inflatable Sharpie pens, inflatable male genitalia and flags from a variety of countries and territories, underscoring EDC's international draw (A few examples spotted: Argentina, South Korea, Puerto Rico, the sovereign nation of Marijuanica — that's what that big pot leaf flag represented, right?).
They were swarmed by roving EDC performers who worked the crowd dressed as bumblebees, cyber angels and glam bots, to name but a few.
There were even some mermaids lounging poolside at the Electric Beach, with sand and all.
Even literal fish out of water weren't really fish out of water here.
The camp site
As Friday approached Saturday, the lifeguards were still on duty.
The biggest addition at EDC this year was a full-fledged camp site, complete with a pair of swimming pools for a late night/early morning lap or two.
The grounds belied any notion of roughing it, with a geometric chill-out dome festooned with bean bags, cauliflower wing vendors and rows of air-conditioned tents.
Despite the setup, there were plenty of upset festivalgoers who had to wait hours to get to the campsite. Many vented on social media, saying they had from a two-hour to seven-hour wait and were running out of gas and rations.
During the day, there were meditation sessions and self-improvement seminars with titles like "Your Job is What You're Paid For, You're Dharma is What You're Made For."
Our only gripe: We got there too late for goat yoga.
Ah well, there's always tomorrow.
Contact Jason Bracelin at jbracelin@reviewjournal.com or 702-383-0476. Follow @JasonBracelin on Twitter.