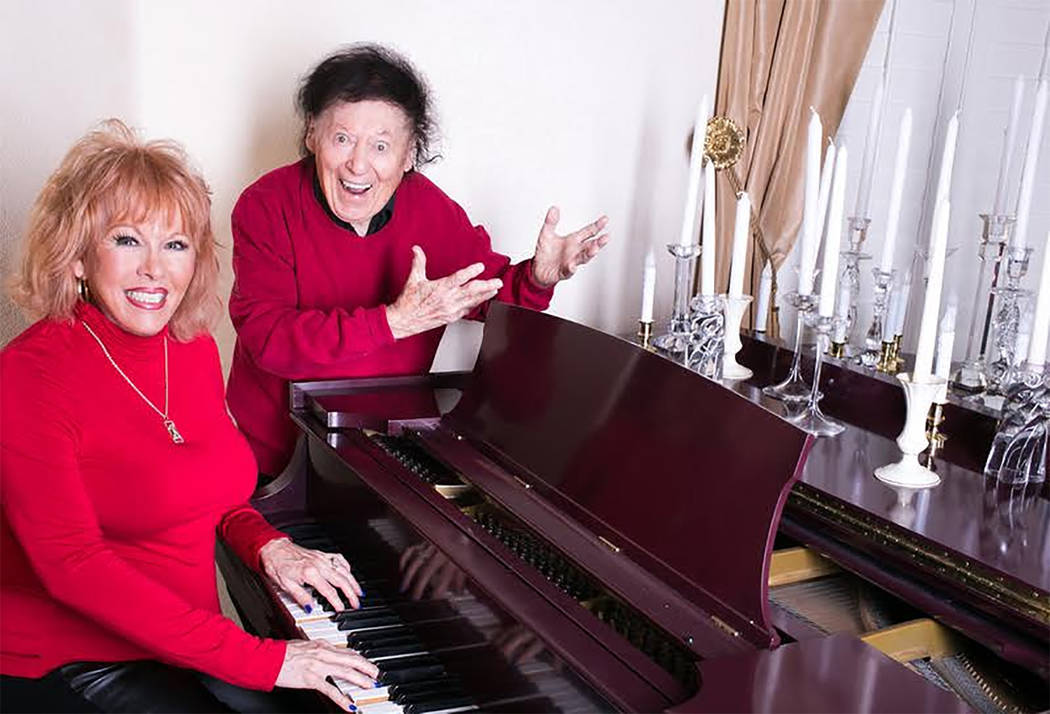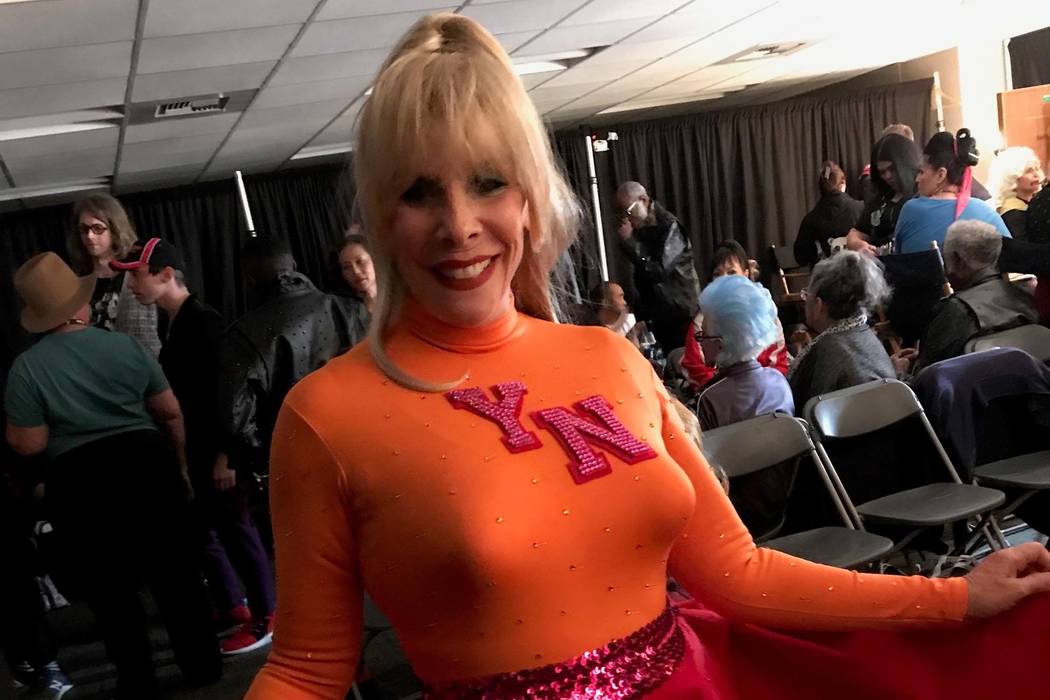 On Monday night, a patron walked into Myron's Cabaret Jazz with a baseball bat.
But this was no security lapse.
The lumber-wielding patron was 96-year-old comic Marty Allen, who uses a Louisville Slugger as a walking cane. And the man can still swing with the best of them.
Allen was in the audience for a variety show starring Vegas comic impressionist Rich Natole and featuring magician Ariann Black, Whitney Houston tribute artist Trina Johnson-Finn and able juggler Max Winfrey.
Allen, who still hits the scene fairly frequently, mentioned he'd like a reunion with Ringo Starr during Starr's extended engagement at Planet Hollywood Showroom.
"I haven't seen him since 1964," Allen said just before the show opened.
Starr and Allen met during The Beatles' second appearance on "The Ed Sullivan Show," broadcast in February of that year from Miami Beach.
When Allen and his comedy partner, Steve Rossi, took the stage in the landmark broadcast, Allen wore a Beatle-esque wig and introduced himself as "Ringo's mother." Maybe we can get these kids back together.
Mann honored
Anita Mann often jokes of her longevity. "I've been busy trying to come up with video during my career, but I started before there was even TV!" the venerable dancer and director said Tuesday afternoon.
But Mann she can still effectively hoof it with her cast at "Fantasy," the all-female burlesque show that will celebrate its 18th anniversary Tuesday at Luxor. A VIP party and 2018 calendar unveiling will precede a full program of topless frivolity at the resort.
On Monday , Mann will receive the Joe Tremaine Legacy Award at the World Choreography Awards at Saban Theatre in Beverly Hills, Calif. The award is named for the trend-setting dancer and choreographer who rose to fame as a June Taylor Dancer on "The Jackie Gleason Show."
Honored by the Academy of Television Arts & Sciences as one of the country's top-five contemporary choreographers, Mann's resumeincludes the Elvis Presley movies "Clambake," "Speedway" and "Spinout," five seasons choreographing the "Solid Gold" dancers, several Miss America Pageants, the Academy Awards telecast, the Emmy Awards telecast, and stage shows by Cher and The Jacksons.
Somewhere in there, Mann also found time to work with the Muppets.
After accepting her award, Mann is hustling back to Las Vegas to make some changes to "Fantasy" for the show's anniversary performance.
"I'm actually watching the new opening on my phone while I am talking to you," said Mann, who has gracefully moved in step with the times.
Great Moments in Marketing
The new coach of our city's newest pro sports team, Bill Laimbeer of the WNBA's Las Vegas Stars, perfected the "flop" during his NBA playing days. When playing defense in the low post against such NBA big men as Kevin McHale, Laimbeer often dropped to the court after even the slightest nudge. He often grimaced and groaned and, typically, drew an offensive foul.
So offensive (and effective) was this stunt that in 2012 the NBA has ruled it illegal, punishable by a fine.
But the new Vegas franchise can make use of the flop.
The Stars, who are moving to Vegas from San Antonio, will play at Mandalay Bay Events Center, near Mandalay Bay Beach. Fans attending a game can present their ticket stubs at the Beach, where they'll be given a pair of Official Bill Laimbeer Flip-Flops, designed with a sketch of Laimbeer splayed out during his days with the Pistons.
I ran this idea by a veteran Vegas publicist on Tuesday, who told me, "That could actually work." Suffice to say it's not out of the question.
Meals for a million
Star chef José Andrés and his team at World Central Kitchen announced Tuesday they had fed one million people across Puerto Rico over the past three weeks. Working under the social media hashtag #ChefsForPuertoRico, Andrés and his network set up satellite kitchens across the hurricane-strafed island, using San Juan's Coliseo as its headquarters.
Andrés operates Bazaar Meat at SLS Las Vegas, and China Poblano, and Jaleo and é by José Andrés at the Cosmopolitan of Las Vegas. In reaching the 1 million mark, his team worked out of 15 kitchens, enlisting 500 volunteers with 10 food trucks working to deliver 120,000 meals every day.
John Katsilometes' column runs daily in the A section. Contact him at jkatsilometes@reviewjournal.com. Follow @johnnykatson Twitter, @JohnnyKats1 on Instagram.