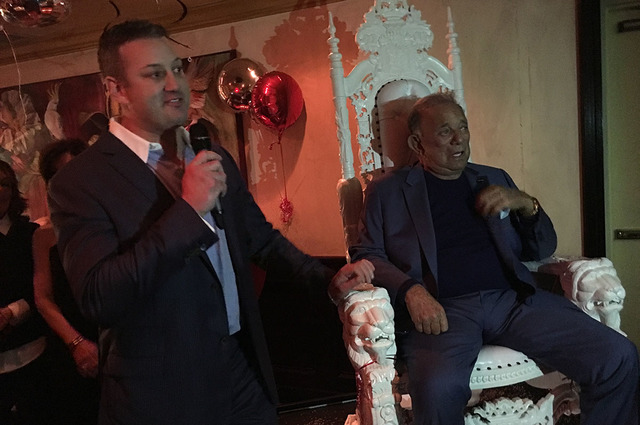 Those who know Freddie Glusman speak fondly of his authenticity. No-filter Freddie just says what's on his mind, and is always true to his feelings.
Saturday night, the gruff-but-lovable owner of Piero's Italian Cuisine let the tears flow as he marked his 80th birthday.
"I want you all to remember one person, who died on my birthday, Jerry Tarkanian," Glusman said to scores of well-wishers, seated on an ornate white arm chair that looked like a throne. "He died two years ago today, and I loved him. He was like father to me."
Applause cascaded as Glusman wiped his face.
Glusman also asked those jammed into the Piero's banquet room, "If you are my friend, raise your hand." Every hand went up. He then grinned, and turned to his family said, "See? I have a lot of friends here."
Glusman's words capped a series of speeches by Glusman's friends and members of his family, including sons Evan, who is Piero's general manager, and Charlie; daughters Marla Letizia and Heather Glusman; and granddaughter Harmony Letizia. In another moment that hushed the crowd, Marla recalled being adopted by Freddie after her father died in an airplane crash when she was age 8. "You are my father, and I love you so much," she said as Glusman bowed his head.
An eight-minute video clip featuring birthday wishes from longtime confidants and legendary entertainers Jerry Lewis, Wayne Newton, Don Rickles, Steve Lawrence and Rich Little was also played for the crowd, which had swelled to more than 230 people.
The list of close-knit friendships Glusman has forged with the famous and infamous since 1958 is too lengthy — and includes the likes of Tark; Lewis; Lawrence; legendary resort resident Alex Shoofey (who presided over Sahara, the International, Las Vegas Hilton); Elvis' manager, Col. Tom Parker; and any number of Vegas power players who helped shape the city for the past 60 years.
Famous today for Piero's, Glusman was not always a restaurateur. He moved to Las Vegas in 1958 and six years later opened a dress-shop at the Tropicana, later adding businesses at the International, Flamingo and Stardust. He also ran the Sporting House fitness center on Industrial Drive. Charlie Glusman drew laughs while recalling the Sporting House as "an example of my father's parenting … he actually fired me over the PA system at the Sporting House."
Glusman opened Piero's in 1982, on its original Karen Avenue location, and moved to Convention Center Drive five years later. It quickly became a hang for Tarkanian and his bevy of influential friends who latched on to the Runnin' Rebels' during their title-contending years.
"There are two Jerrys who made Piero's a success," Glusman once said. "Jerry Lewis and Jerry Tarkanian."
Piero's exalted status was reinforced when the restaurant was used for a scene between Robert De Niro and Sharon Stone in the movie "Casino." Glusman was in the background of that scene, but is always at the front of the house in the real Piero's. His party unfolded into to a performance by Pia Zadora and Sonny Charles in the lounge, with the two dueting on Stevie Wonder's "For Once in My Life." Earlier, former Hacienda and Sahara hotel-casino owner Paul Lowden (who was once a Vegas lounge musician) joined the band on the keyboards.
Zadora, who performs her "Pia's Place" shows Friday and Saturday nights, also sang a Marilyn Monroe-inspired version of "Happy Birthday to You." The smoke from the cake's pyrotechnic candle display caused the restaurant's fire alarm to blare for several seconds.
"There's no fire," Glusman said in a voice Zadora said sounded like "someone gargling gravel." "Just open the doors."
Late in the evening, Glusman took one of the high-top tables to absorb the evening's celebration.
"Being in business for 35 years and serving 60,000, 70,000 people a year, you meet a lot of people," he said. "Being in town for 60 years, you meet a lot of people. I know everyone, you know? And they have been great. This is the best."
John Katsilometes' column runs daily in the A section, and Fridays in Neon. He also hosts "Kats! On The Radio" Wednesdays at 8 p.m. on KUNV 91.5-FM and appears Wednesdays at 11 a.m. with Dayna Roselli on KTNV Channel 13. Contact him at jkatsilometes@reviewjournal.com. Follow @johnnykats on Twitter, @JohnnyKats1 on Instagram.