As the circus loads in, 'Sex Tips' extends at Paris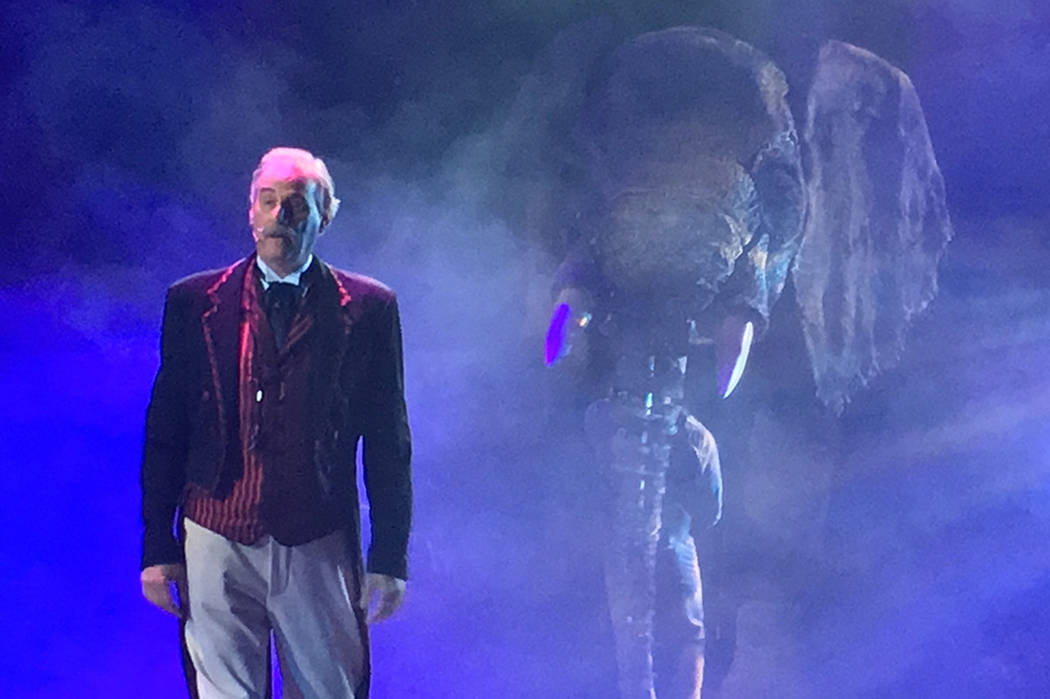 The Kats! Bureau is the La Creperie food court at Paris Las Vegas, about 20 feet from the entrance of Les Toilettes, where I hammer away on Les MaqueBook Air. Eighteen years after opening, it's still Français-themed here, where "Circus 1903" begins its run at the Paris Theater (which opened in 1999 as Les Theatre des Arts) in a few hours.
I've not ventured to the theater since "Jersey Boys" closed last September andI've been curious about this show ever since I heard that the puppeteers behind the Broadway play "War Horse" designed the production's artificial elephants. The very real human stage performer David Williamson, playing ringmaster Willy Whipsnade, comes to VegasVille with a solid reputation among his contemporaries.
Just this week Strip magician and resident legend Lance Burton described Williamson as "a comic genius."
Despite its antiquated title and concept, "Circus 1903" is very much a modern-day production. This is a very ambitious, expensive show with lavish sets, 19 cast members and an 11-person stage crew. According to one reliable estimate, it costs at least $60,000 per week to execute, meaning it needs to sell at least 550 tickets per show just to break even.
We know the performers will flip, but will audiences? Tonight's the test.
More from the scene:
'Sex Tips' re-ups
More from Paris: As reported in this space a few days ago (as I pat myself on the back for doing my job), "Sex Tips for Straight Women from a Gay Man" has extended its run through Jan. 2 across the way at Anthony Cools Theater.
Co-stars Jai Rodriguez and Kendra Wilkinson are sticking around through the entire run. The show continues to anchor Wilkinson's WE tv reality show, "Kendra on Top," and Rodriguez has proven to be a real draw in his role as sex-advice author Dan Anderson. Wilkinson and her husband, Hank Baskett, agreed to continue in the show as their two children remained in Calabasas, Calif., the family's primary residence.
"I couldn't be more thrilled," said SPI Entertainment founder Adam Steck, whose company produces the show. "I had been looking at a number of actors to continue the show, if need be, but we wanted to keep Jai and Kendra. They are great, and we don't have to rebuild the show with a new cast to keep it running."
A release announcing "Sex Tips" accurately describes it as a "laugh-out-loud production." Laughing, by definition, is aloud – and allowed! – at this show. I feel Rodriguez, for one, would agree.
O.J. to be booked … again
Las Vegas public relations veteran Bruce Merrin has reconnected with an old acquaintance and former business partner, one Orenthal James Simpson. Merrin has worked with Simpson intermittently for several decades, dating to a speaking engagement at the Beverly Wilshire Hotel in 1980, just after Simpson retired from the NFL.
During his career, Simpson also appeared on the syndicated 1970s game show "Sports Challenge," produced by Merrin's father, Dan Merrin, hosted by sports broadcast legend Dick Enberg.
Bruce Merrin says Simpson is up for a return to the speaking circuit, and the two plan to meet soon about partnering once more. "We're interested in corporate talks and trade-show gigs," Merrin says. He also joked that when he spoke with Simpson, "I had a bible under my arm."
Bryan-Palooza
Outgoing "Chippendales" front man Bryan Cheatham held a combination birthday-sendoff party Monday night, and dang if it didn't turn into a Vegas all-star spectacular. This show was better than many ticketed productions currently on the Strip.
Cheatham leaves "Chipps" at the Rio Aug. 16 after 15 years with the male revue. His party at Flair Nightclub was a celebration and congratulatory stage show featuring Jason Tenner of Purple Reign at Westgate Las Vegas; Skye Dee Miles of Rose. Rabbit. Lie. at the Cosmopolitan; April Leopardi with Jeffrey Garrovillo of "Alice;" members of "Aussie Heat" at V Theater at Miracle Mile Shops at Planet Hollywood, Las Vegas author-poet Khalilah Yasmin, and members of "Chipps" past and present, including Billy Jeffrey and esteemed emcee Bryan Chan.
Cheatham is embarking on a lengthy Royal Caribbean Quantum of the Seas contract, where he'll perform in Asia with a backing band while pursuing his dream of a music career. The popular performer and creative director of both "Chippendales" and the since-closed "53X" at Chateau at Paris says, "I'm going out to find my happy. If I don't find it on the cruise ships, I'll find it somewhere else."
John Katsilometes' column runs daily in the A section. Contact him at jkatsilometes@reviewjournal.com. Follow @johnnykats on Twitter, @JohnnyKats1 on Instagram.