'BattleBots' on a collision course as new Las Vegas show
Updated March 9, 2023 - 7:32 pm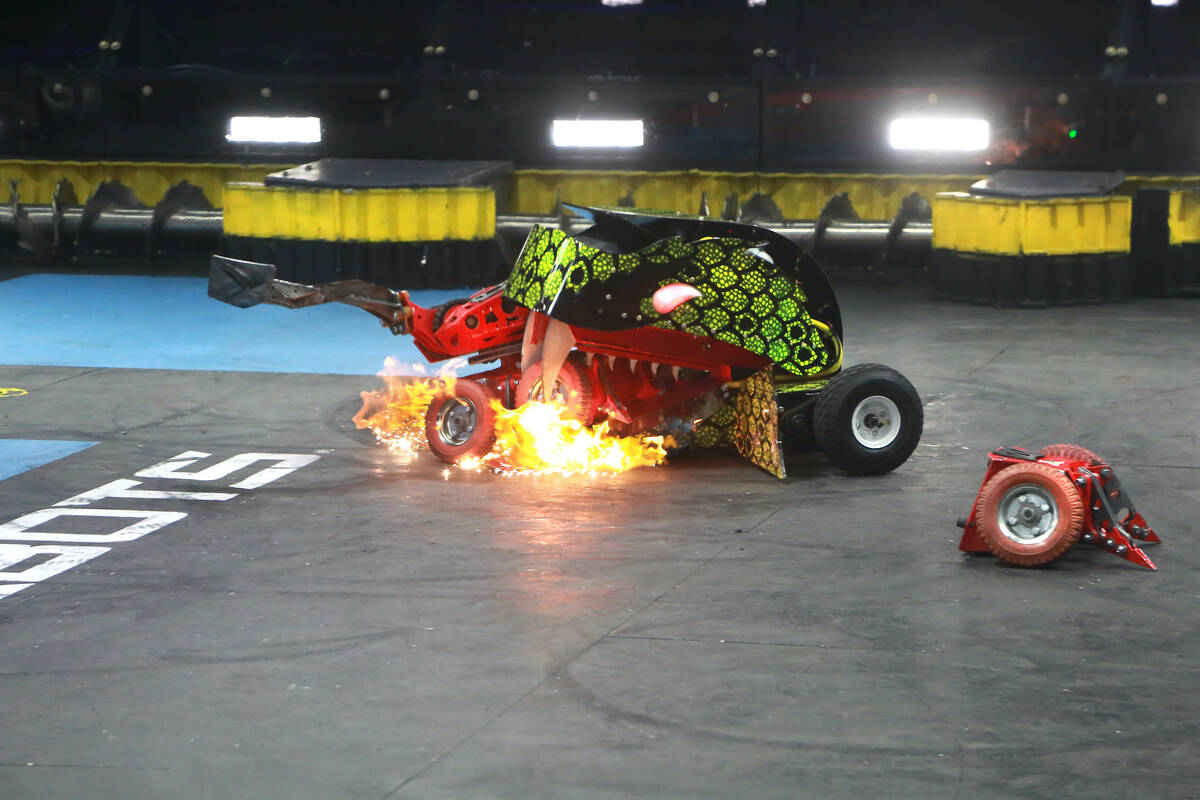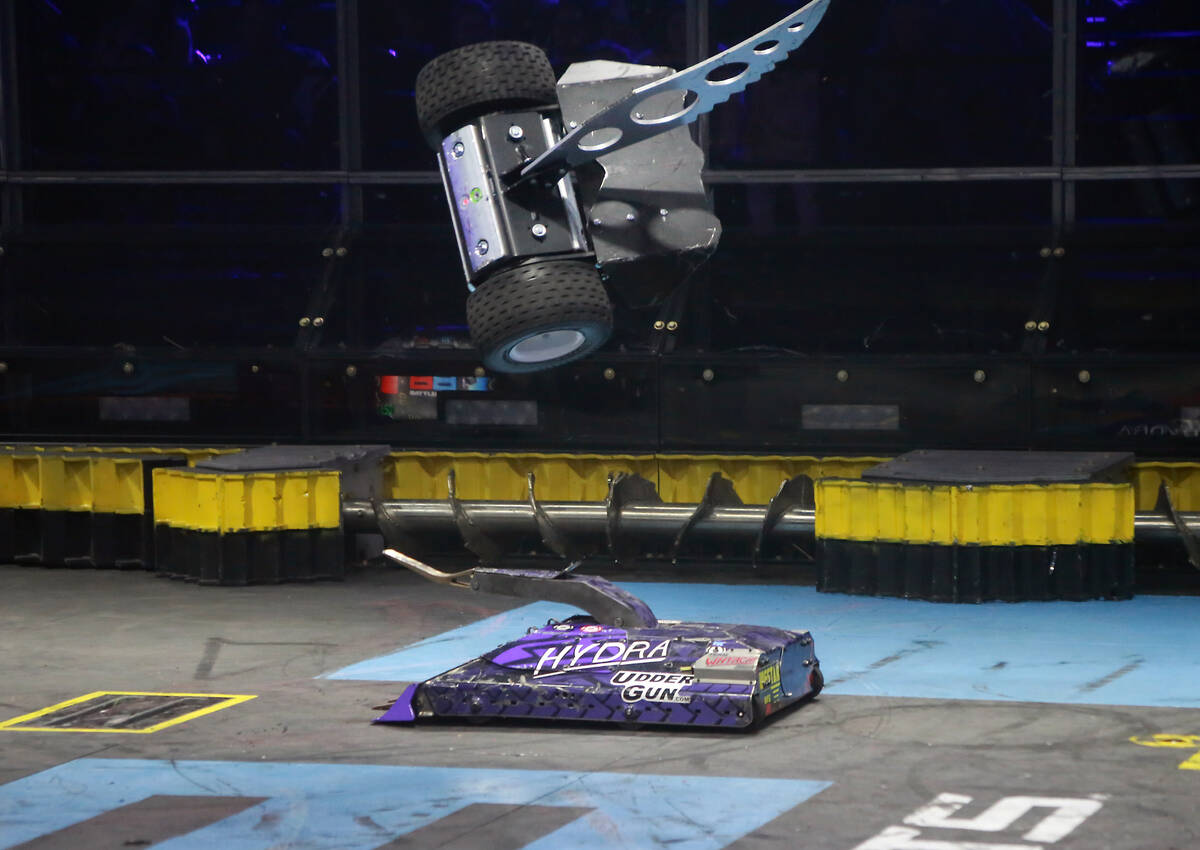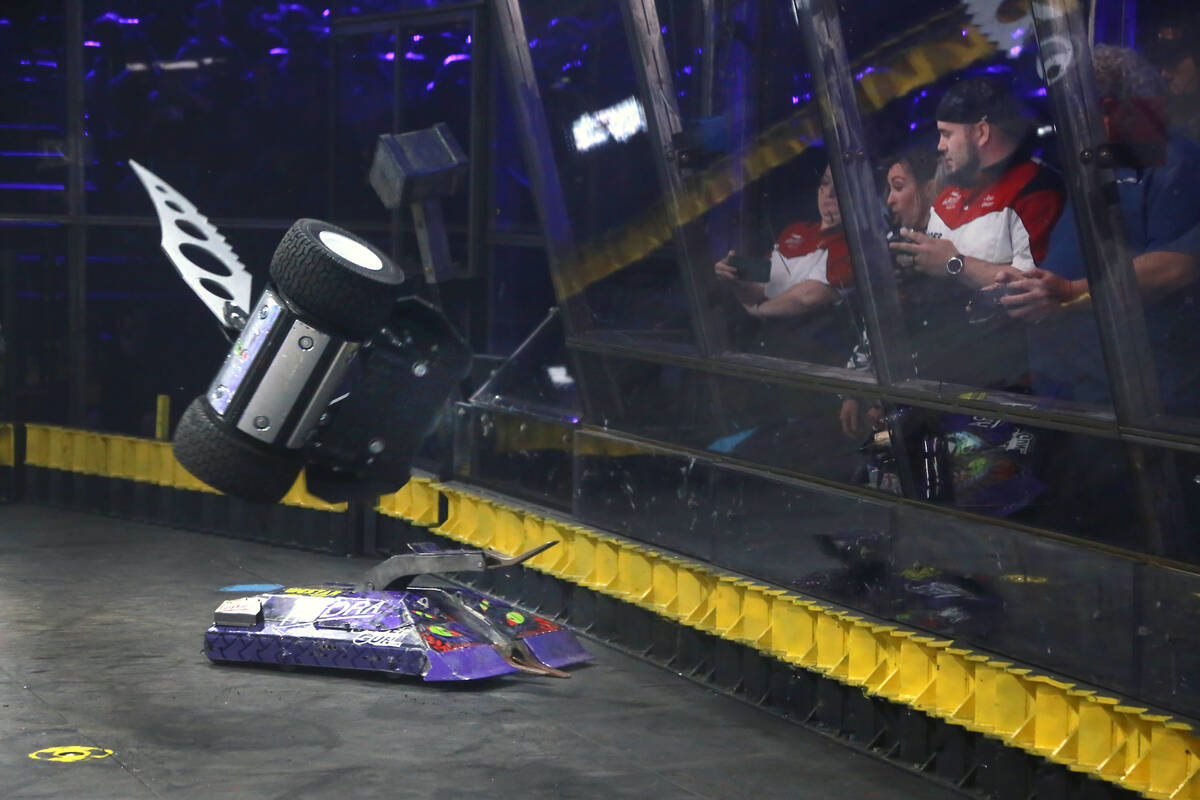 Somewhere in the lexicon, "crushing it" became a way to praise a performance. The band "crushed it," the show is "crushing it" in its residency run, the stand-up "crushed" his Netflix special.
By that measure, and in fact, "BattleBots: Destruct-A-Thon" is just crushing it in Las Vegas. The unique, adrenaline-fueled experience is performing at BattleBots Arena at Caesars Entertainment Studios behind Horseshoe Las Vegas on Koval Lane.
This is a multipurpose venue whose primary purpose is to stage the violent destruction of custom-made vehicles. Showtimes are 6 p.m. Thursdays, Fridays and Saturdays, with matinees at 3 p.m. Saturdays and noon Sundays (tickets range from $49 general admission, with $150 family "bundles," to $125 VIP packages; go to battlebots.com for info).
"BattleBots" is for all ages, with three-for-four family packs among the ticket options. The production enters Vegas confidently, set up for an open-ended run. The venue was named for the show as part of producers' partnership with Caesars Entertainment.
Mayhem and pyro galore
"BattleBots" is, simply, an explosive mix of destruction derby and Las Vegas spectacle, presented in a tournament format for every performance. The mayhem is steered by co-hosts Bil Dwyer and Steve Judkins.
Dwyer hosted the original "BattleBots" series on Comedy Central in 2000. Vegas audiences know Judkins as the co-star of the Mayfair Supper Club production show at Bellagio. Yes, he's gone from bump-and-grind to crash-and-burn.
The battles of "BattleBots" are held in a facility encased in thick plexiglass, with metal bleachers set up outside. This allows for the noise of stomping feet, while protecting fans from the requisite sparks and fire from the battles.
And there is plenty of pyro — the fragrance of burnt robots hangs over the venue, a reminder that not everyone is a winner in "BattleBots." The uncertainty of the outcome is among the show's selling points. It is also among its most prevalent operational challenges.
"I can't disguise how difficult it is to produce because it's not like a show where you've got actors and a script," executive producer Tom Gutteridge says during a chat inside BattleBots Arena, just feet from the combat space. "It's not like a show where you've got a few songs and some acrobats or whatever.
"We're actually dealing with these very delicate machines that go wrong, they're temperamental, and you never know who's going to win a fight or how long the fight's going to run."
Robot fighting capital of the world?
The BattleBots hierarchy is made up of industry vets. CEO Trey Roski is the son of Ed Roski, owner of the Silverton. The younger Roski and his cousin Greg Munson have been partners in web design companies for decades. The two developed "BattleBots" in 1999.
Gutteridge is a former exec at BBC, producing entertainment and documentary programming. Among his titles, "The Hot Shoe Show" and the Russell Harty talk shows. He also directed the Andrew Lloyd Webber musical "Song and Dance" for BBC TV. In recent years, Gutteridge was an executive at FremantleMedia, for the hit shows "American Idol" and "The Price Is Right."
"BattleBots" enthusiasts will recognize the machines created specifically for Vegas, among them Witch Doctor, Kraken, Mammoth, Hypershock and Whiplash. These beasts are built and maintained in a tent adjacent to BattleBots Arena.
The Las Vegas production is a live version of the Comedy Central TV series that premiered in 2000. Drawing from all ages and demographics, the series eventually became a worldwide sensation, seen in more than 150 countries and garnering 10 million social media followers.
Fifty teams from around the world traveled to Las Vegas for the "World Championship VII" tournament in October.
But it is far easier to stage a single show, or even a few, than a fully realized residency in the shadow of the MSG Sphere. The show is on a collision course with superstar headliners, Cirque du Soleil, nightclubs and even the determined "Awakening" at Wynn Las Vegas to sell tickets.
Munson, also in town for the show's premiere last month, understands the steep competition in Las Vegas.
"What we tried to create, and I think what we've done, is a real Vegas show that has a real Vegas vibe about it," Gutteridge says. "We have a terrific cast that gets the whole audience going. The audience represents the teams, the actual builders of the bots, and the builders themselves. We have something here that has not been around before. Vegas is the entertainment capital of the world, the sports capital of the world. Why not the robot fighting capital of the world?"
John Katsilometes' column runs daily in the A section. His "PodKats!" podcast can be found at reviewjournal.com/podcasts. Contact him at jkatsilometes@reviewjournal.com. Follow @johnnykats on Twitter, @JohnnyKats1 on Instagram.
Preview
What: "BattleBots: Destruct-A-Thon"
Where: BattleBots Arena, behind Horseshoe Las Vegas at Caesars Entertainment Studios
When: 6 p.m. Thursdays, Fridays and Saturdays, with matinees at 3 p.m. Saturdays and noon Sundays
Tickets: From $49 general admission, with $150 family "bundles," to $125 VIP packages
Info: Battlebots.com
Cast:
Steven Judkins – Host
Bil Dwyer – Host
Patrick Bean – Team Member
T.J. Blocker – Team Member
Sean Patrick Bryan – Team Member
Bella Hue – Team Member
Yvette Clutterbuck – Team Member
Cheryl Daro – Team Member
Deonte Finch – Team Member
Eve Gray – Team Member
Ashlee Grubbs – Team Member
Jason Harris – Team Member
Jeremy Ines – Team Member
Ashleigh Johnson – Team Member
Alexander Kuehn – Team Member
Tom Kunzman – Team Member
Michaeljoe Lombardo – Team Member
Adriane McLean – Team Member
Anthony Meyer – Team Member
Tippy Morgan – Team Member
Tyler Shackerford – Team Member
Jason Snow – Team Member