'Boom Boom' descends on Trop; 'Sexxy' notches No. 400
September 30, 2016 - 10:42 am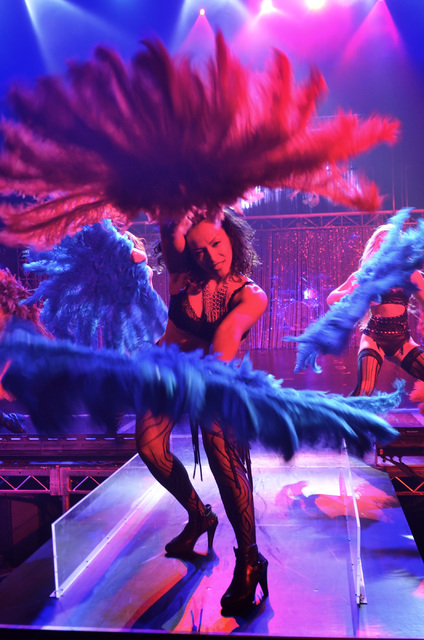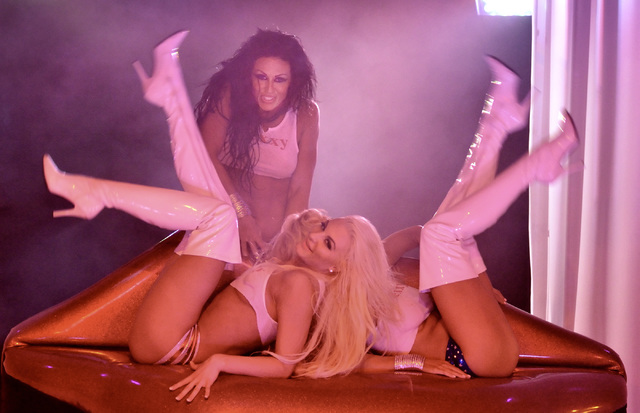 The Kats! Bureau at this writing is the Starbucks at the Tropicana hotel-casino, which over the past six years or so has been dubbed the New Tropicana. I'll go with the simple Tropicana, as it seems counter-intuitive to keep calling a hotel "new" after six years, two owners and widespread shuffling of shows and restaurants.
Just across the way, a tavern-restaurant fronted by the star chef and workout buff Robert Irvine is overriding the sports book location. Irvine's place should be open by the end of 2017, or the end of recorded time, whichever comes first.
Until then, sashaying into the Tropicana Theater, once the home of "Folies Bergere," are the stage shows "Cherry Boom Boom" and "Band of Magicians."
The hotel's new adult production, "Boom Boom" is celebrating its media night this evening. That show slides into the 9 p.m. slot left vacant by the closing of "Raiding the Rock Vault." On Oct. 26, "Band of Magicians" takes the 7 p.m. slot made available when the hotel shooed magician Jan Rouven from the property.
The catch phrase for "Cherry Boom Boom" – not that a show with such a catchy title needs a catch phrase – is "Rock 'n' Roll a Go-Go." I've seen the friends-and-family performance of the show a few weeks ago. Already, I can opine that crucial to the success of "Cherry Boom Boom" is holding the audience after the first 20 or 30 minutes, when the novelty of topless artistry starts to ebb.
Also in question: Will "Boom Boom" draw a repeat audience? "Fantasy" at Luxor has keep audiences coming back for 16 years largely because producer Anita Mann routinely updates the show with fresh numbers. These are common concerns for adult shows in VegasVille, where we have seen some run for more than a decade – "Fantasy" is a mainstay and "X Burlesque" at Flamingo opened in 2003 – and others close in just four weeks ("Sydney After Dark" met such a fate at Planet Hollywood).
The adult market is fickle, is the point, and logging even 400 shows is an achievement. For more on that topic, move along.
THE 'SEXXY' 400
The production conceived by, directed by and starring Jennifer Romas celebrated No. 400 at Westgate Cabaret on Wednesday night. The star of the show nearly didn't make that celebratory performance for illness, but Romas did perform for an audience packed with friends, family and Vegas entertainers. In my radius were Murray Sawchuck with "Lefty" Doug Leferovich, Mark Shunock, ex-"Fantasy" lead Jaime Lynch, Chris Phillips of Zowie Bowie, Jason Tenner of "Purple Reign" and Vegas vocalist Chadwick Johnson. Spirited crew; ask Tenner about his workout program. Fascinating.
After the show, Romas tearfully thanked the original members of the cast who opened the show in December 2014: Singer Gabriella Versace and dancer Alexandria Halbauer.
But the person who has been in attendance at the cabaret more than anyone is Romas' mother, Judi. Wednesday was her 399th show. She missed one show on Thanksgiving to prepare dinner for the cast, which she considers her extended family.
THE 'ABSINTHE' 5,500
The production at Caesars Palace's Roman Plaza enjoyed its best-selling week in its five-year history in Las Vegas this month. In 10 performances from Sept. 18-Sept. 24, the show moved 5,500 tickets. The Spiegeltent seats somewhere between 550 and 600, depending on demand, so … that's a lot of tickets, a figure boosted by concerns the show would be moving to the Cosmopolitan after Oct. 21. That is not happening, but we are anticipating some clarification about the future of "Absinthe" by the end of next week.
THE WALLACE METHOD
"I'm a crony," said former Flamingo headliner George Wallace, who is also a comic, on Tuesday afternoon. I ran into Wallace at Sands Convention Center during the Everi TournEvent for Charities Slot Tournament. Participating were a host of celebrities, including Penn & Teller, Carrot Top, Frankie Moreno and Lacey Schwimmer, chef Rick Moonen and BMX star Ricardo Laguna.
Wallace's reference was to an upcoming role in the film "Villa Capri," an action comedy starring Tommy Lee Jones and Morgan Freeman. Jones portrays a former FBI agent and Freeman plays an ex-mob lawyer (we'll see if he swills the martinis) in the witness protection program. The two set aside a rivalry to fend off a mob hit, and Wallace plays a golfing buddy of Freeman's. The film is set for release next August.
IS THAT ROB PETRIE?
The guy who looked like Dick Van Dyke at Monday's David Copperfield show at MGM Grand actually was Dick Van Dyke. He took in the show to celebrate the birthday of his wife, Arlene Silver. She is 45. He is 90. ""She's very mature for her age and I'm very immature for my age so it's just about right!" he told Parade magazine in 2013. The two were married in February 2012. It was his first.
John Katsilometes' column runs Saturday, Sunday, Tuesday and Thursday in the A section, and Fridays in Neon. He also hosts "Kats! On The Radio" Wednesdays at 8 p.m. on KUNV 91.5-FM and appears Wednesdays at 11 a.m. with Dayna Roselli on KTNV Channel 13. Contact him at jkatsilometes@reviewjournal.com. Follow @johnnykats on Twitter, @JohnnyKats1 on Instagram.