Channing Tatum, Ellen DeGeneres fire up 'Magic Mike Live'
September 8, 2017 - 12:53 pm
Updated September 8, 2017 - 3:34 pm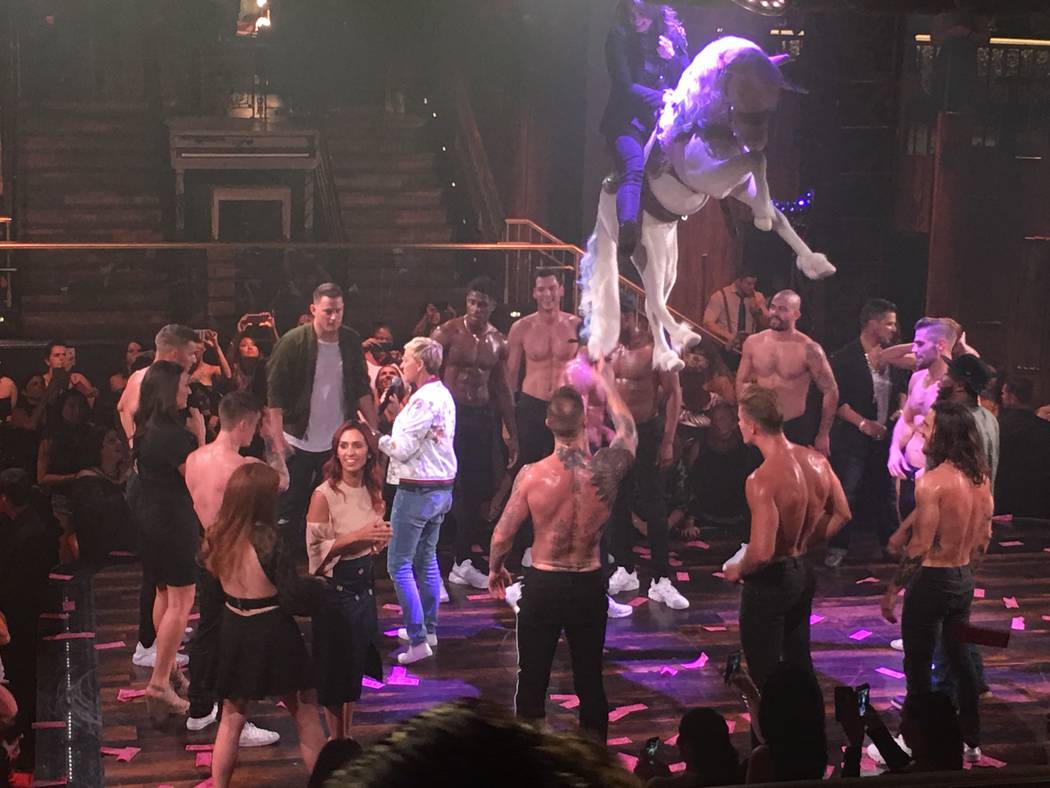 Channing Tatum's dancers nearly turned Ellen DeGeneres.
"I'm still on my team," DeGeneres said after watching the male revue "Magic Mike Live" at the Hard Rock Hotel on Thursday night. "But I get it."
The crowd that filled the Magic Mike Theater roared back. Tatum, standing at her side, cheered along, too.
DeGeneres and her film crew took in Thursday's early performance for a segment set for Friday on "The Ellen DeGeneres Show," which airs at 3 p.m. weekdays on KVVU Channel 5 in Las Vegas.
DeGeneres and Tatum have been friends for years, since Tatum appeared on her show in 2010, two years before the first "Magic Mike" movie was released.The two talked of Tatum's brief career as a dancer in Tampa, Florida, when Tatum was just 18 years old.
These two, having a time of it … @TheEllenShow @channingtatum pic.twitter.com/whFkxbQFYk

— John Katsilometes (@johnnykats) September 8, 2017
"We talked about this the first time I was on her show, when my actual stripper video came out," Tatum, creator of the "Magic Mike" stage show, said after Thursday's performance. "I actually danced a little on the show, and it became a thing that we kept talking about. She is a great friend and has always been really sweet to me."
Tatum and his cast have appeared on "Ellen" in remote video clips from the show, but Thursday was DeGeneres's first time in the theater to watch the show live. Tatum joined her, making one of his occasional appearances to kick off the proceedings and set off a fury that played well to the cameras.
The "Ellen" segment should only bolster business. Hard Rock Hotel Chief Executive Officer Jody Lake, who was in attendance, said the show already sells out twice a night. "We have 450 happy people in here for every show," Lake said. "Everybody who is involved in this show is making a profit,"
Thursday's audience was unaware Tatum and DeGeneres were even on the property, and when the two hit the stage the collective shriek from 450 full-throated fans (the vast majority females in full revelry) was deafening.
How loud was it? The decibel reading from the sound board when Tatum takes the stage is about 120; the sound of a jet engine is 130. As always, the performance was an uproarious exercise — Tatum and DeGeneres were both wreathed in sweat after as they danced and tossed the show's Magic Mike counterfeit currency at the cast.
"You can throw fake money around!" said DeGeneres, who also fired the bills from phaser-styled sidearm. "You don't even need to use your own money!"
Tatum again asserted he will soon be onstage in the show — and not just to introduce the performers.
"I promised, by the end of the year — knock on wood — that I'll be on that stage," he said. "But I can't just go up there and dance. You've seen these guys. You need to look the part. These guys are in such great shape, and you feel bad about yourself."
But Tatum, grinning and greeting waves of well-wishers, looked like a man with no worries. Asked what he would do to cap his night, he smiled and said, "I'm gonna do some gambling with Ellen."
Like they say in the "Magic Mike," let it ride.
John Katsilometes' column runs daily in the A section. Contact him at jkatsilometes@reviewjournal.com. Follow @johnnykats on Twitter, @JohnnyKats1 on Instagram.