Elvis artist shakes up iHeart Festival on Strip
Updated September 25, 2023 - 8:18 pm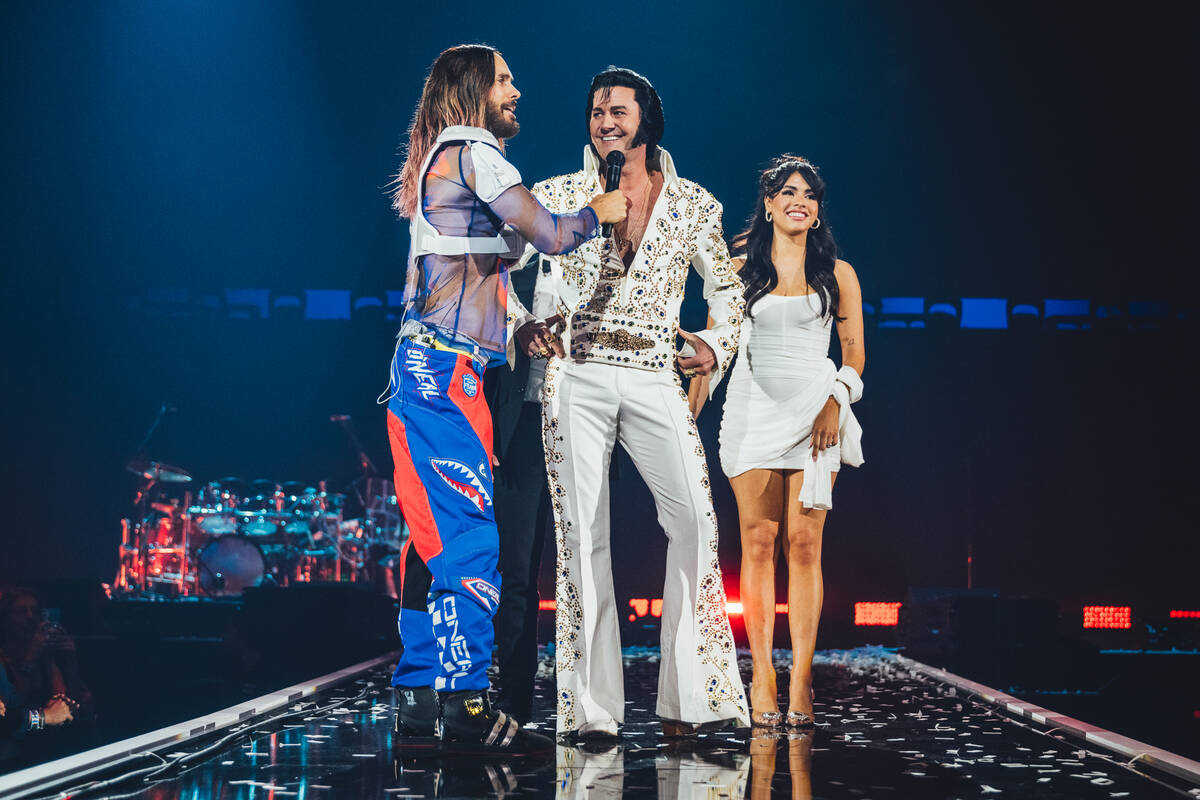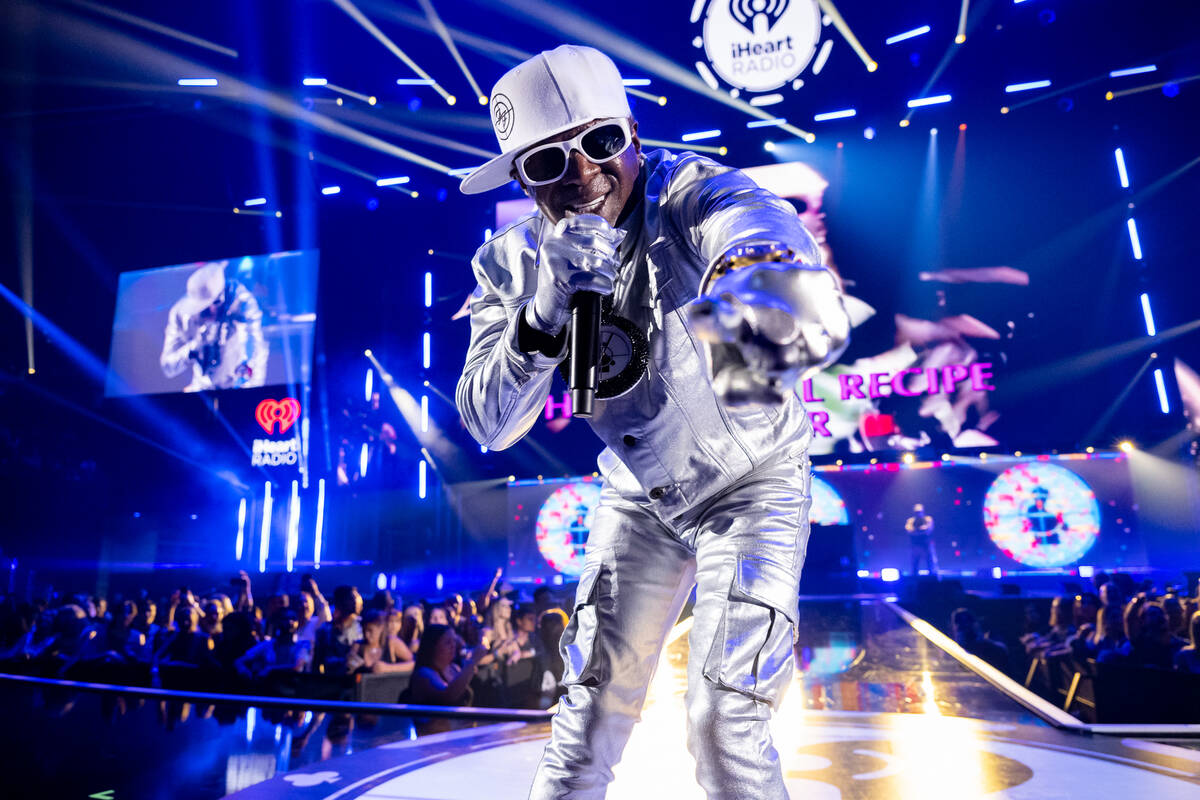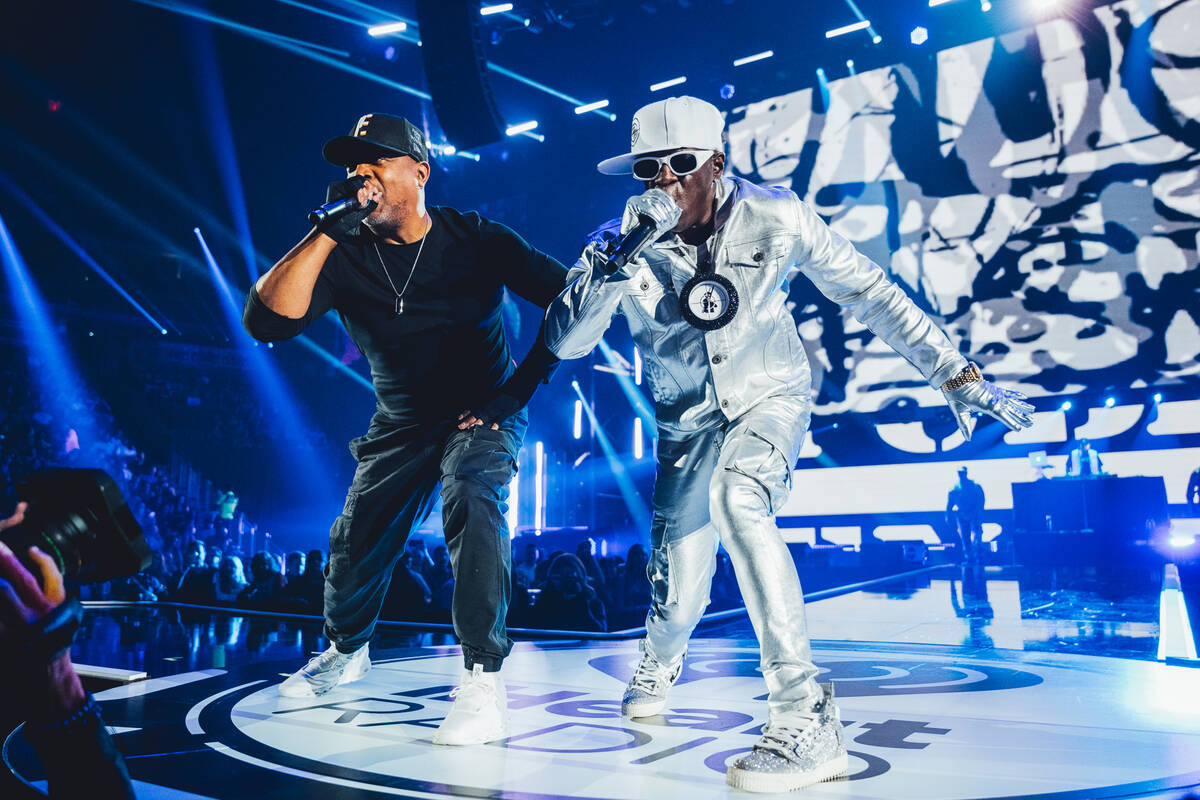 Travis Allen needs to make something clear, in his non-Elvis persona.
"First, I just want it known, for the record, I am a huge Jared Leto fan," says the star of "All Shook Up" at Alexis Park. "I have been, for years."
Allen was in for a King-sized surprise Saturday night at iHeartRadio Music Festival at T-Mobile Arena. Fit snugly in his white, impeccably beaded Presley jumpsuit, Allen was brought on stage with Leto for 30 Seconds to Mars' performance of "Stuck."
Allen's job was so simple — just fire up the crowd with some dance moves. He does that daily at 6 p.m. in his Elvis show at Alexis Park's Modern Showrooms.
But arriving onstage with 30 Seconds to Mars in a nationally broadcast all-star music show doesn't just happen. Even for Elvis. Allen was portraying the King in iHeartRadio's Capitol One social-media stop, where performers arrived to pose for pics and quick videos in a faux wedding chapel.
"I was waiting for Jared Leto to come in, and he just gave me a hello and fist-bump," Allen said. "But that got the wheels turning." A few minutes later, Leto's assistant grabbed Allen and said, "Jared asked if you'd join him on stage. Are you interested?"
"Let's go!" Allen said. He waited at the side of the stage for Foo Fighters to close their set. Dave Grohl veered to meet Allen, saying, "I don't even know who you are!" and gave the Elvis tribute artist a big hug.
Leto and 30 Seconds were soon holding forth. The front man called to the crowd, "We need a little help from the King!" as Allen walked out. "Make some noise for the King!"
The front man intoned, "This song has a little dance to it, so crack that hip and shake a little bit!"
"Stuck" is the lead single off the album, "It's the End of the World but It's a Beautiful Day," released in May.
"I knew the song, fortunately, and I found the groove to it," Allen said.
Prior to Saturday, Allen was most recently on stage as a guest star for his wife, Tierney Allen, in her spirited "Lady Winehouse" dual tribute to Lady Gaga and Amy Winehouse at The Space. Allen was also in the social-media stop, chatting up such guests as NSYNC's Lance Bass and members of TLC.
"I believe in manifesting," Tierney said Monday. "All day long, Travis was saying, 'I just want to talk to Jared Leto.' Then this happens."
Two days later, the 15-year Elvis impressionist was still buzzing about the experience.
"I've done a lot of cool stuff, I got hugs from Lionel Richie last year," Allen said, referring to the 2022 iHeart show. "But this, this was really cool."
Flav floors it
A day after saying he wanted to be "a hometown hero," proud Las Vegan Flavor Flav crushed it with Chuck D in Public Enemy's show-opening performance Saturday. The duo debut their new single, "Everywhere Man." This might be a counter to the Beatles' "Nowhere Man," an ode to Flav's omnipotence, or both. May he rap forever.
Two funny
John Oliver and Seth Meyers are co-billed at the Colosseum at Caesars Palace at 8 p.m. New Year's Eve. The comics and late-night hosts have enforced their respective Writer's Guild affiliations and awards in press materials, a show of support as union writers are finally inching out of a five-month strike.
Meyers has previously headlined at the Mirage in the "Aces of Comedy" series when MGM Resorts International owned the resort.
Oliver is a less-frequent headliner here. I caught his midnight show during the 2008 Comedy Festival at Caesars Palace. Loved his set, as he observed the building design of the period and of the time and concluded, "This entire city is pointless. Architecturally, it's like it's been designed by a 6-year-old child.'" Oliver is a smart, sharp comic. We laugh, because we no dummies. We get it.
Dita's delayed
"Dita Las Vegas: A Jubilant Revue" has been delayed until Oct. 26 at Horseshoe's Jubilee Theater. The burlesque revue had originally announced an Oct. 5 opening. But star performer and creator Dita Von Teese posted Thursday, "Unforeseen stage and technical glitches," have forced back the show's schedule.
That theater is old, folks. The venue survived the fire at then-MGM Grand in November 1980, despite its basement being flooded. Holding off the opening to make sure the tech infrastructure is up to modern-day standards is the right call.
Baker calls it
On the topic of the unforeseen, Anita Baker has cited "Unforeseen circumstances" in calling off her shows at Dolby Live Oct. 5-6. This is a straight-up cancellation, refunds issued at point of purchase.
We like
We've teased enough to this, so know that "Lady Like — A retro Modern Burlesque Show" opens at 24 Oxford at Virgin Hotel on Oct. 27. This show was just getting its groove at Mosaic on the Strip last June when the venue was shut down so it could be wiped out for a new development on the parcel.
Vegas entertainment pros Jaimee Gallego and Summer Soltis created the charm-school satire, which revives black-and-white video, costumes and sentimentality from the '50s and '60s. Maren Wade is the host/headmistress. She's a stylish, funny lady with serious pipes.
Under new president Cliff Atkinson, Virgin is taking on several new initiatives (including a return of Center Bar and a revival of the Body English nightlclub venue) to reanimate the property. Something to complement the hospitality stylings of Johnny "JOD" O'Donnell at One Steakhouse would be excellent.
Cool Hang Alert
How about a series from International Bar at Westgate Las Vegas? Wide-open party every night. April & Brian 8 p.m.-11 p.m. Tuesday, Nieve Malandra 8 p.m.-11 p.m. Wednesday, In-A-Fect 8:30 p.m.-12:30 a.m. Thursday, Rock Roulette 8:30 p.m.-12:30 a.m. Friday, Audio Mob 8:30 p.m.-12:30 a.m. Saturday, Brooke Wilkes 8 p.m.-11 p.m. Sunday. Through the main entrance, on the right, sound filling the casino. You can't miss it. No cover, 21-over.
John Katsilometes' column runs daily in the A section. His "PodKats!" podcast can be found at reviewjournal.com/podcasts. Contact him at jkatsilometes@reviewjournal.com. Follow @johnnykats on X, @JohnnyKats1 on Instagram.