Family, famous friends throw one last party for Jerry Lewis
September 4, 2017 - 7:08 pm
Updated September 5, 2017 - 10:29 am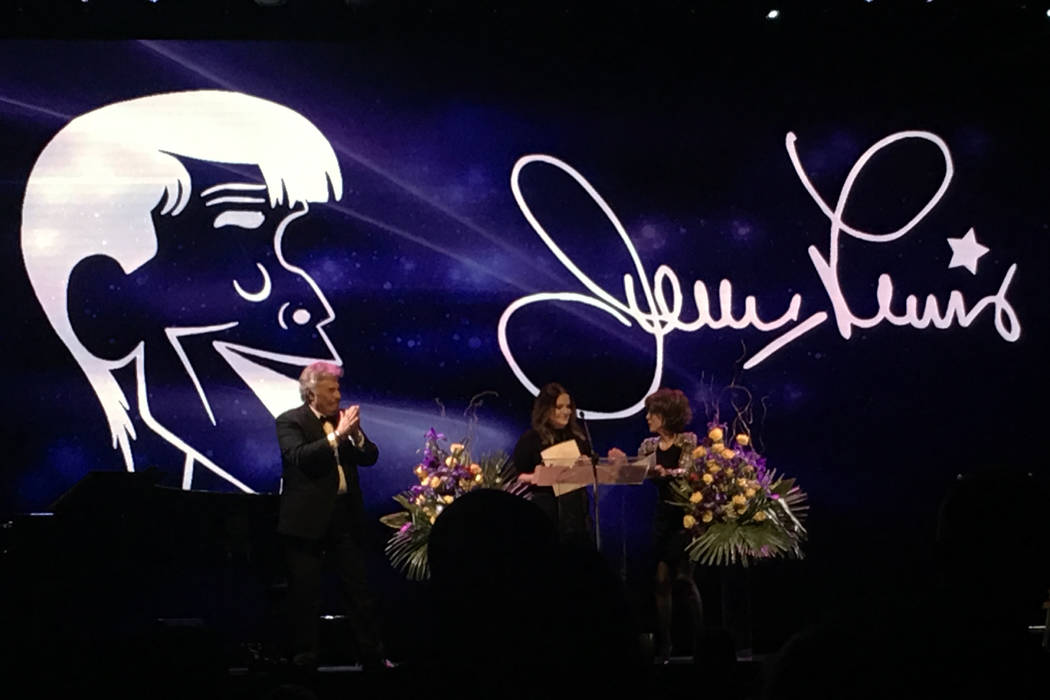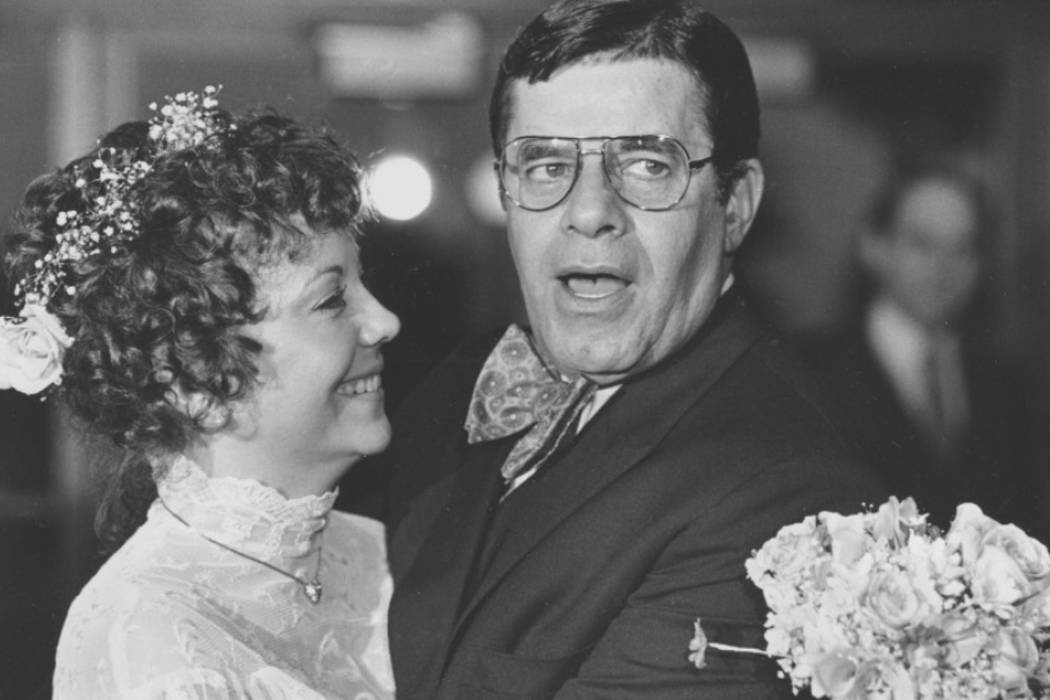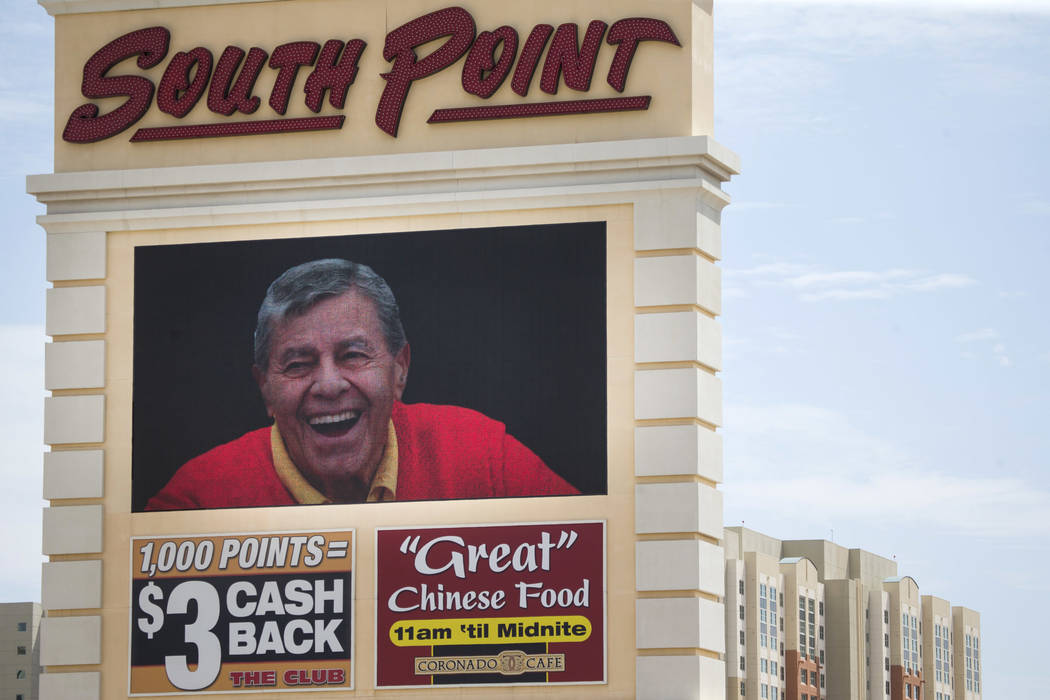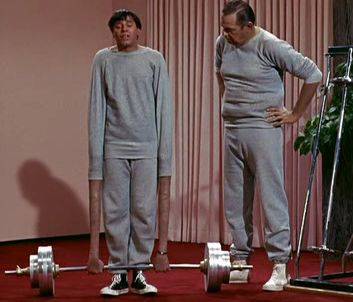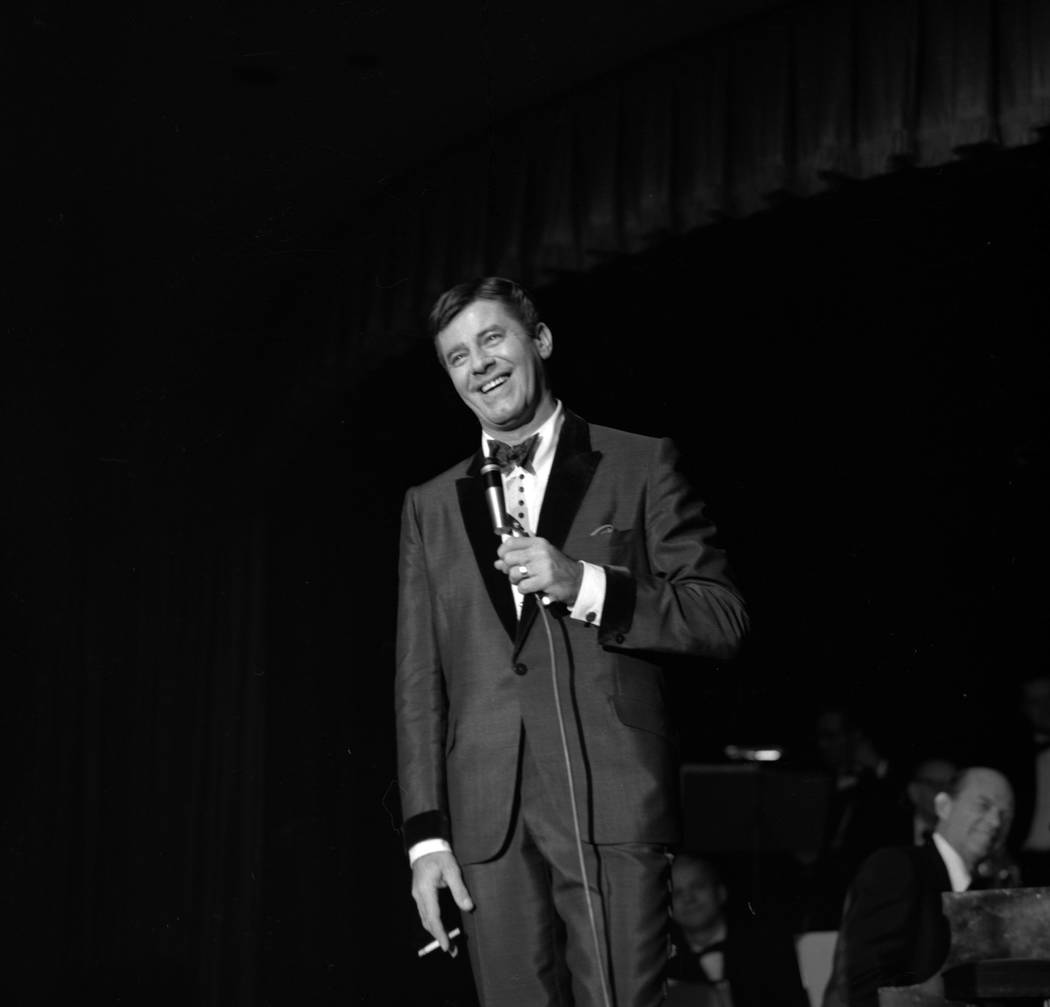 Jerry Lewis liked parties. He didn't like funerals. He loved Labor Day weekend.
The late comic legend, who died at 91 of heart failure Aug. 20 at his home in Las Vegas, was treated to a party on his favorite holiday Monday afternoon at the South Point showroom. Hosted by Tony Orlando, his longtime co-pilot for 34 years on the annual Jerry Lewis MDA Labor Day Telethon, the private celebration of life was attended by more than 400 friends and family.
Owned by Lewis' close friend Michael Gaughan, South Point was important to the latter stages of Lewis' career. That's where he hosted his final MDA Telethon in 2010 and where he performed his final live shows on Sept. 20 and Oct. 1-2 in 2016.
"We lost a great one, and the country can't afford to lose even one more laugh," Orlando said. "The man who generated those laughs was Jerry Lewis. … We are going to miss him. Imprint, today, every laugh he ever gave you."
Orlando nodded toward Lewis' widow, SanDee "Sam" Lewis, and Lewis' daughter, Danielle, referring to them as "the two lights of Jerry's life."
In remarks to the audience, Danielle Lewis said, "Growing up, I never realized what an incredibly lucky girl I was. We'd be in an airport and someone would come up to him and say, 'Thank you for all you have done for the MDA! Thank you for all the laughs!' And I'd say, 'Dad, did you know them?' "
His wife said she will treasure the quiet times.
Jerry at home
"Unlike so many who knew him, my memories were not of his movies, or the MDA Telethons, but of the times when it was just us," she said. "Making me a small glass of coffee filled with just cream and sugar so I could be just like my mommy, or having a stuffed Barney toy on his piano, always sitting there during his live shows, just so I could have a reminder that he was thinking of me.
"I remember two years ago, getting out of the car in the freezing rain in Washington, D.C., just so he could take a picture with me in front of the Lincoln Memorial."
As she grew up, Lewis' only daughter said, "I began to realize my father really was one of the most amazing human beings on the planet."
Dean Martin's daughter, Deana Martin, spoke spiritedly of her father's partnership with Lewis, the 1946-'56 run when the Martin & Lewis team were box-office and stage superstars.
"When I was born in Manhattan, they were headlining Slapsy Maxie's in Hollywood, and they were the No. 1 comedy team in the world," Martin said. "Jerry later told me, 'We found magic in a bottle,' and they did."
Adopting the sensibility mastered by those who participated in the Dean Martin Celebrity Roasts, Deana Martin deadpanned, "The Jerry Lewis I know was caring, loving, rarely hot-tempered (or) selfish, never egocentric, he was never difficult. In fact, he actually had the heart of a child. In a jar. On his desk."
She continued, "I asked my Uncle Jerry, 'Why does Daddy leave me alone when he goes with you to Las Vegas? And he said, 'Because he likes me better than you.' When my dad and Uncle Jerry broke up, I said, 'Why is everyone saying Jerry would go off and be a big star and Dean would just fade away?' And he said, 'Because people like Jews better than Italians.' "
Deana Martin's appearance was accompanied by video of the famous reunion of her father and Lewis during the 1976 Labor Day Telethon, orchestrated by mutual friend Frank Sinatra. Lewis drew a laugh that day when he asked his long-ago partner, "So, are you working?"
"That was my dear Uncle Jerry, and I loved Jerry Lewis," Deana Martin said.
Telethon raised more than $2 billion
Retired MDA official Mike Blishak and former MDA Telethon co-host Jann Carl marked Lewis' legacy as co-host of the annual telethon, noting that he raised more then $2 billion from 1956-2010.
"Jerry and Dean started their work with the MDA at a show at Carnegie Hall in 1956, and the first TV show in 1966 raised $1 million," Carl said. "That was a great amount of money, but Jerry was just starting. He threw himself into the MDA with such great passion.
"We started calling those he helped 'Jerry's Kids,' but during his run they became 'Jerry's Adults.' "
Friar's Club of New York Executive Director Michael Gyure, whose club bestowed upon Lewis the highest ceremonial honor of abbot, said, "The Friars Club is no stranger to all sorts of extraordinary talent, and Jerry was the biggest in show business. He did it all."
Gyure noted that the Friars Club had named its monastery for Lewis.
"He would hold court wherever he sat and regale all those present with his stories," he said. "He also flew to New York, Washington, Phoenix to transform our mission to reality. He was our abbot in motion."
Comic and actor Dane Cook, a friend who received frequent, random calls from Lewis, talked of Lewis's little-known, self-appointed nickname.
"He'd say, 'Dane, this is The Jew in the Desert,' " Cook said, drawing one of the afternoon's many laughs. "He recently told me, 'I have good news and bad news. The good news is, 'I am writing a movie and you're gonna star in it!' I said, 'What's the bad news?' He said, 'I'm gonna direct you in it, too!' "
Roast jokes and show biz stories
More comedy arrived from popular stand-up and Friars Club member Jeff Ross, also an adept roaster.
"A lot of Jerry's friends couldn't make it, because of the distance — they're in the casino," said Ross, in full stand-up mode. "At the Friars Club, we named a building after him. It'll take weeks before we change that." And, "When a legend dies at 80, he gets a tribute from his world-famous friends and fellow legends. When you die at 90, you get me."
Ross also relayed a conversation he had with superstar comic and Lewis fan Jerry Seinfeld.
"I told Jerry that I was spending Labor Day in Las Vegas for Jerry's memorial," Ross said. "Jerry says, 'What is this? A 48-hour memorial?' You know, it could have been. Everybody wanted to be a part of Jerry Lewis' life."
Actress Illeana Douglas, who co-starred in Lewis's final film, "Max Rose," said Lewis unfurled stories of his showbiz past between takes.
"He knew Ingmar Bergman, but he didn't just know Ingmar Bergman," Douglas said. "He told me, 'I taught Ingmar Bergman how to play chess!' He talked about Laurence Olivier, 'I knew Larry! I taught him how to pratfall!' And you had to believe him. Did he really? Yes! It really happened to him!"
Music featured in the program as well. Former Caesars Palace headliner Matt Goss, fresh off selling out 02 Arena in London with his brother, Luke, in the band Bros, sang "Unforgettable" to a montage of Lewis photos. Goss was a favorite showman of Lewis, who took in Goss' show at Caesars a couple of years ago. Billy Gilman of "The Voice" performed a soaring a cappella version of "My Way," one of Lewis's favorite songs as sung by Frank Sinatra.
Tributes and hysterical bits
Stage and recording star Jack Jones, joined by Lewis friend and guitar great Joe Lano, performed "Smile," a number that often brought Lewis to tears. Jones led into the song with, "Jerry is — I'm saying 'is,' still — is one of the most caring, sensitive, compassionate and empathetic people I've ever known."
The speeches from the stage were interspersed with some of Lewis's more famous TV and film moments. His typewriter-miming scene from "Who's Minding The Store" and his mimicking boardroom rant from "The Errand Boy" were played on the room's big screen.
So were particularly brilliant clips from the MDA Telethon, as comic great (and Lewis favorite) Totie Fields struggled to sit atop a tall bar stool, fairly falling all over the stage. Also resurrected: a wild segment when Lewis, in a frantic rush to the stage, joins the Valleyaires Barbershop Chorus. His front teeth blacked out, Lewis mocks and teases those around him, repeatedly grabbing a smallish bald man to his right by the throat and shaking him zealously.
"The guy Jerry was shaking?" Orlando said after the clip. "He sued Jerry for causing him whiplash. True story."
The event closed with a few words from Rabbi Sanford Akselrad of Congregation Ner Tamid, who said one of the words he would use to describe Lewis was "courage" because, "To talk to a showroom full of people for two hours and make them laugh takes great courage."
The rabbi recalled the demands placed on Lewis from his demanding showbiz father, Danny, who admonished his son for turning his back on the crowd to joke with the orchestra during an otherwise flawless performance.
The final words, though, were from Lewis himself, singing "You'll Never Walk Alone." The song closed the telethon each Labor Day Weekend, and it closed the Lewis celebration as the legend, his voice quivering, sang, "When you walk through a storm, hold your head up high, and don't be afraid of the dark."
John Katsilometes' column runs daily in the A section. Contact him at jkatsilometes@reviewjournal.com. Follow @johnnykats on Twitter, @JohnnyKats1 on Instagram.
Related
In his own finale, Jerry Lewis honored the great Sammy Davis Jr.