Former 'AGT' contestants offer advice to Daniel Emmet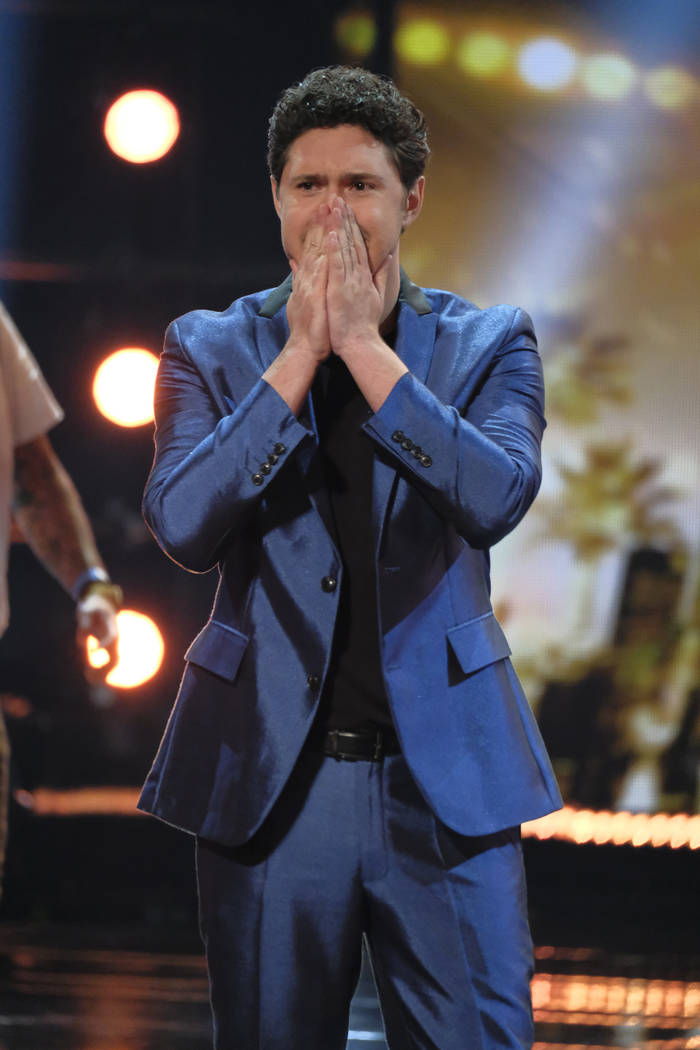 A great ventriloquist. A master magician. A soulful singer-songwriter.
"America's Got Talent" has certainly rewarded all measure of Las Vegas performers among its many champions. Two are resident Las Vegas Strip headliners. Terry Fator has his own room at The Mirage, while Mat Franco performs in his theater at The Linq Hotel.
Singer-songwriter Michael Grimm has hit the cruise lines, plays assorted road dates and performs an acoustic set Tuesday nights at Tuscany's Piazza Lounge.
All have thoughts and advice for Daniel Emmet in his wild ride on "AGT." The pop/opera specialist and co-star of "The Cocktail Cabaret" at Cleopatra's Barge at Caesars Palace has reached the show's finals. He performs Tuesday and awaits results Wednesday, both shows airing at 8 p.m. on NBC.
Packing his multitude of puppets, Fator won "AGT's" Season 2 title in 2007, earning a limited engagement at the Las Vegas Hilton (now the Westgate Las Vegas). He is now closing in on a decade at The Mirage and is one of the city's great success stories.
"My advice to Daniel is to know your routine so well you could do it in your sleep, then relax and enjoy the moment," Fator says. "Drink it all in and have fun. These amazing moments are so short-lived, and win or lose, this will be an awesome memory forever."
The congenial Franco, who last month marked his third anniversary at The Linq, also trumpeted preparation.
"Feeling prepared and well-rehearsed can make all the difference when it comes to being confident," says the 30-year-old Franco, who won Season 9 in 2015. "Confidence is a magic ingredient that allows you to channel your nerves into positive energy." The magician added that Emmet's rendition of "Someday" on Tuesday's semifinal show was his best performance yet.
"With the right song choices, he'll be a true contender in the finale," Franco says.
For Grimm, the win is already in for Emmett.
"If he's in the finals, then he's a winner no matter what happens," Grimm says. "So have fun with it."
Grimm has surfed some choppy waters since winning the Season 5 title in 2010.
"I only hope that he has a good personal manager, and an attorney," Grimm says. "He needs protection from the onslaught of vampires that are waiting in the shadows."
But Grimm was otherwise enthusiastic, saying of Emmet, "What a great talent! He deserves every bit of this experience!"
One "AGT" loser, or should we say nonwinner, comic magician Piff the Magic Dragon, has capitalized on his "AGT" fame to headline Bugsy's Cabaret at the Flamingo Las Vegas.
"I've got the perfect advice for him," says Piff, legal name of John van der Put. "First, do something you know how to do really well. Second, never shoot a dog out of a cannon."
That was Piff's final performance on "AGT." Firing his Chihuahua, Mr. Piffles, across the stage, a move that stunned judge Heidi Klum, who didn't appear to realize that Piff was performing a trick.
"I'd like to have Daniel in my show, actually," Piff says. "Maybe we can shoot him out of a cannon."
This caused a stir
Esteemed rock vocalist Vince Neil announced "the boys" are returning to the studio. That means Motley Crue, the veteran hard-rock quartet that many fans thought would never record again. Not so.
Las Vegan Neil said in text Thursday, "We never said we broke up. We just said we wouldn't tour again." In a couple of weeks, the band plans to record four songs at Tommy Lee's home studio in L.A.
TRF set for Caesars Palace
Vegas rockers Imagine Dragons host the fifth Tyler Robinson Foundation Rise Up Gala on Saturday night at Caesars Palace. Joel McHale again hosts the event.
The band will perform an acoustic set at 9:45 p.m. and will live-stream the event on the band's Facebook page (take note of bassist Ben McKee's outfit; he can usually be counted on for something unusual).
Connect at 5:30 p.m. to catch Frankie Grande (YouTube star and brother of Ariana Grande) hosting the red carpet.
Last year's event cleared $1 million, easily a record night for the still-evolving charity. The Tyler Robinson Foundation is named for a young fan who died of brain cancer in March 2013 at age 17. Robinson befriended the Dragons and played their hit "It's Time" during his treatment.
Hammer head
Comic magician Mike Hammer is a former actor who, before setting up residency at the Four Queens, appeared in Hollywood movies. For proof, watch Leonardo DiCaprio's 2002 gem "Catch Me if You Can."
If you look closely, in the scene where Frank Abagnale is watching a movie, you can spot the back of Hammer's head.
"I got paid," Hammer says. "I got my SAG card, the whole thing."
I finally caught Hammer's show (after eight short years) at the Canyon Club, and he is a funny, funny dude.
John Katsilometes' column runs daily in the A section. Contact him at jkatsilometes@reviewjournal.com. Follow @johnnykats on Twitter, @JohnnyKats1 on Instagram.