Frankie Valli started as a Lover in Vegas
Updated March 7, 2023 - 9:36 am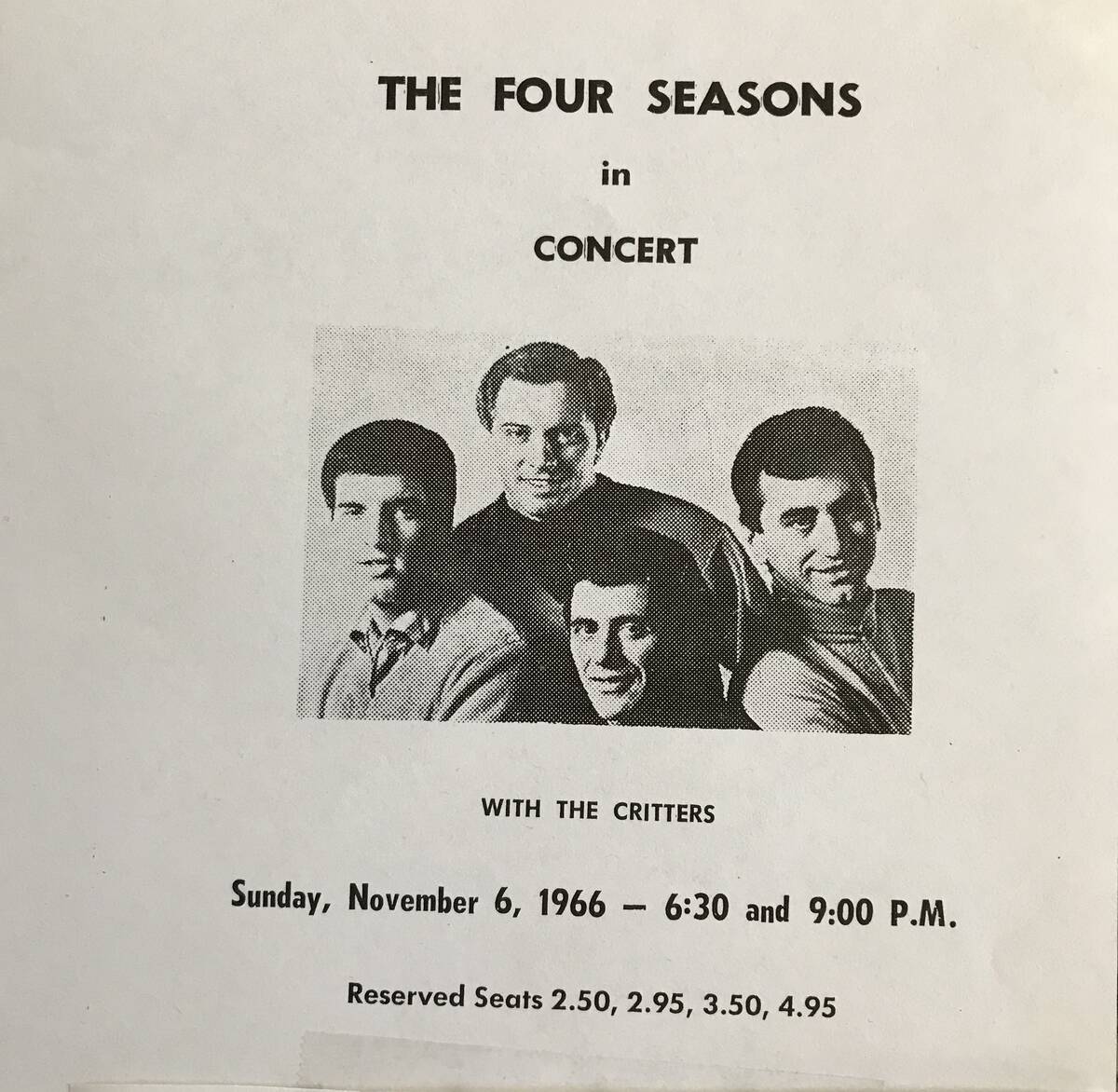 Frankie Valli was a young Lover when he first visited Las Vegas.
"My first real trip to Vegas was at the Flamingo hotel, in the lounge, with Fats Domino," Valli says in a phone chat. "We were not the Four Seasons at the time. We were the Four Lovers. It was very, very exciting, being one of the Four Lovers (laughs), but it was also a lot of work.
The Lovers played until about sunrise.
"We did a lot of shows that week, like four or five times a night," Valli says. "We got outta there at four or five in the morning. This was in 1956, maybe, or the late-'50s. We started out in the lounges, the early rock 'n' roll artists played the lounges because there wasn't anywhere else for them to play."
Valli has become a rock 'n' roll legend, of course, with the Four Seasons and his own solo career. The latest version of Valli and the Four Seasons play International Theater at the Westgate at 8 p.m. Friday and Saturday night.
In a time when the Vegas ticket-buying market is notoriously fickle, both shows starring the 88-year-old rock 'n' roller are nearly sold out. The band has unleashed the classics in recent performances, among them "Let's Hang On," "Big Girls Don't Cry," "Who Loves You," "December, 1963 (Oh What a Night)," and a medley of "Sherry," ""Walk Like A Man," "Big Girls Don't Cry," "Bye, Bye, Baby (Baby Goodbye)." Valli also sings the theme from "Grease" and the soaring "Can't Take My Eyes Off of You."
"We had a lot of hits that have held up through generations," Valli says simply, explaining his enduring popularity. "There is no doubt in my mind that new people all of a sudden found the Four Seasons through 'Jersey Boys,' over the years. We have a lot of new people, younger people that come to the show, and that's pretty important."
"Jersey Boys" ran for eight years, first at Palazzo and later Paris Theater, ending in September 2016.
"I thought it was terrific," says Valli, who attended the show's finale with his longtime friend and Four Seasons co-founder Tommy DeVito, who died in September 2020. "It was really nice, and really refreshing, to see a play in Las Vegas."
DeVito once said the musical was about 50 percent accurate in its retelling of the Four Seasons' rise to fame. Valli chuckled at that assessment.
"It's probably a little bit more than 50 percent," Valli said with a chuckle. "The inaccuracies were great things to fill in spaces. They were designed to keep the interest of the audience."
Were there pieces of Valli's life he would like to have seen make it into the "Jersey Boys" story?
"I looked at it as a group thing, and a little bit of everybody was enough," Valli says. "That's really true. The show couldn't have been as successful if it wasn't that way. If I were putting a play together like this, and it was from my point of view, it would have been different. I'm sure that would have been true for every member of the group."
Valli has most recently played Park Theater (today's Dolby Live) at Park MGM and Reynolds Hall at the Smith Center. Valli and the Four Seasons played the then-Las Vegas Hilton (now Westgate) with the Four Tops for two weeks in December 1987 and again in April 1988.
"We played the Riviera, several other places. We played the Aladdin. We played Bally's," Valli says. "There has always been a great magic to Vegas. If you want to go on vacation to several countries, especially in a few days, go to Vegas. So many hotels represent various countries (laughs)."
Valli is worth millions. He says he sings and tours simply because he loves to perform.
"I'm a singer. I don't smoke or drink," Valli says. "I spend a lot of time resting and practicing. But singing in front of audiences is still very thrilling. It keeps me young, and it is very motivating."
Valli says he occasionally hears his own voice randomly, in the background at some public place when he's moving through his day-to-day life.
"It's really kind of exciting to me, still," Valli says. "It's kind of hard to explain, because not everybody is in a situation to experience something like that. I always get a little chuckle and a warm feeling inside. It's great that our music is has meant so much to so many people, and they are still playing it."
Four Seasons rocked Trenton
Former Sonny's Saloon and Casino manager Henry Poreda booked the Four Seasons at the Trenton War Memorial in New Jersey on Nov. 6, 1966. This was three months before the group released "I've Got You Under My Skin." The cover of the song made famous by Frank Sinatra reached the top 10 on the Billboard singles charts by the time the act played War Memorial.
"I immediately sold out the 6:30 p.m. show and added the 9 p.m. show," Poreda recalls. "I recall they only charged me an extra $1,000 for the second show."
The Jersey band The Critters opened (they had a hit with "Mr. Dieingly Sad"). Tickets in the 1,600-capacity venue went for $2.50, $2.95, $3.50, and $4.95. Not including gratuities.
Cool Hang Alert
The classic rock-cover band Blue String Theory throws it down (find out what "it" is when you see the show) at 8 p.m. (doors at 7 p.m.) Saturday at Sunset Station's Club Madrid. Also, keep an eye out for bookings at Westgate's International Bar, where I first caught this act. Place was packed. No cover at either locale.
John Katsilometes' column runs daily in the A section. His "PodKats!" podcast can be found at reviewjournal.com/podcasts. Contact him at jkatsilometes@reviewjournal.com. Follow @johnnykats on Twitter, @JohnnyKats1 on Instagram.