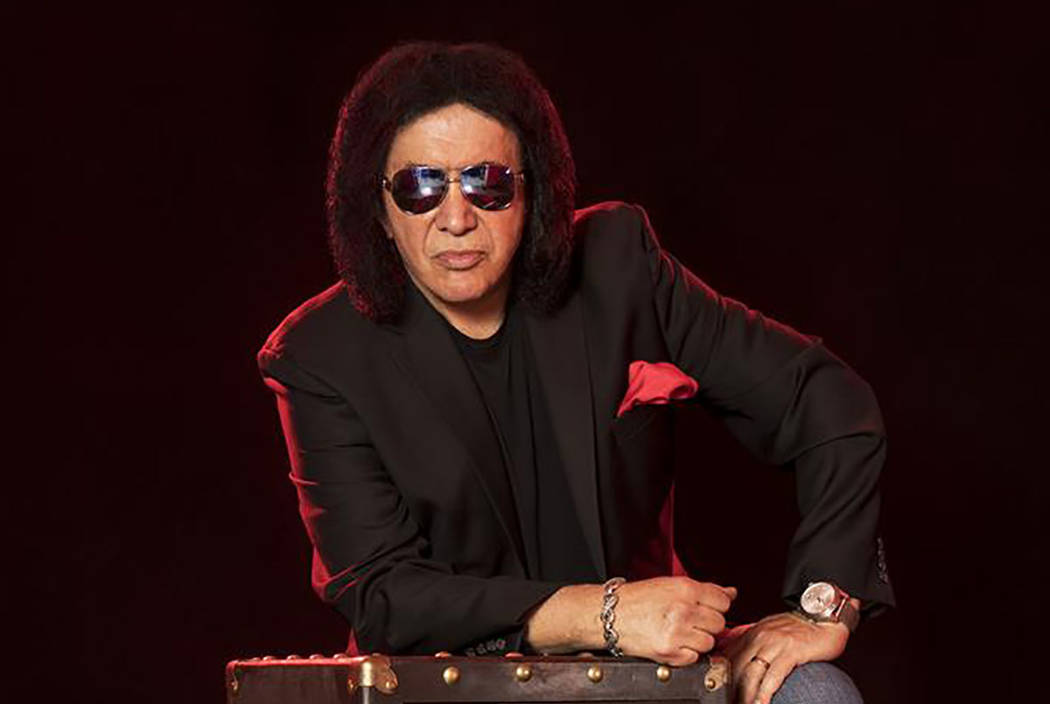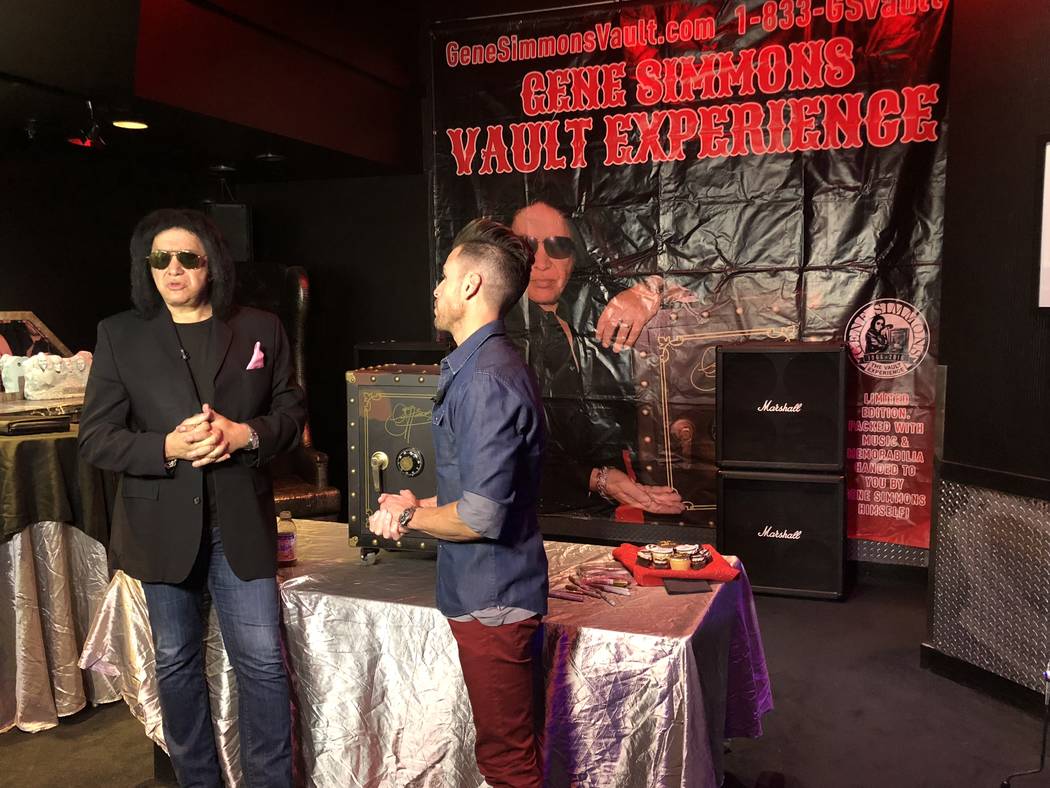 Gene Simmons of Kiss is a famous rock showman.
He's also a skillful pitchman.
Simmons stopped at the Rio in VegasVille on Saturday on his cross-country tour delivering "The Vault." This ambitious venture is a collection of more than 10 hours of 150 previously unreleased recordings, mementos (including a Simmons action figure and a commemorative coin), a 160-page book filled with heretofore unpublished photos and Simmons' own track-by-track commentary of every song.
"I spent three years on this," Simmons said. "I spent hours and hours of music spanning all the way back to when I was 14 years old through Kiss classics."
Early never-released collaborations with Eddie and Alex Van Halen, Bob Dylan, Joe Perry of Aerosmith and his original Kiss bandmates Paul Stanley, Peter Criss and Ace Frehley pepper "The Vault" music lineup. The first version of "Christine Sixteen," recorded with the Van Halen brothers in December 1977, is also part of the lineup.
Three acoustic songs Simmons recorded with Dylan at his L.A. home came about simply because Simmons called and asked Dylan if he wanted to record. Three days later, they met.
"Why did we do it?" Simmons asked. "Good question. Because, we could."
For authenticity, "The Vault's" 10-CD collection is packaged inside a actual, metal vault. The stuffed-with-nostalgia item is available to fans at GeneSimmonsVault.com, costs $2,000 and is delivered personally by Simmons.
"It's a real vault," he said. "Go ahead and lift it."
This is heavy metal, indeed. About 40 pounds of rock history.
"We aren't (kidding) around," said Simmons, still salty at 68. "I like the weight of it."
The idea, he said, is so simple.
"Life is short, and then you die," Simmons said. "While you are alive you might as well do big stuff."
Simmons' projects in Las Vegas include the Kiss by Monster Mini Golf attraction at the Rio, and he is promising a new partnership between the band and 7-Eleven franchises this month. He knows Kiss is ripe for overtures to perform an extended engagement at a Strip theater. Many classic-rock bands and solo artists (Def Leppard, Motley Crue, Journey and Guns N' Roses among them) have rocked venues on and off the Strip.
But Kiss is a unique production.
"We're expensive," he said. "We just are. Rolls-Royces are expensive, and we're a Rolls-Royce. You can get around in a Volkswagen, but we are not a Volkswagen. When we show up, we bring a big show. If a hotel wants an event, a spectacle, call Kiss."
Simmons did shed the heavy equipment to perform an acoustic set for about 100 fans at the Rio's Kings Room. The venue was filled with those who had purchased "The Vault" and the opportunity to see Simmons' in such a small setting.
From the stage, Simmons talked of marketing, saying, "I have actually trademarked the air we breathe, and am selling it."
True. Official Kiss Air Guitar Strings are sold at the Kiss By Monster Mini Golf gift shop. Yep, for $3.99, you can own a piece of pure marketing genius.
"Big things," as Simmons said. "We do big things."
Fox 5, Jessee split
Less than a week after the KVVU Fox 5 staff was told News Director Cristi Jessee had been suspended, she and the station parted effective Friday. General Manager Todd Brown, who issued Jessee's suspension Monday, notified the news team that the station and Jessee had come to a "mutual agreement" to start anew, and apart.
Brown has not returned calls for comment, and the Fox 5 staff has been directed to keep quiet about the move.
Sources familiar with station operations say Jessee had run afoul of the staff as she recruited the controversial social-media activist and freelance broadcaster Laura Loomer, who (among other moves that alarmed the news team) had sparred on Twitter with Fox 5 anchor Cyndi Lundeberg, who recently married a man of Muslim faith. The right-leaning Loomer said the pairing was a "sham green card marriage to an Islamic immigrant," and on Twitter said that event factored into the station's decision not to hire her.
No 'Revive'
A project about three years in the making, the circus production "Revive" has flatlined at Opaline Theater at The Venetian. The production was to be a partnership between the hotel and Base Entertainment of Las Vegas. At the moment, the production is latent, and plans to renovate the former "Rock of Ages" (and before that, Blue Man Group) theater are stalled.
What you hear at 'Renegades'
"Oh, my God! I am so scared of this woman!" From Jose Canseco during Friday's media opener of "Renegades" at Cleopatra's Barge at Caesars Palace.
Canseco was referring to his well-chronicled meeting with Madonna in 1991, when the pop superstar invited the Oakland Athletics' slugger into her bedroom in L.A., dropped the blinds and showed him the infamous masturbation scene from her "Blonde Ambition" tour documentary.
That visit nearly caused Canseco to miss that night's game against the Angels in Anaheim, but then-A's manager Tony LaRussa (by Canseco's account) forgave his lateness when Canseco told him the "why" of it all.
John Katsilometes' column runs daily in the A section. Contact him at jkatsilometes@reviewjournal.com. Follow @johnnykats on Twitter, @JohnnyKats1 on Instagram.