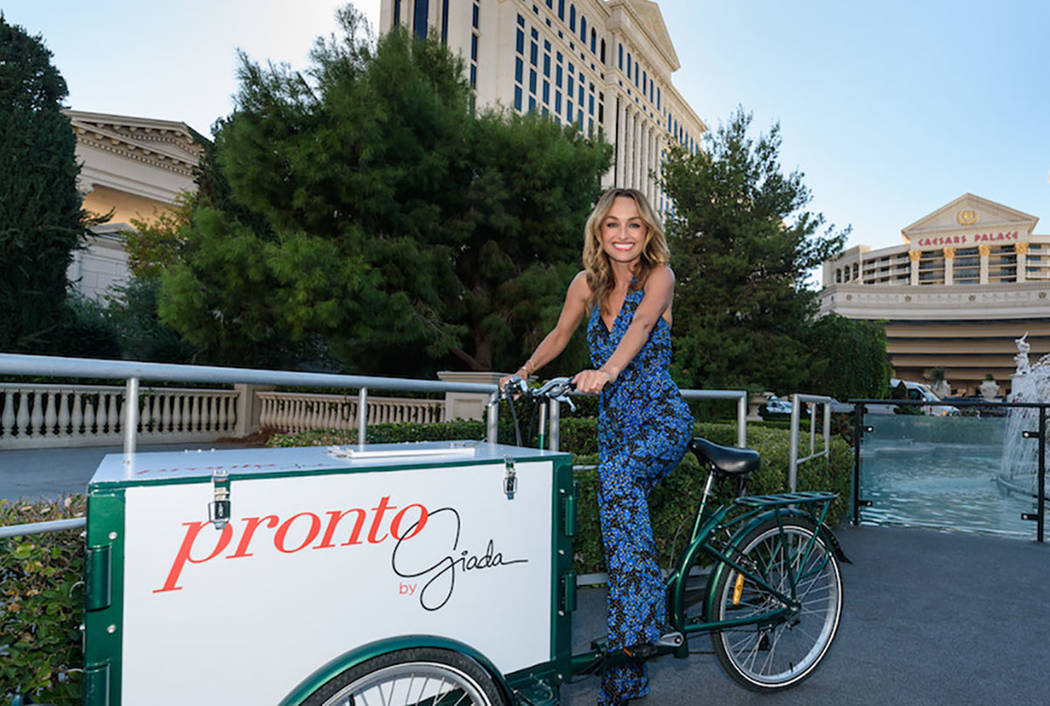 The name Giada is a fine fit at The Cromwell. Since 2014, the chic Italian restaurant has been overlooking Flamingo Road and the Strip. Famous resorts abound in that neighborhood. Giada shares a corner with Bellagio, overlooking its glorious fountain show, and Caesars Palace.
But the person behind the brand, Giada De Laurentiis, says she is far more comfortable behind the scenes.
"I am like many chefs, who are introverts and kind of like mad scientists in the kitchen," says De Laurentiis, to be honored Saturday night as Nevada Ballet Theatre's Woman of the Year for its 34th Annual Black & White Ball at Wynn Las Vegas. "I am used to being surrounded by people who enjoy the same craziness as I do, but not in public.
"My personality doesn't go hand-in-hand with being a TV personality. I love to cook, and I love being hidden."
That philosophy will need to be tabled Saturday night, when the celebrated chef, author, TV star and businesswomen joins a diverse list of NBT Women of the Year. Over the years, the NBT has honored Debbie Reynolds, Celine Dion, Ann-Margret, Rita Rudner, Bette Midler, Marie Osmond, Eva Longoria, Mitzi Gaynor, Florence Henderson, Debbie Allen, Priscilla Presley, Olivia Newton-John and Vanessa Williams.
"It's such an honor, but it's also a little uncomfortable for me," "I am so honored to be associated with these other ladies," De Laurentiis said in a phone interview last week. "But I will say that, right now, it is important for women to be recognized for achievement, and to shed some light on women. I am proud to do that."
As she expands her culinary interests on the Strip, De Laurentiis says she considers Las Vegas her second home. Next month, she is set to open Pronto by Giada at Caesars Palace, a comparatively casual restaurant, in the space across from Rao's formerly occupied by Payard Patisserie & Bistro.
"I'm committed to making both of them successful, deliver a fantastic, Vegas-type experience," De Laurentiis says. "That was what we wanted to do at Giada, and Pronto will be no different."
Food aside, the common ingredient for all NBT honorees as a significant contribution to, or affiliation with, the arts. Though often overshadowed by her culinary achievements, De Laurentiis is the granddaughter of film producer Dino De Laurentiis, who produced more than 600 movies, including the Federico Fellini-directed "La Strada" and "The Nights of Cabiria," along with "Serpico," the remake of "King Kong" and "Dune."
"Hailing from a performing arts family, Giada De Laurentiis is a strong female leader and educator who has earned worldwide acclaim for her culinary artistry," says Nancy Houssels, NBT co-founder and board co-chairwoman.
De Laurentiis, who also has won a Daytime Emmy Award for her Food Network show, remembers the days when she visited Las Vegas before she was famous. She and her friends took to Hard Rock Hotel, and at one point she checked out Bill's Gamblin' Hall & Saloon — the spot that in 2013 was refurbished as the Cromwell.
"Coming back to it when it was The Cromwell, and to see this place with my restaurant, is amazing to me," she says. "When we opened, I just thought, 'Holy cow, look what we have done here.'"
Viva Dark Vegas
Mondays Dark is performing just one benefit show this month, breaking after its fourth-anniversary event at The Joint at the Hard Rock Hotel on Dec. 18. The series picks up with a night of Elvis tunes, benefiting the White Horse Youth Ranch, a nonprofit organization that provides a place for socially challenged children to experience healing through horse therapy.
Vocalists in the mix include Justin Shandor, who played Elvis in "Million Dollar Quartet" at Harrah's; Chris Phillips of Zowie Bowie, Skye Dee Miles of Rose. Rabbit. Lie. at The Cosmpolitan of Las Vegas, ex-"Jersey Boys" cast member Travis Cloer, ex-"Rock of Ages" cast member Troy Burgess, ex-"Baz" and "Pin Up" cast member Lisa Marie Smith; and Krystal Goddard of of the Shaun DeGraff Band.
Doors at 8 p.m.; the party starts at 9 o'clock. Jumpsuits, as always, are optional.
Rockin' Piero's
Ex-Checkmate Sonny Charles spent seven years touring and recording with the Steve Miller Band, ending his run in 2015. Charles has since teamed with Pia Zadora at Pia's Place on Fridays and Saturdays at Piero's, and welcomed a former bandmate Saturday night.
Keyboard great Joseph Wooten, whose nickname is Hands of Soul and who has won three Grammys, ducked into the lounge Saturday to rock the joint with Charles. It was the first time a member of Miller's band has performed with Charles in the lounge.
"The Joker," and "Abracadabra" were among the Miller songs sampled, along with the Checkmates' 1969 hit, "Black Pearl."
Who Was Where
Recording artists Nick Jonas and Jason Derulo, and actor Victor Rasuk of "Fifty Shades of Grey" and "Fifty Shades Darker," Saturday night at XS Nightclub for The Chainsmokers' performance. Rasuk celebrated his 34th birthday at the club … "This Is Us" cast members Sterling K. Brown, Justin Hartley and Chris Sullivan on Thursday at Estiatorio Milos inside The Cosmopolitan of Las Vegas. Hartley was also at Beer Park at Paris Las Vegas on Wednesday night. Also from the show, Christy Melz at Kelly Cardenas Salon at Hard Rock Hotel on Thursday. The series taped an episode at HRH last week … Kody and Robyn Brown, from TLC's "Sister Wives," at Blue Man Group at Luxor last Monday.
John Katsilometes' column runs daily in the A section. Contact him at jkatsilometes@reviewjournal.com. Follow @johnnykats on Twitter, @JohnnyKats1 on Instagram.