High praise for Las Vegas at Raiders groundbreaking event
November 13, 2017 - 7:53 pm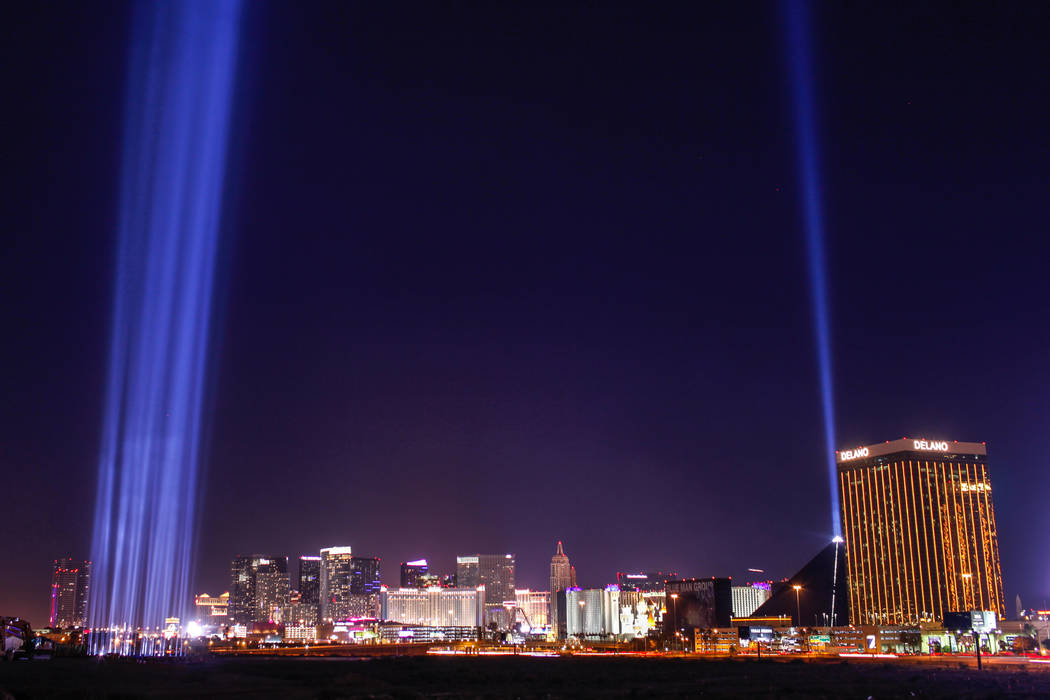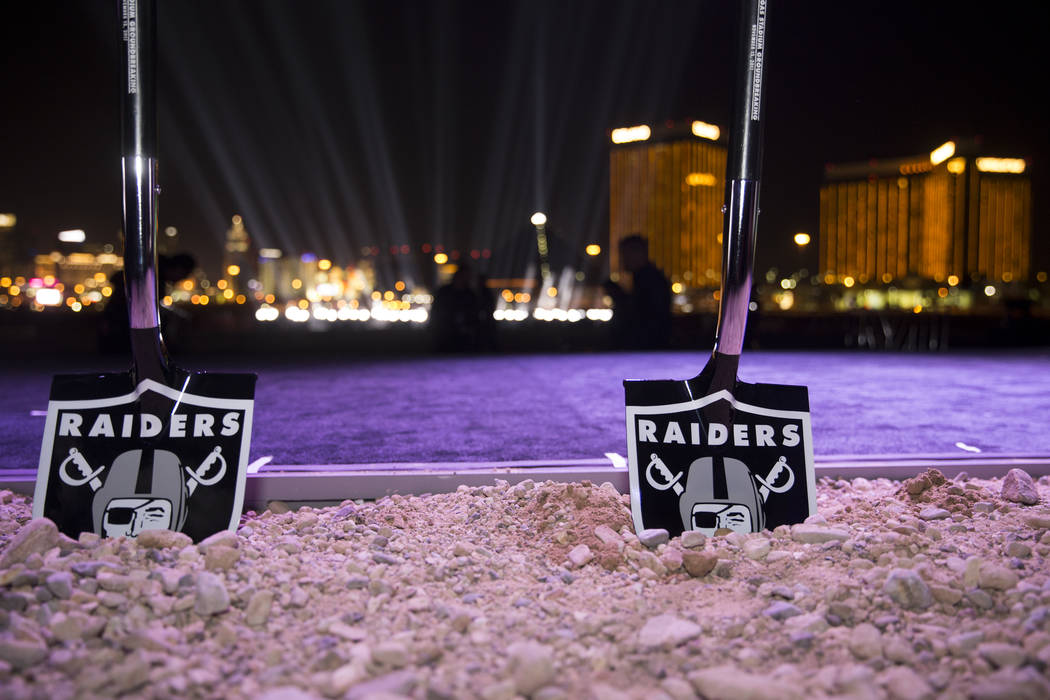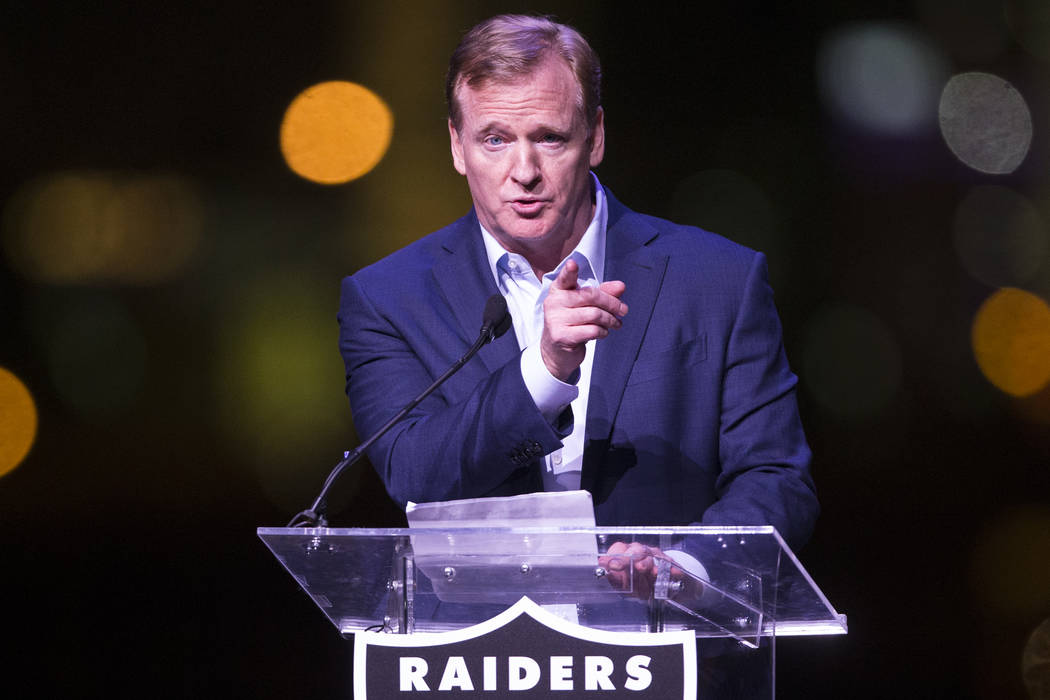 The Kats! Bureau at this writing is a tent just west of the Strip, near Russell Road, with Delano and Mandalay Bay gleaming in the background. This is the current site for, and future home of, the Las Vegas Raiders.
The rare groundbreaking to be held at nightfall (especially during daylight saving time) fits the Raiders' dark image and the 24/7 action of their new home.
From this scene:
Football's his craft
New England Patriots owner Robert Kraft said Las Vegas is without peer in the eyes of NFL fans.
"This will become the No. 1 destination city in the league," Kraft said after the event closed. "Fans pick one or two cities in the league to visit for away games, and everyone will pick this one. There is such great demand to come here."
The city's civic identity will invariably become linked with a team that has won three Super Bowls.
"I learned this when we were privileged to win our first championship — nothing brings a community together like an NFL team," Kraft said. "In Boston, a city of 600,000 people, we had a million and a half people come into that city 36 hours after we won our first Super Bowl. It was just incredible."
The 76-year-old Kraft, who purchased the Pats in 1994 and has won five Lombardi trophies, added: "Anyone who is objective sees this as something great for the Raiders, somethings great for Las Vegas, and something great for the NFL."
Sandoval's take
Asked if he shared what seemed to be a consensus in the tent that the event might be the greatest groundbreaking ever in Nevada, Gov. Brian Sandoval said, "I'm not aware of anything any more spectacular than this has been, with one of the greatest and iconic franchises in sports teaming up with the Entertainment Capital of the World. It's like nothing else I can think of."
Sandoval referred to Nevada as the "Silver and Black state" during his remarks from the stage. The team enjoys a loyal fan base in Northern Nevada. The team might move its preseason training camp to Reno.
"People are thrilled up north," Sandoval said, "and there is a chance that the training camp might be up there, which would make it a truly statewide team."
Sandoval had earlier motioned to the backdrop of the Strip, saying to NFL Commissioner Roger Goodell, "I know you can't say, but is there a better backdrop in America for a stadium than this?" The governor later said, "I can't think of the right adjective for it. Unlike anything on planet Earth. Looking on the Strip — everybody wants to be here, play here and come here."
Two govs' convo
Two former Nevada governors, Richard Bryan — also a former Nevada senator — and Bob Miller hung out for a bit before the event started. Miller served as governor from 1989-99; Bryan from 1983-89 and in the U.S. Senate from 1989-2001.
Neither former elected official has been a Raiders backer. Bryan is a longtime 49ers fan, who says of the 1-9 team soon to be alone in the Bay Area, "We are better than our record." Miller is a Chicago Bears fan, understandably as he was born in Chicago. But, he adds, "The Raiders have always been my second team."
Miller attended a Raiders game decades ago when the team was in Los Angeles, as a guest of fellow Nevada Gov. Mike O'Callaghan. "We showed up six hours early and sat there and watched the grass grow," Miller said, chuckling. As for the importance of the ground-breaking ceremony, he said, "There are 500 people here just for a groundbreaking. That says it all."
Bowling on property
Mandalay Bay President and Chief Operating Officer Chuck Bowling was among the resort execs in attendance, the first time I have seen him since Oct. 1. "It's good to have something to celebrate," was his understated take on the event.
From the emcee
Comic actor and event emcee George Lopez, with some local color, "Advice for the Raiders' kickers, the ball breaks toward the Excalibur."
Row mates
Seated next to each other: Carlos Santana and his wife, Cindy Blackman Santana; and Wayne Newton with his wife, Kathleen Newton; and Rick Harrison of "Pawn Stars."In that high-rent district: Goodell, Kraft, County Commissioner Steve Sisolak, Las Vegas Mayor Carolyn Goodman, Sandoval, and Raiders legacy reps Howie Long, Jim Plunkett, Marcus Allen, Tom Flores, Mike Haynes, Ted Hendricks, Cliff Branch and Fred Biletnikoff.
Said Newton, a Las Vegan since the late 1950s: "This really takes our city to another level. This is the one thing we were missing, an NFL team, even if we didn't realize we were missing it."
John Katsilometes' column runs daily in the A section. Contact him at jkatsilometes@reviewjournal.com. Follow @johnnykats on Twitter, @JohnnyKats1 on Instagram.
Related
Raiders break ground on new Las Vegas stadium