Jason Aldean's 'SNL' performance lives on
October 20, 2017 - 8:14 pm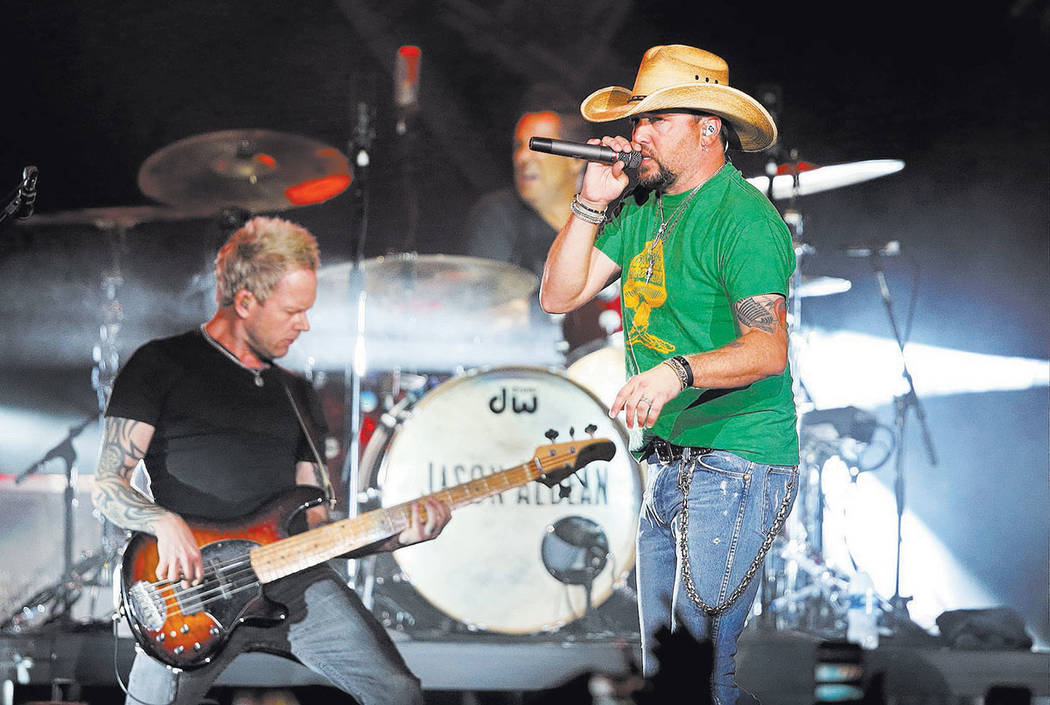 Notes from around the horn in VegasVille:
Aldean advances the cause
Jason Aldean, who was performing at Route 91 Harvest when the Oct. 1 shooting broke out, has issued a digital version of his Oct. 7 appearance on "Saturday Night Live." Aldean's sang Tom Petty's "I Won't Back Down" to open the show. The version of the performance on iTunes costs $1.29, with proceeds going to the Direct Impact Fund's efforts to raise money for those affected by the tragedy.
Aldean has also kept "When She Says Baby" in his set list, performing it when he resumed his concert tour on Oct. 12 in Tulsa, Okla. He was performing that song when shooting erupted on the Strip on Oct. 1.
"It's one of those things I hope none of you guys ever experience," Aldean told the crowd. "I think the one thing that is going to help more than anything is to play for you tonight."
Aldean called off three shows in Southern California in the week following the shootings.
Bros date spiked
The planned Nov. 4 return of Matt and Luke Goss, as the late-1980s boy band Bros, in Sydney, Australia, has been canceled. Low ticket demand is the reason given by band promoter Teg Dainty. The announcement was posted on the website for Quodos Bank Arena, where the show had been booked.
The statement:
"Ted Dainty and Bros collectively have put everything into promoting this show but due to lack of demand for tickets, we are not able to proceed and the show is officially cancelled. We understand how disappointing and frustrating this is for Bros fans who have waited so long to see them in Australia and we wholeheartedly thank the fans for all of the support and enthusiasm they have shown in this process.
"Matt and Luke personally send only love to their loyal fans and hope to see them in the future."
Matt Goss has been reportedly moving to a residency at a refurbished 1Oak nightclub at The Mirage, though no announcement about the booking has been issued.
'Absinthe' numbers
The city's hot-selling production show at Caesars Palace registered its biggest sales week ever after the Oct. 1 shootings. It's not only because folks were seeking an escape. In August, producers hauled away the couches and VIP sections of the Spiegeltent in favor of proper seating, upping the venue's capacity to 650 from its previous 560.
Lannie does count
Note this show: Lannie Counts in "Cooke," a tribute to Sam Cooke, is set for 8 p.m. Oct. 27 at the Italian American Club. Few singers would tackle such a vocal phenomenon as Cooke, but Counts is up for it. Clint Holmes is working with Counts, known primarily as one of the front men for Santa Fe & The Fat City Horns, and is also producing the show.
The cost is $25, a very good investment, I say.
They have hope
Jeff Leibow put in stark terms how his 8-year-old daughter, Emma, deals with Neurofibromatosis. NF, as it is commonly known, is a group of conditions that cause tumors to grow on any nerve, at any time.
"Emma actually has 30 tumors, that we know of, but we've stopped counting," Leibow said this week during our chat the KUNV 91.5-FM radio show I host each Wednesday. "She has a massive complex in her thigh on her left leg, which required orthopedic surgery — the first of six surgeries she'll need. The reason is because of NF."
Leibow is hosting the 7th annual "NF Hope Concert" at 1 p.m. Sunday. The event opens at 11:30 a.m. with a silent auction. Several Las Vegas stars are taking part.
Emma Leibow was diagnosed with NF when she was nine months old. Jeff and Melody Leibow have been working feverishly on raising money and awareness ever since.
Somehow, Emma remains an unfailingly upbeat little girl in the face of constant effects of NF. Her tumors have "excited" growth in her left femur, and her left leg is now two inches longer than her right.
And the Leibows are losing their health coverage as of Jan. 1.
Jeff, a former cast member of "Jersey Boys" at Palazzo and Paris Las Vegas, either needs to find a full-time job with a group health-care plan or move to another state (likely California) where Emma's care will be covered. He continues to build on the Las Vegas "NF Hope Concert' cornerstone, planning the second event in New York at Subculture Supper Club (under the Lynn Redgrave Theater) on May 21. and the first show in Chicago on April 15, tentatively set for Metropolis Theater.
"This is a disease that effects 128,000 people and is indiscriminate, effecting anybody," Leibow said. "I've got a lot of passion for it, and I'm using my family's story to keep advancing the cause."
John Katsilometes' column runs daily in the A section. Contact him at jkatsilometes@reviewjournal.com. Follow @johnnykats on Twitter, @JohnnyKats1 on Instagram.