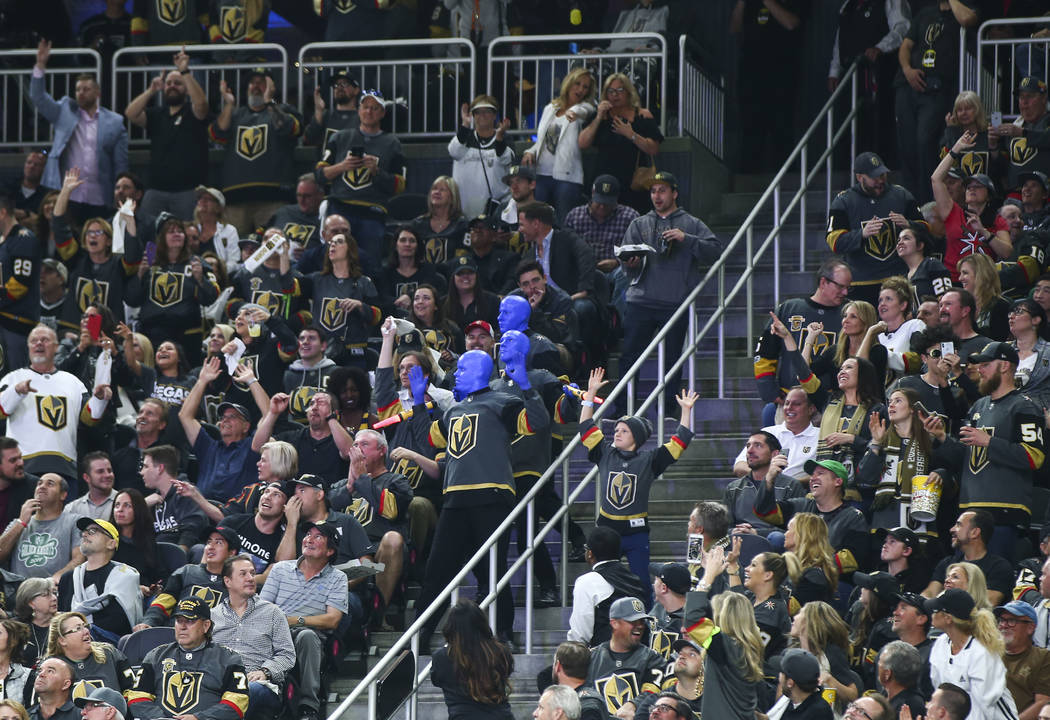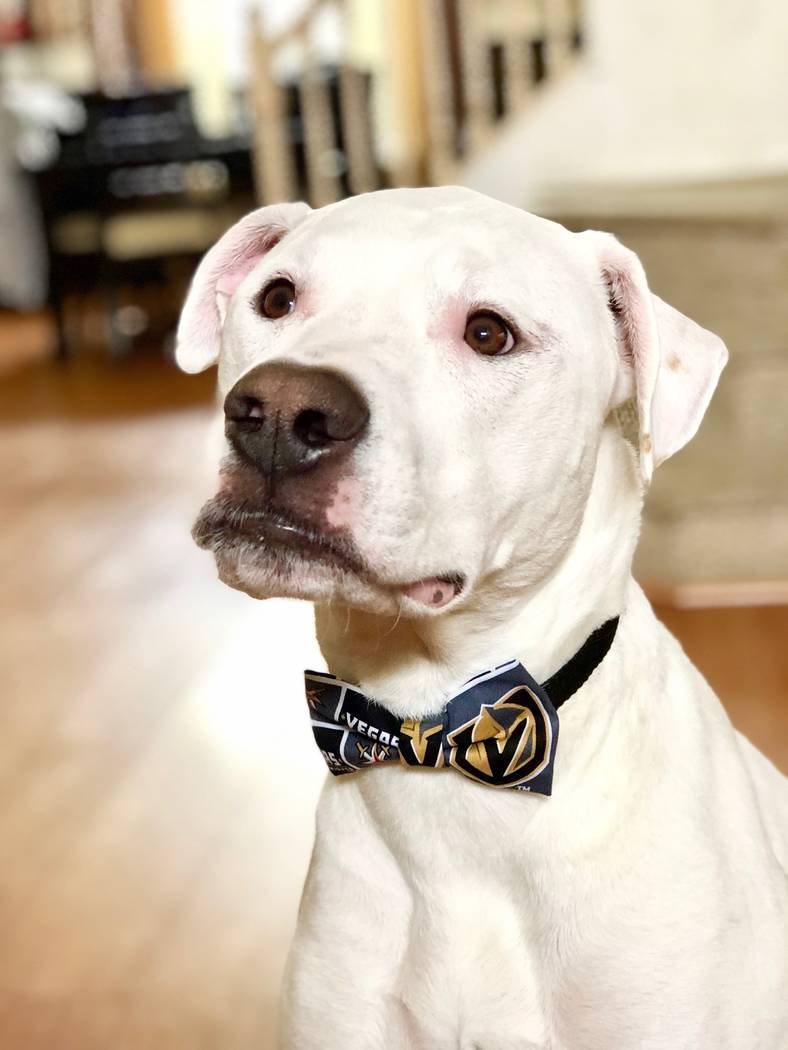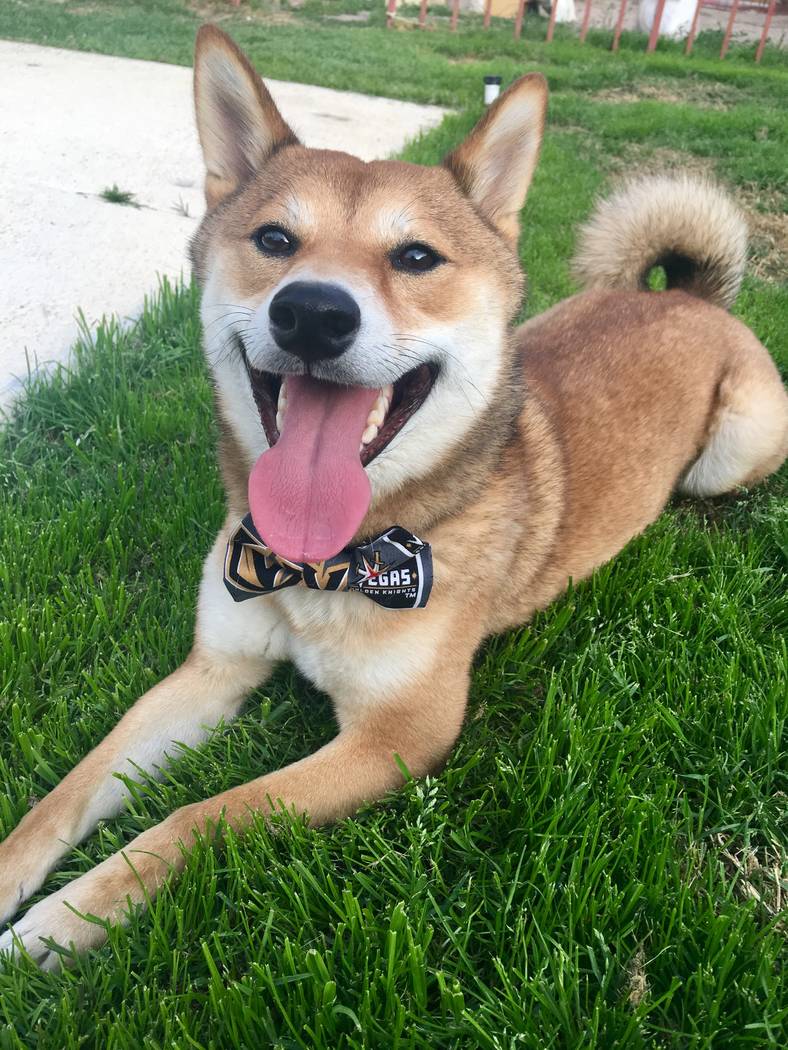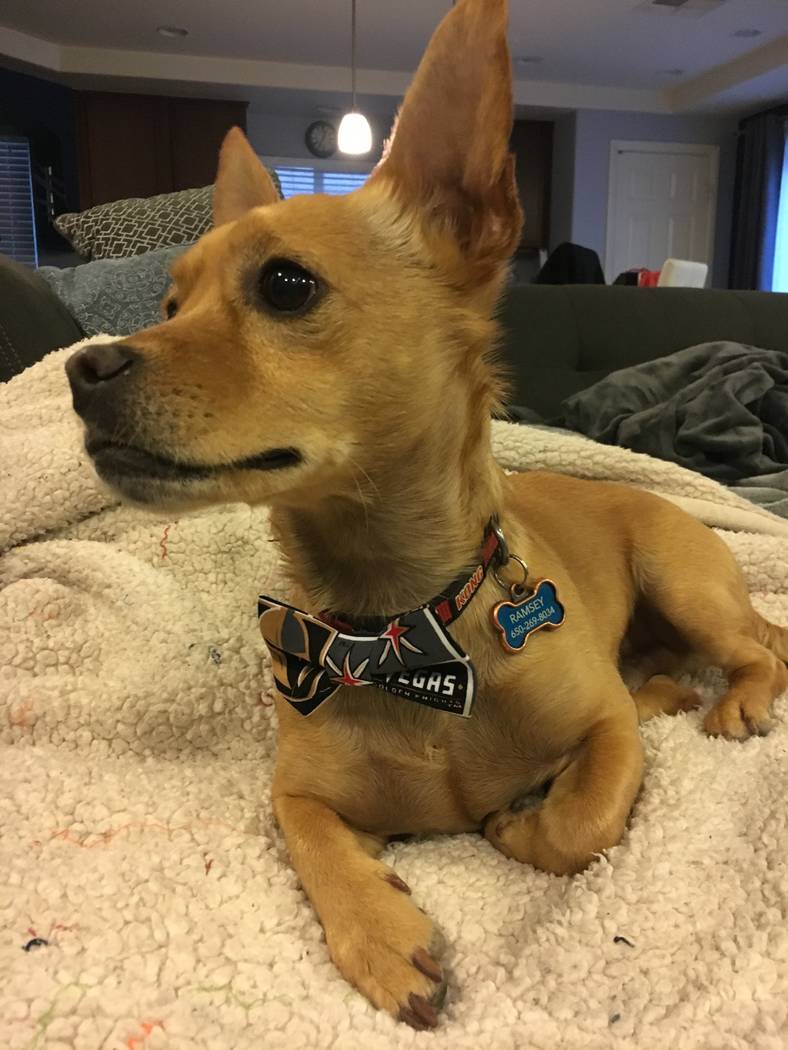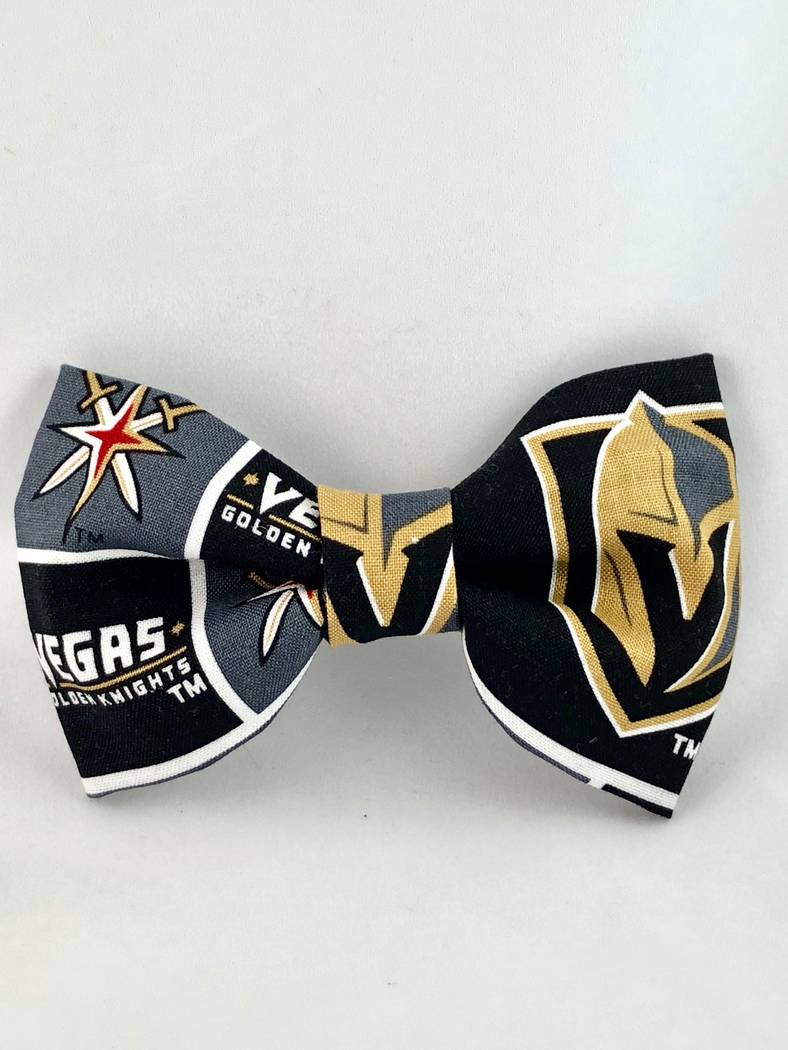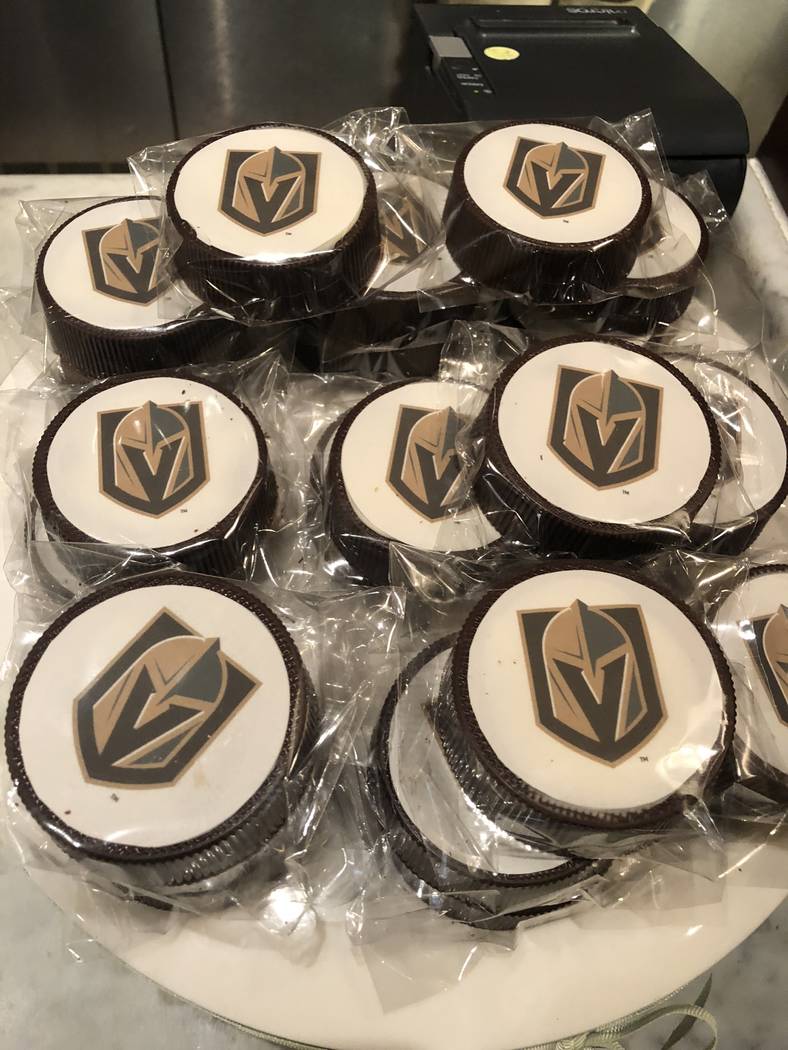 On Tuesday morning I went to a Golden Knights practice and a Vegas variety show broke out.
Luxor prop master Carrot Top, members of Cirque du Soleil productions (I believe I spied a Spermato from "Mystere"), drumming legend Vinnie Paul of the hard-rock bands Pantera and Hellyeah, veteran comic Rob Sherwood, John Payne of Asia, and even pop artist Michael Godard turned up for a 10 a.m. hit.
The crew shouted "Vegas Golden Knights!" in a "Cheers"-themed promotional clip.
"Ten o'clock is early for this guy to make anything," said Paul, wearing his ever-present, black-leather cowboy hat. "But this is for our team, brother."
Such is the scope of the Knights' popularity in Las Vegas. The city's penchant for embracing all variety of variety has been evident from the team's home opener — and even before.
"We've had officials come in from New York and Chicago and look at what we're doing and say, 'Wow, this would never play in our city,' so we have broken some of the rules," says Golden Knights Vice President of Entertainment Jonny Greco. "But we've been allowed to make it something very fun, unique and the fans have jumped on it."
It should not be a surprise to know Greco spent 5½ years as event producer for WWE before signing on to hype the NHL's Vegas expansion team.
He recalls the curious looks on faces of his co-workers when the plans for the Knights' pregame spectacle were pitched.
In that theatrical sequence, the Golden Knights have conveyed the legend of the golden sword, echoing through the canyons and finally landing at T-Mobile Arena. A costumed Golden Knight defends The Fortress against an attack by the visiting mascot, carrying the flag of the opposing team.
For the playoffs, every Western Conference foe is represented on the ice, with the Golden Knight beating back the L.A. King in the first round, and a San Jose Shark in a newly developed scene for Round 2.
It's some hokey hockey, yes. But it's also true Vegas, a city where Tournament of Kings has been running for two decades at Excalibur.
"We have a Las Vegas crowd that is receptive to entertainment, they arrive early and know if they aren't seated by 7 p.m., they'll miss something," says Greco, adding that opposing team's officials have marveled at the early arriving crowds at T-Mobile.
The team has also forged fast traditions with its drumline (aka the Knight Line, presented by Drumbots), lineup of terrific dancers in its cheerleading team, and the ubiquitous Chance the gila monster filing into T-Mobile.
Such celebrities as Penn Jillette, Blue Man Group, Carrot Top, rockers Tommy Shaw of Styx and Don Felder of the Eagles, and Mat Franco at The Linq Hotel have cranked the siren from The Fortress castle-destined deck while imploring the crowd to "Make Some Noise!" Some had no idea what they were getting into. On the day he was to crank the siren, Franco asked, "The hockey team has asked me to crank something. What's that about?"
"When you have such a high volume of entertainers, nothing seems impossible," Greco says. "We can have Blue Man Group move through the crowd, Cirque coming down from the rafters. We have video from Brad Garrett, Gwen Stefani, Backstreet Boys, Reba McEntire. We have a National League MVP, Bryce Harper, taking time out of an MVP-candidate season to promote the team." Harper has placed a Golden Knights sticker on the handle of his bat.
Naturally, the Knights' stunning on-ice success has made its entertainment strategy palatable. Even its nickname, which was questioned by many fans and media types for lopping "Las" from the name and opting for "Golden" over "Silver' (for the Silver State) makes perfect sense. Vegas Golden Knights connects effectively with the team's Vegas Born campaign, and also the #VegasStrong.
"A lot of stuff we've talked about, what we've done, are not standard," Greco says. "Who opens with a sword battle before every game? Nobody. We have thought, 'Is this going to fly? This is crazy!' The whole time we thought, 'If we're going to do this and fail, at least we'll fail spectacularly.' "
The team has achieved the spectacular. But in failure? Not on this ice.
Tie one on!
Popular Las Vegas singer Lily Arce of David Perrico's Pop Strings at Cleopatra's Barge at Caesars Palace, "O" at Bellagio, and "Raiding the Rock Vault" at Vinyl at Hard Rock Hotel has developed a nifty second career: She's been designing doggie bow ties, a hobby she picked up a few years ago.
Arce started the craft as a way to keep her hands busy as she memorized lyrics. 'I've been stockpiling them because I also find it pretty therapeutic while I'm learning lyrics to make bow ties," Arce says. "After a little urging, I finally decided to try my hand at selling them."
Recently, Arce began making these doggie ties for her friends in the entertainment community. When the Knights reached the playoffs, she began receiving requests for customized VGK bowties. Now she has a backlog of requests and has decided to sell them on Etsy at her online boutique.
"You're going to love the title," she says. "Wolfgang Pup Bowtique!"
Catchy.
Such Vegas performers as Lisa Marie Smith, Natalie Brown, Brandon Nix and Daryll Borges have outfitted their pets with the ties. Borges' cat, Raja, even wears one. She has not made any for people — yet.
"They're just for dogs and cats for now because I haven't mastered the human ones," she says. But when she does, we could have an empire on our hands.
Good-luck pucks
Last weekend, Bouchon Bakery outside The Venetian Theater began selling chocolate/peanut butter hockey pucks. These are designed with the team's familiar "V" crest. The store's original order of about 40 pucks sold out in three days. They expect to have a new batch in for Round 2 of the Stanley Cup playoffs.
So we have @GoldenKnights peanut-butter & chocolate hockey pucks @bouchon_bakery @VenetianVegas pic.twitter.com/fMege6od4u

— John Katsilometes (@johnnykats) April 21, 2018
They cost $7 apiece, but over the weekend a guest joked that the bakery could price them for $20 and sell out all of them. Probably so. They are distinctive — and delicious.
Contact columnist John Katsilometes at jkatsilometes@reviewjournal.com. Follow @johnnykats on Twitter, @JohnnyKats1 on Instagram.