Las Vegas proves it's ready to play a serious role in US politics
October 20, 2016 - 8:11 am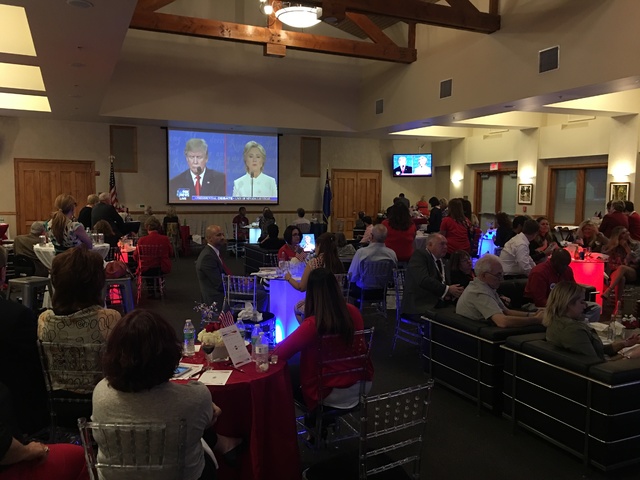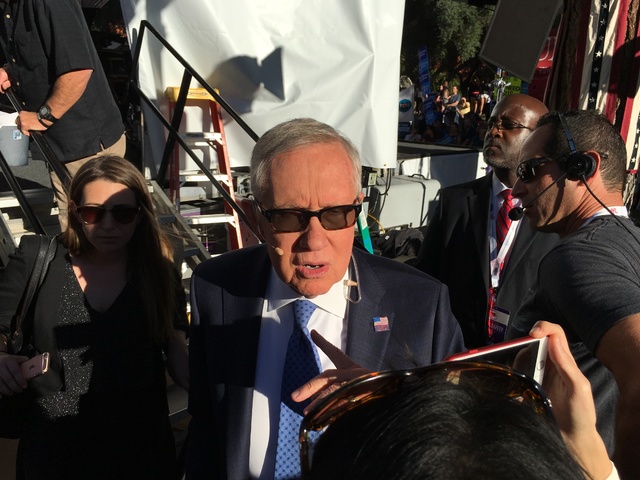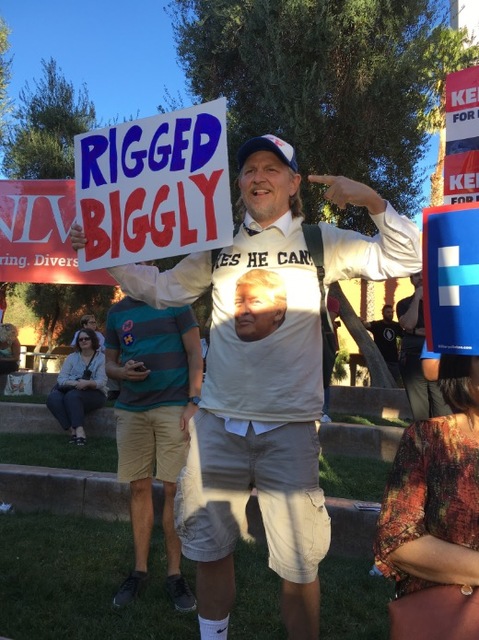 One of the many viewing parties for Wednesday's third and final presidential debate between Donald Trump and Hillary Clinton at UNLV took place at the university's Foundation Building across campus from the Thomas & Mack Center stage. We were hoping for a visit from UNLV President Len Jessup at this party, but he was engulfed with other duties, including introducing moderator Chris Wallace of Fox News.
Elsewhere, the campus was abuzz with activity. A canvassing:
CONVENTIONAL MOMENTUM
Sen. Harry Reid appeared at the MSNBC set on the UNLV Student Union courtyard and talked about courting future debates along with a nominating convention — from either party.
"We've tried that over the years, but people have shied away from it, from both parties," Reid said after an appearance with Chris Matthewson "Hardball." "But I have always thought it's a good idea. I have been to conventions, all over the country, that were horrible. When I was in L.A. (the 2000 Democratic National Convention at Staples Center), we had to drive for more than an hour. Chicago (the 1996 convention at the United Center) was awful. New York (the 1992 convention at Madison Square Garden) was terrible. They've all been bad."
Reid said the infrastructure in Las Vegas has proved it can handle all variety of conventions, where thousands of hotel rooms are within walking distance of venues such as T-Mobile Arena. The city's image as a serious political player has been bolstered by the presidential debate spotlight.
Las Vegas' reputation has also been enhanced elsewhere.
"Our chances are certainly improving, with an NHL team coming; we're going to have an NFL team," Reid said. "When you have a presidential debate and an NFL team, you can change a lot of minds."
TRUMP'S DAY
As reported by CNN's Jake Tapper, Trump had lunch at Trump International with his family and backer Sheldon Adelson, chairman and CEO of Las Vegas Sands Corp., whose family owns the Las Vegas Review-Journal.
MR. LAS VEGAS
Trump friend and supporter Wayne Newton and his wife, Kathleen, were in the hall, as were Ted Danson and Mary Steenburgen, Kareem Abdul-Jabbar and Jesse Jackson.
POST-DEBATE POSTURING
The shindig at the Foundation Building wfeatured nationally renowned body-language expert Dr. Jack Brownof Las Vegas, who dissected the non-verbal communication movements of Trump and Clinton. Brown has been used by CNN to analyze the candidates' body language. So what was the singular memorable body-language moment from the three debates?
"Donald Trump looming behind Hillary Clinton in the town hall, second debate," Brown said without hesitation. "Decades from now, that will be the image that people remember. It's the George Bush looking-at-the-watch moment, the Lloyd Bentsen telling Dan Quayle, 'You're no Jack Kennedy.' It was a visual, alpha move that showed one candidate trying to physically dominate the other."
Brown also addressed Trump's sniffing through the three debates, counting 40 "heavy" sniffs in the first debate, 37 in the third and, "I stopped counting at 100," as he said, in the second debate. He said Trump's repeated sniffing was an "anxiety tell." The doctor also found saracasm in many of Clinton's smiles as Trump was speaking, adding, "What I picked up was contempt and disgust from both of them."
NO MENTION OF PENN
Despite a couple of off-handed mentions of "Celebrity Apprentice," we made it through three straight presidential debates with no mention of Penn Jillette, who famously finished second to Trace Adkins in "Celebrity Apprentice" and was the last celeb to hear Trump level his "You're fired" catchphrase. Jillette has said he is a supporter of Libertarian candidate Gary Johnson, which may explain why he did not attend.
AT BEER PARK
Johnson appeared at a Q&A with CNN's Dana Bashon Tuesday at the rooftop tavern at Paris Las Vegas. About 100 folks turned out.
ONLY HERE DOES THIS HAPPEN
The Uniquely Las Vegas Debate Party Award goes to Crazy Horse III Gentlemen's Club, the adult haunt at 3525 Russell Rd. Offered during the debate were $5 shots every time Trump complained to moderator Chris Wallace of Fox News, and every time Clinton referred to her relationship with the Obamas. No official results have yet been tallied.
John Katsilometes' column runs Saturday, Sunday, Tuesday and Thursday in the A section, and Fridays in Neon. He also hosts "Kats! On The Radio" Wednesdays at 8 p.m. on KUNV 91.5-FM and appears Wednesdays at 11 a.m. with Dayna Roselli on KTNV Channel 13. Contact him at jkatsilometes@reviewjournal.com. Follow @johnnykats on Twitter, @JohnnyKats1 on Instagram.