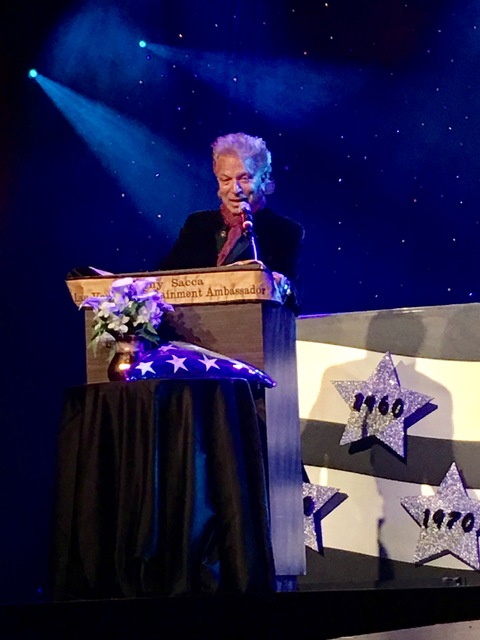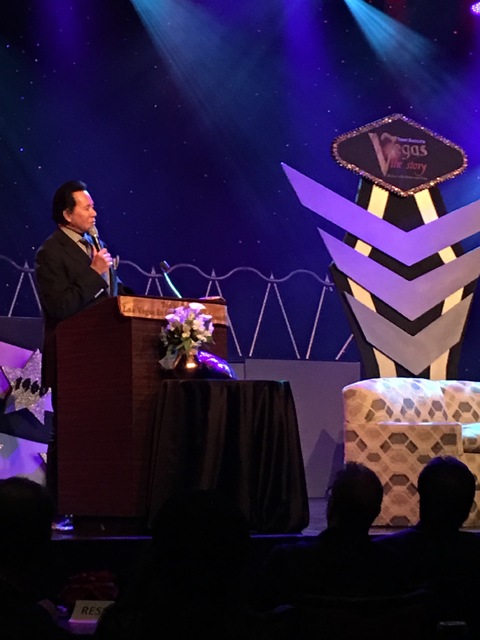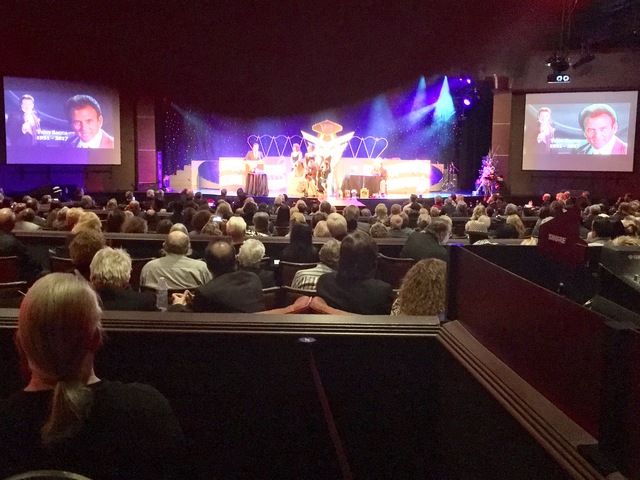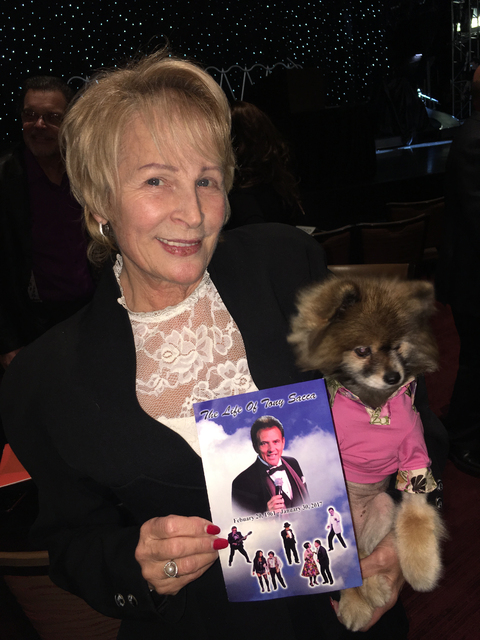 If the audience paying homage to Tony Sacca on Monday afternoon could have spoken with one voice, it would have said, "Tony, we're gonna need a bigger room."
As it was, the 650-seat Stratosphere Showroom sufficed, although filled to standing-room-only capacity. The celebration of life was just that for Sacca, the prominent Las Vegas showman, TV host and producer who died lastMonday night of a heart attack at age 65.
The afternoon was hosted by Sacca's longtime friend Ron Garrett, who for years booked entertainment at the Sahara. The set resembled the stage show "Vegas the Story" at Windows Showroom, which Sacca opened in September. Sacca's widow, Josette LeBlond, took the stage with the couple's Pomeranian, Cuca.
In her famously thick French accent, "Chef Josette" said, "He was really something, wasn't he?" After the service, she said, "I want no darkness, only light, about Tony."
Sacca's final resting place will be his hometown of Philadelphia, where he began performing as a child. He never stopped, even performing back-to-back shows at Bally's and at Starbright Theatre in Sun City Summerlin two days before his death.
Sacca hosted two programs airing regularly in Las Vegas: "Entertainment Las Vegas Style" and "Classic Vegas Entertainment." He also hosted the annual San Gennaro Feast Italian cultural festival. With his brother Robert, Sacca moved to town as a member of the Sacca Twins, opening at the old MGM Grand (now Bally's) lounge in the early 1980s and appearing with David Letterman when he brought "Late Night" to Bally's in 1986.
"Tony was one of us. He was a Las Vegan. He was an entertainer's entertainer," Wayne Newton said. "He didn't come here for two weeks or two days and go back to the part of the country he came from. Everything that was Las Vegas, Tony loved."
Tony Orlando remembered Sacca lavishing praise on all of his guests, saying each was the greatest he'd ever seen. "And you know what?" Orlando said, "He meant it."
Veteran stand-up and Emmy Award-winning actor Louie Anderson, his voice wavering, said, "Tony respected all of the performers in Las Vegas, and if you don't respect the performers here, you have missed the point of Las Vegas. He knew it. He had a great instinct."
Legendary impressionist Rich Little recalled appearing with Sacca in his short-lived production at the Vegas Rocks showroom and restaurant at Neonopolis in downtown Las Vegas. Little surprised Sacca onstage during a take of "Viva Las Vegas" dressed as Ann-Margret, wearing a red wig. The two performed the number flawlessly, bowed out and then ducked into the small dressing room.
"I got no reaction from Tony at all during the song," Little said. "But as soon as we got back to the dressing room, Tony fell down, screaming with laughter. That was quite an experience."
The master magician Lance Burton said, "Las Vegas has lost a bright light in this city of neon." Frankie Scinta played a voicemail message on his phone from comic George Wallace, who said, "You know Tony would want us to laugh." The "Saccettes" closed the event with Sacca's signature song, "Las Vegas Rocks," featured on Sacca's famous wall and alarm clocks and sung by Vegas Lenny (a toy pig) and Vegas Vinnie (a toy frog).
Almost all of Tuesday's speakers mentioned Sacca's health (he adhered to a healthy diet and a two-hour-per-day workout regimen) and his zeal for show business. Frequently noted, too, was his strong connection to Las Vegas.
"Tony always worked hard, especially when he moved to Las Vegas," his sister, Marie Tully, said. "Words cannot express how proud I am of my brother right now."
The man who encouraged Sacca to move to Las Vegas, Siegfried Fischbacher, said from the stage: "The last time I saw him, I said, 'Tony, you've still got it. After all these years, you've still got it.' He had Las Vegas in his heart, and I'm proud to have been even a little part of his life."
John Katsilometes' column runs daily in the A section, and Fridays in Neon. He also hosts "Kats! On The Radio" Wednesdays at 8 p.m. on KUNV 91.5-FM and appears Wednesdays at 11 a.m. with Dayna Roselli on KTNV Channel 13. Contact him at jkatsilometes@reviewjournal.com. Follow @johnnykats on Twitter, @JohnnyKats1 on Instagram.