Las Vegas WNBA team snares a rebound with Aces
December 11, 2017 - 7:15 pm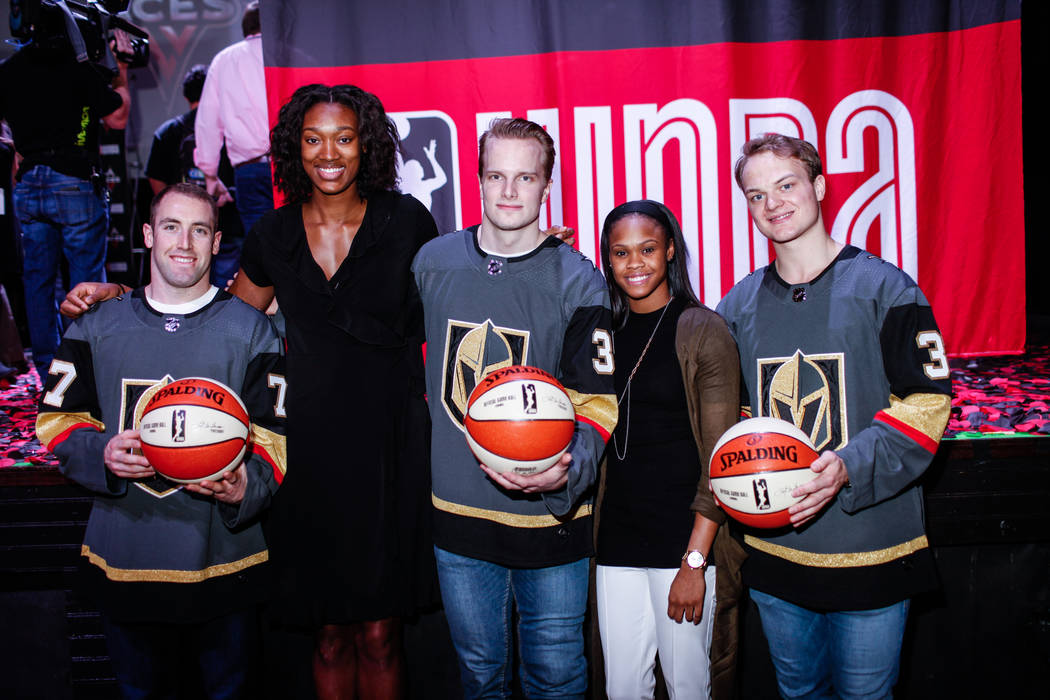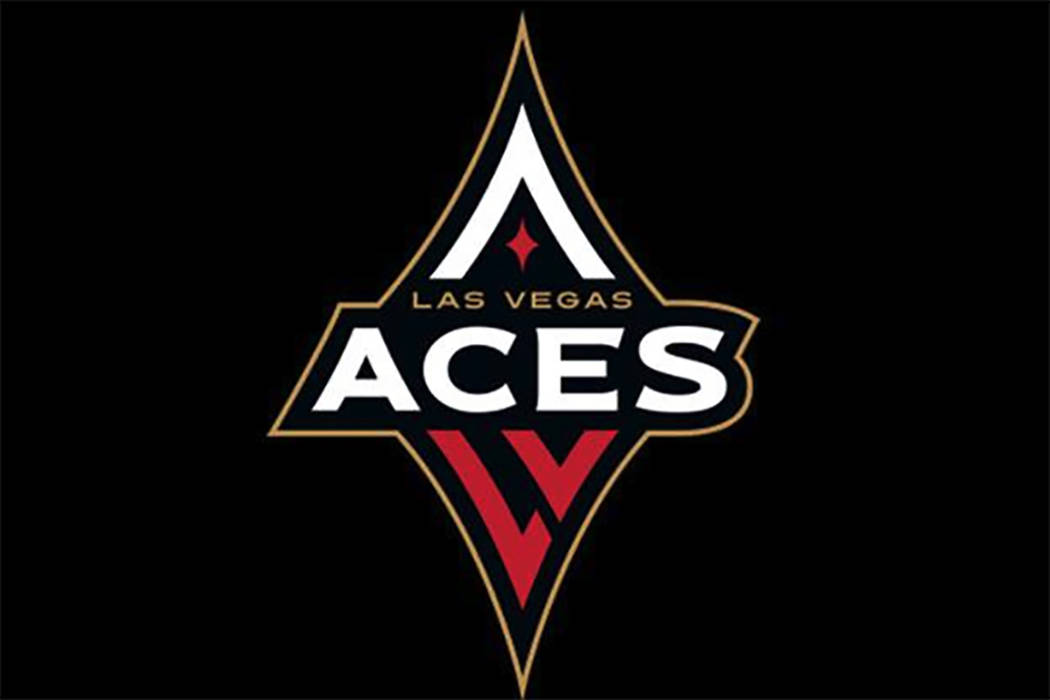 If not for Bill Foley's affection for U. S. Military Academy at West Point, the Vegas Golden Knights would be called the Vegas Aces.
Instead, the city's new WNBA franchise drew the winning card left in the deck by the owner of the Vegas NHL team.
"Aces was a name MGM Resorts actually owned, and we went out and copyrighted it for a sports team," MGM Resorts International President Bill Hornbuckle said Monday at House of Blues, at Mandalay Bay, where the women's basketball team's name was unveiled. "We tried to convince Bill Foley to use it, but because of his connection to West Point he wasn't going there. He wanted Golden Knights."
Foley is a graduate of West Point. Golden Knights is a derivation of the Army's Black Knights moniker with Golden picked primarily as it is the most precious of metals.
Aces, meantime, was a favorite of Hornbuckle and also MGM Resorts International Chief Executive Officer Jim Murren, who held the name in reserve for the relocating team, formerly known as the San Antonio Stars.
"I was involved in this at an almost annoying level, internally," Murren said. "We looked at a number of names, and we talked about culture, what we were trying to accomplish, and worked with the WNBA and didn't want to create something that was too targeted, or too limited. We feel proud of this, it is unique and our own, and the athletes felt strongly that they wanted a name that represents excellence."
Both the old and new names for the WNBA franchise are tied to the Pacific Coast League. Las Vegas's triple-A team was called the Stars from 1983-2000 (we fondly remember the team's Elvis-inspired mascot, Elvee), then switched to 51s for Area 51. The Reno Aces began PCL play in 2009.
"We wanted to put this name to work," Hornbuckle said. "We just think it's powerful, and it the logo and graphics look great. They look like Las Vegas."
'It's too fresh, too raw'
As his company's top-ranking executive, Murren said MGM Resorts still has not reviewed options for the Village, the 15-acre site of Route 91 Harvest and the Oct. 1 mass shootings.
"We literally have not had any discussions about the future of that site," Murren said. "I still think it's inappropriate. I feel we need to focus on what we have in front of us. We have a lot of initiatives underway, and to me at least, it's too fresh, too raw, and not something I'm willing to consider right now."
The $10 million question
Visitors to Mandalay Bay Events Center might not think, "This place needs a multimillion-dollar makeover," but the arena is getting one for the new WNBA team. In off-script remarks, Hornbuckle went off-script in his prepared comments at House of Blues to share details of the $10 million renovation.
A new seating system with 20 floor-level sets and new scoreboard are planned for the venue, which opened with the hotel in 1999.
"We're working on a new infrastructure for television, because WNBA games are televised events," Hornbuckle said. "We'll have new paint, a general spit-and-polish effort, and it will feel brand new to anyone who walks in." The arena's beige color palette will be replaced with the Aces team colors: gray, black and red.
'Inferno' official
The oft-reported (at least, in this space) production "Inferno" opens Jan. 24 at Paris Las Vegas. Illusionist Joe Labero, a four-time winner of the Merlin Award (a coveted international honor among magicians), and the fiery aerial group The Fuel Girls highlight the show. That act just finished a tour of the U.K. with Fall Out Boy.
"Inferno" moves into Paris Theater two weeks after "Circus 1903" closes after its five-month run.
The release announcing show promises lots of pyro, fire stunts and — for real — a "gasoline-soaked spectacular."
All seats are (wait for it) premium (boom)!
'Voice' intro
The lineup of the upcoming Hard Rock Hotel production of "The Voice: Neon Dreams" is to appear on "The Voice" on NBC at 8 p.m. Tuesday. The stage show's cast of vocalists is led by season 10 winner Alisan Porter, joined by Chris Mann (season two), Mary Sarah (season 10), Matthew Schuler (season five) and Matt McAndrew (season seven). That core group is to be joined by upcoming winners of the TV show.
Michael Sanchez (season 11) leads a live band that is said to play more than 50 instruments that might or might not include the spoons.
"Neon Dreams" opens in a new theater at Hard Rock on June 4.
Batali steps down
Star chef Mario Batali, who operates four of his 24 restaurants on the Strip, is taking a leave from his company and stepping away from the ABC talk show "The Chew." As reported by multiple media outlets, Batali has been accused of sexual misconduct and released a public apology on Monday.
"I apologize to the people I have mistreated and hurt. Although the identities of most of the individuals mentioned in these stories have not been revealed to me, much of the behavior described does, in fact, match up with ways I have acted," Batali said in a statement. "That behavior was wrong and there are no excuses. I take full responsibility and am deeply sorry for any pain, humiliation or discomfort I have caused to my peers, employees, customers, friends and family."
Batali was scheduled to host a dinner, "A Decade of Deliciousness: Mario and Friends Celebrate Carnevino," at Palazzo Saturday evening, but canceled, as did fellow celebrity chefs Michael Symon and Paul Kahan, who were scheduled to appear with him. They cited "unfortunate and unforeseen circumstances." Ticket-holders who had paid $380 to attend were offered refunds.
Nicole Brisson, who as culinary director of Batali's B&B Hospitality Group's Las Vegas operations is one of the most prominent female chefs in Southern Nevada, said Monday that "Mario has always been very professional with me. We're really just focusing on operating the restaurants right now."
A spokesman at the Sands Corp., which owns the The Venetian and Palazzo properties where all four of Batali's Las Vegas restaurants are located, declined to comment.
The Review-Journal is owned by the family of Sheldon Adelson, chairman and CEO of Las Vegas Sands Corp., which operates The Venetian and Palazzo.
John Katsilometes' column runs daily in the A section. Contact him at jkatsilometes@reviewjournal.com. Follow @johnnykats on Twitter, @JohnnyKats1 on Instagram.