'Let's go to Myron's!' Cabaret Jazz name is Martin-ized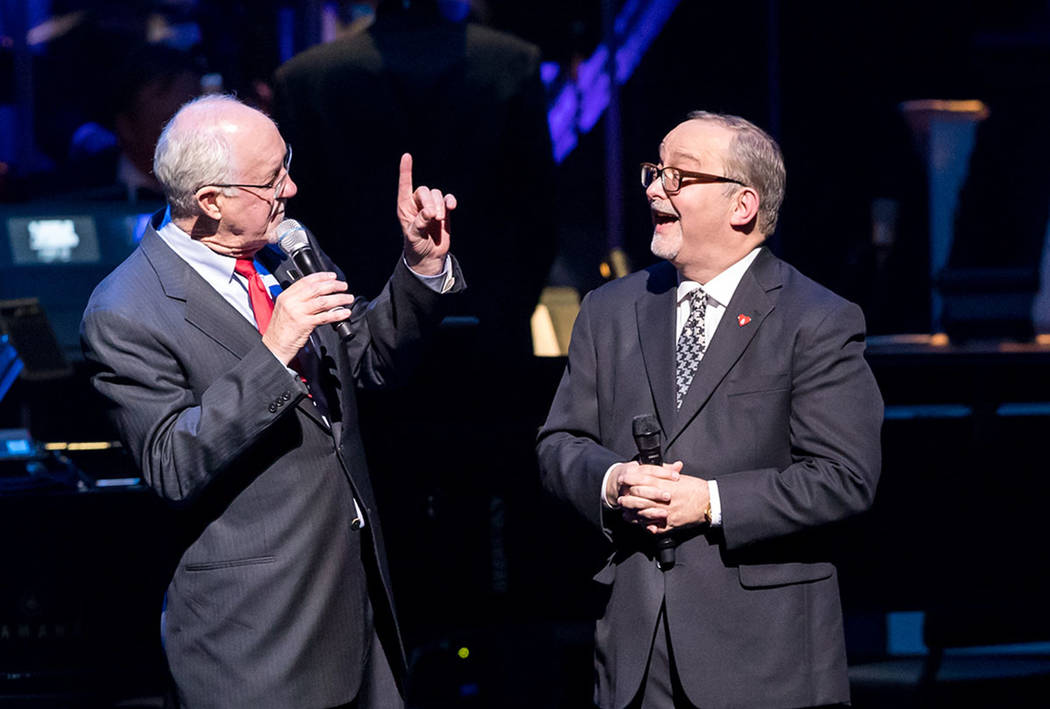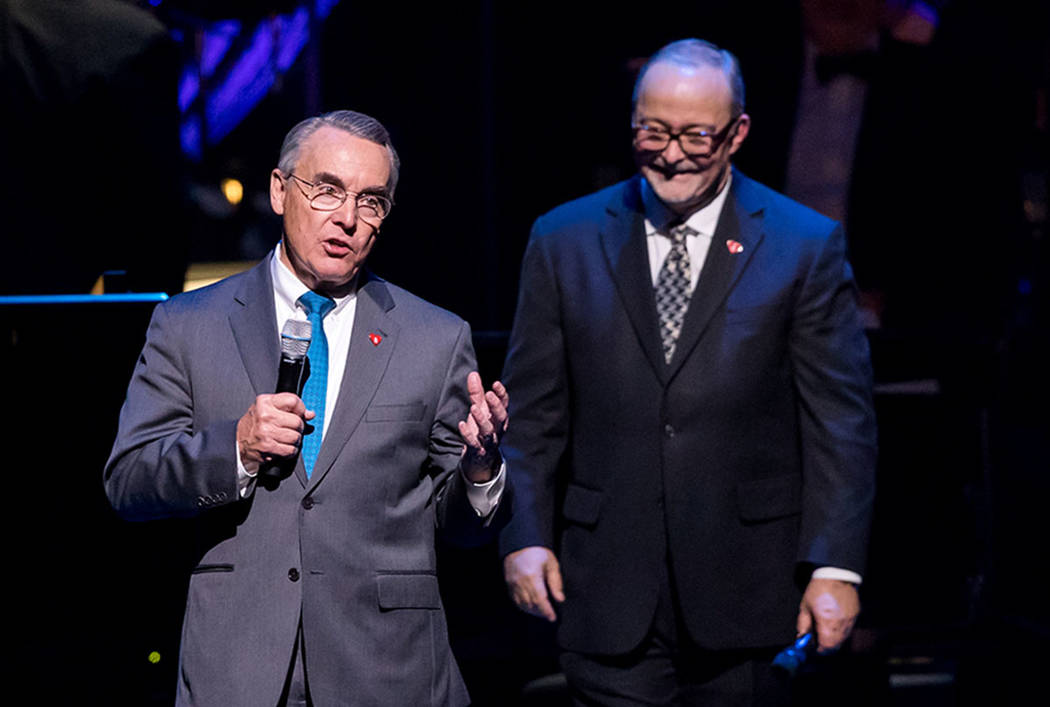 Myron Martin looked up at the giant screen behind him at Reynolds Hall on Tuesday night, beaming the new name of Cabaret Jazz to the packed theater.
The Martin Cabaret Jazz At The Smith is that name. Martin, the president of the Smith Center, was stunned to learn this. As the surprise announcement was made, he shook his head in the manner of someone who does not know what to say. But he was processing that highly personalized title, and what it meant.
At first glance, the name reminded Martin of something far different than an entertainment hall — the condo building on Dean Martin Drive, next to Panorama Towers, which is also called The Martin.
Martin might be a towering presence in the city's arts culture, but he's not a high-rise building.
"I don't think Cabaret Jazz, in shorthand, is going to be 'The Martin,' but maybe something like 'Myron's Cabaret Jazz,' " Martin said Tuesday morning, when some of the shock of the announcement had ebbed. "Just insert my first name. It's unique. It's a friendly name. You know, 'Let's go see a show at Myron's.' "
The announcement was made by twin towers of the Smith Center's five-year history: Benefactor and Smith Center Board of Directors Vice President Dr. Keith Boman (for whom Boman Pavilion at the Smith Center is named) and Smith Center Chairman of the Board Don Snyder. Also onstage was Martin's 13-year-old daughter, Molly Martin, who earlier in the show performed "Popular" from "Wicked" with the touring musical's co-lead, Chandra Lee Schwartz.
Ever the stickler for a tight and right performance, Martin considered the time and timing of the announcement, which of course was off-script.
"I was about to talk about one of our corporate partners, Ford," Martin said from the stage. Later, he added, chuckling, "Our timing is always perfect – how long each segment is going to last, how long the show is going to last. We didn't budget for that time. So we went five minutes over."
The night was filled with highlights in a show emceed by Broadway favorites Adam Kantor (of "Rent," "Fiddler on the Roof," "Next to Normal") and Betsy Wolfe (of "Bullets Over Broadway," "Falsettos"). They also co-starred in "The Last Five Years" production, which was backed largely by Boman and performed a three-day showcase run at UNLV's Judy Bayley Theater in November 2014.
In the two-hour show, Teller appeared in a speaking role for a segment of his Shakespeare play "The Tempest," which debuted at the Smith Center's Symphony Park in the spring of 2014. Segments of "Idaho! The Comedy Musical," two numbers from ex-"Phantom — Las Vegas Spectacular" star Brent Barrett, a video message from "Bandstand" co-creators Richard Oberacker and Robert Taylor and the number "Tonight" from that Vegas-launched Broadway show by Christine Hudman, a soaring collaboration of "This Is The Moment" from Clint Holmes and Frank Wildhorn (who flew in from Seoul, South Korea, to be at the show), and an appearance of Las Vegas youth company Broadway in the Hood (with "Band New Day") were customized VegasVille segments.
You can see why Martin was concerned about time.
We also witnessed a Reynolds Hall first: A raucous "motivational" speech by J. Elaine Marcos of "Priscilla Queen of the Desert, who in her heavy Filipino accent advised the crowd to "find happiness!" — without pronouncing the "H." She also, inventively, fired a few ping-pong balls while seated a chair, her back to the audience, resurrecting the tawdry scene she originated in "Priscilla" on Broadway.
Elsewhere, the Composer's Showcase of Las Vegas co-creator Keith Thompson was the night's music director, with piano wizard Philip Fortenberry (who worked with Thompson as associate MD of "Jersey Boys" at Paris Las Vegas) performing at center stage.
The celebration punctuated a recent period of kinetic activity at Smith Center. Last week, Martin announced the stellar 2017-2018 Broadway Series at Reynolds Hall, punctuated by what he calls "the biggest, baddest Broadway show ever," "Hamilton."
Even with his Broadway affiliation (he is a member of The Broadway League and a Tony Award voter), Martin has a special affection for the 240-seat Cabaret Jazz room.
"From the beginning I really pushed for this room, the architecture of what it should be, about the shape and size, if there would be a mezzanine, how the stage would be set up, all of those things," Martin said. "I wanted it to be, first and foremost, for live music. It is not a theatrical space. It is a place for music."
The live-music haunt has hosted an array of national and international performers, including Wildhorn, with Jane Monheit and Holmes in a performance that was recorded for PBS and earned an Emmy nomination. Alan Cumming's appearance last July at Cab Jazz were also recorded for PBS, and inspired Smith Center execs to order a new Andy Walmsley-designed Vegas skyline stage backdrop. That visage serves as a lingering example of the Myron's Cabaret Jazz appeal for national acts.
But the room shines as a stage for Las Vegas performers, too. Such locally popular entertainers as Holmes — the room's original resident headliner — Frankie Moreno, Lon Bronson's All-Star Band, David Perrico's Pop Evolution orchestra, jazz great Michelle Johnson, Broadway great Niki Scalera, former Prince backing singer Elisa Fiorillo, Travis Cloer of "Jersey Boys," The Ronnie Foster Trio, Santa Fe & The Fat City Horns, "Absinthe" star Melody Sweets, Reva Rice of "Vegas! The Show," and Fortenberry with the rising vocal star Daniel Emmet have all set up at Myron's place.
Even the morning after his moment onstage, Martin seemed in disbelief about the five-year party celebrating the Smith Center. Sharing that time in the spotlight with his daughter made it even more memorable.
"Molly was in fourth grade in our first year, and that's how old I was when I saw my first show and caught the entertainment bug," Martin said. "She's 13 years old now, just months away from going to high school, and she was there with me. Talk about getting goosebumps. I'm getting them now."
John Katsilometes' column runs daily in the A section, and Fridays in Neon. He also hosts "Kats! On The Radio" Wednesdays at 8 p.m. on KUNV 91.5-FM and appears Wednesdays at 11 a.m. with Dayna Roselli on KTNV Channel 13. Contact him at jkatsilometes@reviewjournal.com. Follow @johnnykats on Twitter, @JohnnyKats1 on Instagram.