'Like a gunslinger,' Don Felder hits the Strip with Styx
January 6, 2017 - 4:35 pm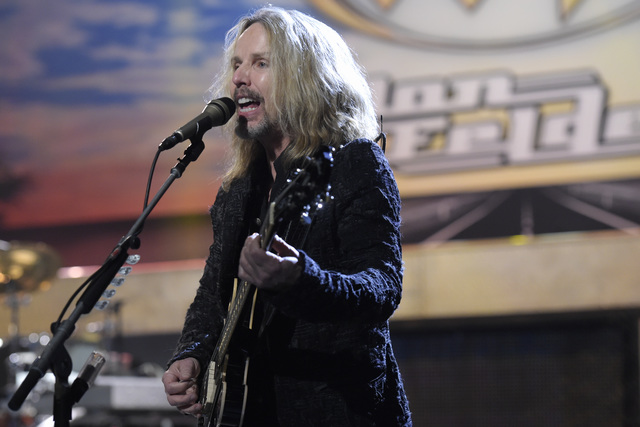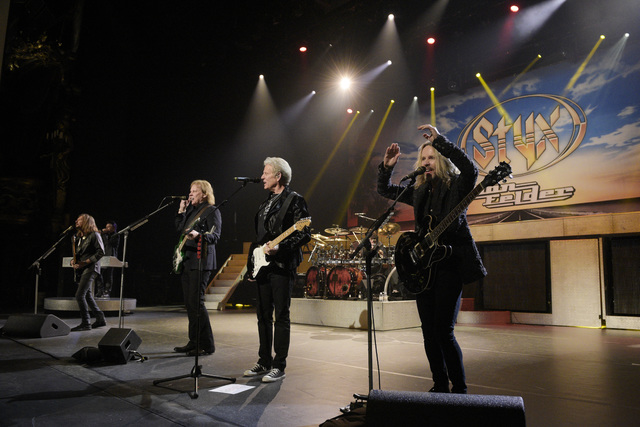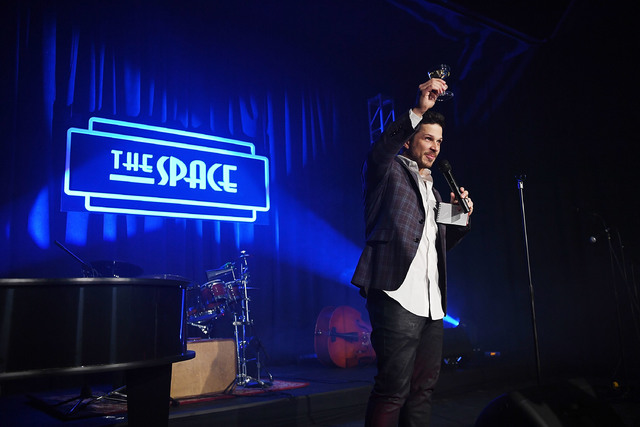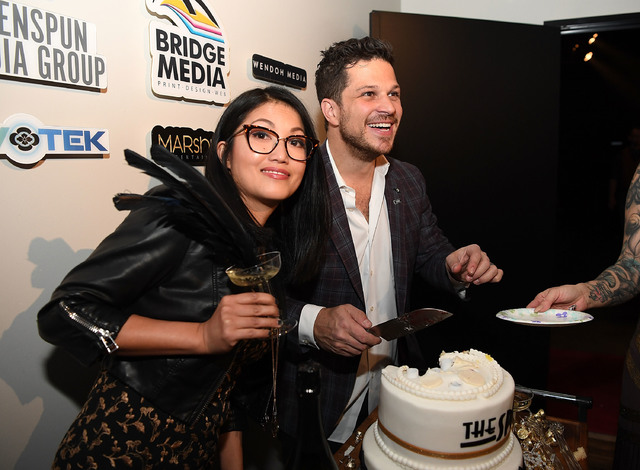 Before learning a guitar chord, you have to wear the instrument properly. "Hold it low, like a gunslinger," says Don Felder. "Look the part."
Next step: Find a black leather jacket, same as Felder's.
This advice came during a quick tutorial at Venetian Theater on Thursday afternoon. Felder ceded one of his Gibson six-strings, plugged it in (or, directed his guitar tech to do so) and taught me the simple E major chord. This took 10 minutes.
"With the E chord, you can play a lot of popular rock 'n' roll," says Felder, who has played a lot of popular rock 'n' roll with the Eagles and over his solo career over the past six decades. "By moving that chord around, you can play just about any song."
Felder is joining fellow rockers Styx for a set of five shows at Venetian Theater that kicked off Friday and Saturday and continues Jan. 11, 13 and 14. The title, "Renegades in the Fast Lane," borrows from two of the bands' greatest hits, and marks the first time Felder and the current lineup of Styx – including Tommy Shaw and James "J.Y." Young – are playing together. The songs played at Thursday's media session on the Venetian Theater stage were all-time favorites "Hotel California" and "Renegade," so expect a strong, hit-filled set list.
The 69-year-old Felder was an Eagle from 1974-2001, and has played guitar nearly his entire life. He learned at age 10, picking up an obscure country-folk tune "Red River Valley," most famously performed by Gene Autry from the 1936 movie of the same name. He remembers the first rock 'n' roll song he learned as "Rock Around the Clock" by Bill Haley & The Comets.
"I had a friend a couple of blocks down the road who had a guitar who taught me," Felder recalls. "There was no music school where I lived. At night I could pick up music by tuning into my Crystal radio in my room, and if there was good weather between Gainesville, Florida and Nashville, you could hear WLAC in Nashville – Elvis, Little Richard doing 'Tutti Frutti,' or even Pat Boone doing 'Tutti Frutti,' B.B. King … all these guys playing over the radio. That's how I learned."
Felder also purchased music, earning money by performing such odd jobs as washing cars, and mailing out his profits to buy 45s. "I would take every $2 I earned and mailed it to Randy's [Record Shop] in Gallatin, Tennessee. Then you would keep checking the mail every day. It was like iTunes, except the music was physically mailed to you. Sometimes it would take weeks."
With that, Felder hit the E chord, the one that started it all.
NO FOOLIN'
During a Q&A with media from the Venetian stage, both Young and Shaw remembered playing the old Aladdin Theatre for the Performing Arts in 1977. This was just after the breakthrough album "The Grand Illusion" was released. Already, one of the singles from that album was being covered by unlikely artists.
"We were in our sound check playing 'Fooling Yourself,' and one of the guys on the crew said, 'Hey, Connie Stevens did that song here, last night!' "
"The Grand Illusion" also shared a gambling/Vegas characteristic. It was released on July 7, 1977 – 7/7/77.
A PARTY IN SPACE
The Space held its opening party Thursday night. Hosted by founders Mark Shunock and his wife, Cheryl Daro, the event featured a performance by The Moonshiners, fronted by the great Savannah Smith. The first "Mondays Dark" show is 9 p.m. Monday (doors at 8), a benefit for Veterans Village. Assigned VIP seats are $50, general admission $20 (go to www.mondaysdark.com for info).
Beyond Monday, Shunock's early lineup includes Jassen Allen's "With Love" Luther Vandross tribute on Jan. 27 (Allen is pretty fantastic, folks), and a series of performances of A.J. Gurney's "Love Letters" from Feb. 10-14. Shunock is finalizing his lineup for the "Love Letters" readings, but has been seeking prominent couples in VegasVille to participate.
BERNSTEIN'S DEBUT POSTPONED
The appearance by legendary fistic broadcaster Al Bernstein at Tuscany Suites' Piazza Lounge has been moved back so Bernstein can tend to family commitments. "Big Al" had been booked with show host Kenny Davidsen for Jan. 20, but plans to make his stage debut in a few months. Meantime, he'll be hitting the heavy bag, while crooning "Luck Be a Lady," in preparation.
A TOMMY FLANAGAN MOMENT
From here, the greatest claim by the pathological liar Tommy Flanagan, as portrayed by Jon Lovitz on "Saturday Night Live," was his reference to "my wife … Morgan Fairchild." So great. Lovitz and Dana Carvey open "Reunited" at the Foundry at SLS Las Vegas this weekend. Really looking forward to this one.
John Katsilometes' column runs daily in the A section, and Fridays in Neon. He also hosts "Kats! On The Radio" Wednesdays at 8 p.m. on KUNV 91.5-FM and appears Wednesdays at 11 a.m. with Dayna Roselli on KTNV Channel 13. Contact him at jkatsilometes@reviewjournal.com. Follow @johnnykats on Twitter, @JohnnyKats1 on Instagram.