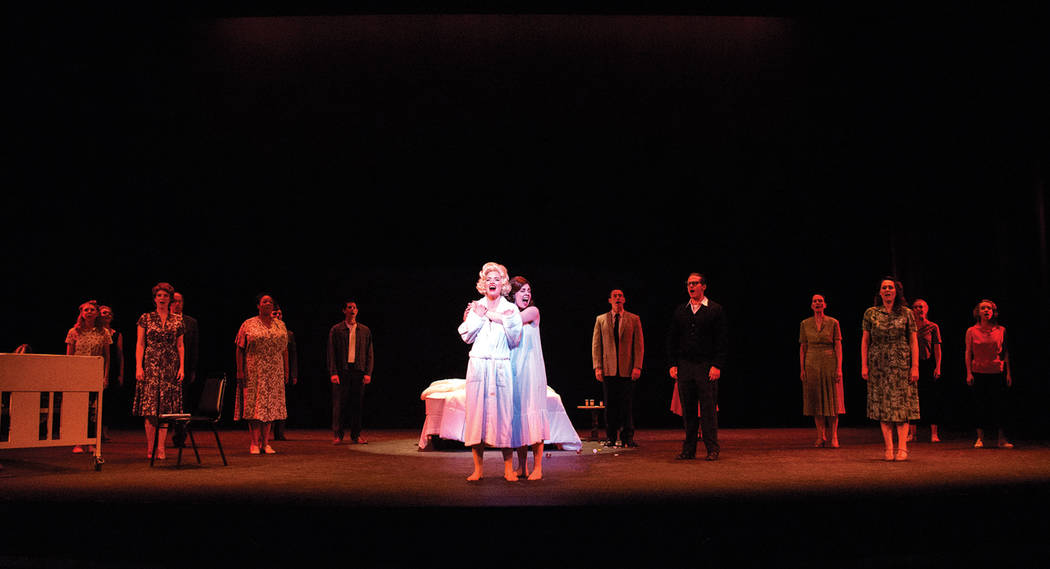 Tegan Summer seems to be inhabiting a fantasy world as he talks of enticing such names as Katy Perry, Fergie and Gwen Stefani to star in his new musical about Marilyn Monroe.
But his achievements, his commitment to Las Vegas and the production itself is rooted in reality.
Summer is producing "Marilyn! The New Musical," centering on Monroe's dual personality as the regular gal Norma Jean Baker and the actress and cover model who became an international icon. A truncated version of the show, running about an hour, is set to perform at 7 p.m. Thursday for an invite-only audience at The Space.
Those invited are resort execs and Las Vegas producers who might take an interest in putting this ambitious project onstage. This is a full-scale musical with a cast of 16 and a live band, funded by a series of investors in Summer's Prospect House Entertainment production company. If "Marilyn!" becomes a hit on the Strip, Summer will go after superstars to assume the role of Marilyn in limited engagements.
"That is our plan, 100 percent," Summer said. "Big names will want to be a part of this. I will never produce something on a Vegas stage without a name. It's not worth it. It will fold. I'm not naive. I have seen every single show on the Strip. I know what will play, what will work, and what won't work."
Conceivably, celebs can take the role of Marilyn or of Joe DiMaggio, or even the role of Charlie the Chauffeur in the production.
"Our plan is to always have a name performing coming in to re-invigorate the show," Summer says.
In July 2016, "Marilyn" performed at full length at Alex Theater in Glendale, Calif., with Kelley Jakle of the "Pitch Perfect" musical comedy series in the lead role.
Those in the cast include Travis Cloer, late of "Jersey Boys," and Tiana Oyoke of "Hairspray Live." Cloer plays Monroe photographer Milton Greene and Okoye portrays African-American actress and stage performer Dorothy Dandridge, a friend of Monroe's. Cloer's wife, Jennifer Cloer, is a dancer in the show.
Important to "Marilyn's" cache, Monroe's estate has authorized the use of her name and image. The creatively vigorous Summer has worked in film and TV in Los Angeles, New York, Paris and his original hometown of London. He is an alumnus of the American Academy of Dramatic Arts in New York. His stage credits include "In Person," a celebrity question-and-answer series that has featured actors Gary Oldman, Malcolm McDowell, George Lazenby with and several stars of the James Bond films on the franchise's 50th anniversary; "Star Trek" cast members; and stars of Robert Altman films.
In "Marilyn," Summer sees an opportunity to tap into a famous name he says hasn't been comprehensively portrayed on the Strip.
"There has never been a 'Jersey Boys' for Marilyn, a large-scale musical about her," Summer says. "But she is still relevant. In my research, she remains the No. 1 recognizable star in the 18-24 demographic. She has inspired everyone from Madonna to Lady Gaga."
But as we have found, Vegas' appetite for scripted, Broadway-style musical has fizzled in recent years. Such Base Entertainment productions as "Jersey Boys," Rock of Ages" and "Million Dollar Quartet" have all closed in the past year. So has "Steve Wynn's Showstoppers" at Encore Theater, which was filled with famous Broadway numbers.
Summer counters such skepticism by saying, "We have already workshopped this show to death, it has received great response in L.A., and we have the estate believing in us. We have the best in the industry behind us."
The full cost of the musical has been $5 million. Tonight's one-hour run cost about $80,000.
Summer mentions such key members of his creative team as choreographer Ferly Prado (who has worked with Britney Spears, Beyonce and on "Showstoppers") and composer Gregory Nabours ("Spring Awakening," "The Color Purple"). Summer has truncated the show from 2 hours, 10 minutes to 90 minutes for the Vegas stage.
Not surprisingly, Summer is seeking a large-scale venue to match his grandiose ambitions. Harrah's Showroom and Jubilee Theater at Bally's are, theoretically, two venues that would work. Summer is confident he will find a partner for "Marilyn" and has moved his headquarters to Las Vegas, sharing a business complex just west of the Strip with the Spiegelworld offices.
"The casinos will see that we can take care of ourselves," Summer said. "We have money in the show, and money in contingency. We're here to stay. We are not a flash in the pan."
Like the woman who inspired the show, "Marilyn" won't take no for an answer.
John Katsilometes' column runs daily in the A section. Contact him at jkatsilometes@reviewjournal.com. Follow @johnnykats on Twitter, @JohnnyKats1 on Instagram.