Mike Tyson hooks a hit in return of 'Undisputed Truth'
September 3, 2016 - 12:44 pm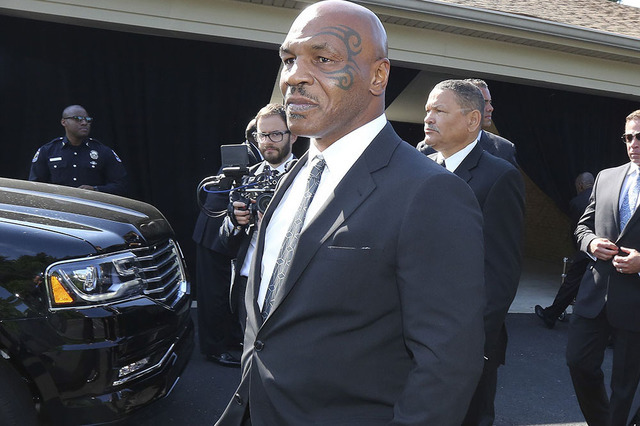 One of the Strip's hottest-selling headliners once gnawed off part of an opponent's ear in a prize fight at MGM Grand Garden.
We speak, of course, of Mike Tyson. His stage show, "Undisputed Truth," is returning to Brad Garrett's Comedy Club at MGM Grand at 10 p.m. Thursday. This is a fresh set of performances of Tyson's often bracing one-man show, running Thursdays through Sundays through Oct. 23.
As Tyson proved in his first run at the club at the MGM Underground promenade ("Right next to the pretzel shop," as Garrett reminds), the show is a popular draw. Tyson's enduring international fame and the room's comparatively scant capacity, just 250 seats, make "Undisputed Truth" a consistent sell-out.
"This venue is like my second home and it's such an awesome experience to be able to tell my stories and make people laugh in a room that feels like my living room," Tyson said Saturday in an e-mail message. "I'm always humbled by the enormous amount of love and support that I receive from locals and people visiting from other countries."
SPI Entertainment founder and CEO Adam Steck, who produces the show (and rents the room from Garrett), first developed the show with Tyson's wife, Kiki, for a run at the Hollywood Theater in 2012. Spike Lee subsequently took the production to Broadway, at Longacre Theatre, in August of that year, followed by a 36-city tour and an HBO concert film in 2o13.
Tyson returned to the MGM Grand in March and performed through June, filling the room from opening night forward. Steck says the first tickets to sell out are the $250 meet-and-greet packages.
Celebs have joined fans in that lengthy line waiting to shake hands with Iron Mike. During the show's first run in the spring, the oddball list of famous folks who took in the show included the Rapper T.I., Bob Arum of Top Rank Boxing and his wife, Lovee; the comedian Earthquake; Penn Jillette; Lennox Lewis,famed attorney Alan Dershowitz and hip-hip icon Flavor Flav.
Steck says the next run should get a boost from Asian tourists. Tyson is big in China, based on his role in the latest "Ip Man 3" martial-arts film, a huge international box office hit. For Tyson, who turned 50 in June, the show marks a further reinvention of his remarkable life.
"I have found my new passion at this stage in my life," he said, "and it's being onstage."
THE DESIGN OF A LIFE
As a son of famed banking magnate E. Parry Thomas, acclaimed designer Roger Thomas was afforded opportunity, even at an early age. "I met Steve Wynn on an elevator at the Sahara Tahoe with my father when I was 13 years old." This is one reason why Wynn still calls the man who designed some of his most famous hotels, "Kid," and how that legendarily successful friendship began.
Roger Thomas is joining his brothers and sisters in honoring the late Parry Thomas at a memorial service at 4 p.m. Tuesday at Encore Ballroom at Wynn Las Vegas. Thomas died Friday at the family's River Grove Farm estate in Hailey, Idaho. He was 95.
Roger Thomas embraced the resort industry in a manner different than his father's, choosing design over finance. But after accepting Wynn's offer in 1980 to design Mirage, Rogers became one of the preeminent resort designers in the world, designing TI, Bellagio and Wynn/Encore on the Strip and Wynn's hotels in Macau, including the new Wynn Palace.
Thomas said his father passed away surrounded by his children, overlooking the estate where he kept his champion dressage horses.
"We had the windows open, looking at the farm where his horses were trained, with a view of the lake and the natural beauty," Thomas recalled during a phone interview this week. "It was very beautiful, very elegant, very appropriate for him. … As incredible as he was, he always felt he was never done. That's what made him special."
The Thomas family is asking for donations in their father's memory to be sent to the UNLV Foundation's E. Parry Thomas Scholarship Fund.
NASHVILLE TO THE STRIP
Two very cool, and under appreciated, entertainment experiences are merging at 8 p.m. Friday: The weekly songwriting series "Nashville Unplugged" and the no-admission Mizuya Lounge at Mandalay Bay. The onstage composition showcase has been hosted by Nashville singer/songwriter/musician Aaron Benward since its 2009 opening at the now-closed Ovation at Green Valley Ranch.
This is the show's first foray on the Strip, and for the premiere Benward will be joined onstage by fellow artists Travis Howard, Regie Hamm and Danny Myrick, aka The Ghost Town Troubadours.
The format is simple to describe, difficult to execute: The show's hosts receive and review song titles sent to the stage on slips of paper by audience members, and over the next hour to 90 minutes these pros develop a full song. Some of the titles they have worked with over the years are ""Friday Night Brain," "Cougar on the Loose," "Rednecks and Longnecks," "Give it to Me Before My Beer Gets Cold," "Flip You Like a Sack of Wet Cats" and "Drinkin' Stupid Away."
Always, a song is produced. And always, that song is lost to time, performed just that night. As for Mizuya, it is consistently home to great live music –the rock cover band Phoenix is a personal favorite. It is also the spot where Adam Levine and James Valentine of Maroon 5 unexpectedly hopped onstage with the Paul Charles Band last New Year's Eve, after Maroon 5's show at Mandalay Bay Events Center. Maroon 5 at Mizuya. That did happen.
John Katsilometes' column runs Saturday, Sunday, Tuesday and Thursday in the A section. He also hosts "Kats! On The Radio" Wednesdays at 8 p.m. on KUNV 91.5-FM and appears Wednesdays at 11 a.m. with Dayna Roselli on KTNV Channel 13. Contact him at jkatsilometes@reviewjournal.com. Follow @johnnykats on Twitter, @JohnnyKats1 on Instagram.