Nitro Circus will 'be a pretty amazing show,' says Travis Pastrana
Updated July 9, 2018 - 10:31 am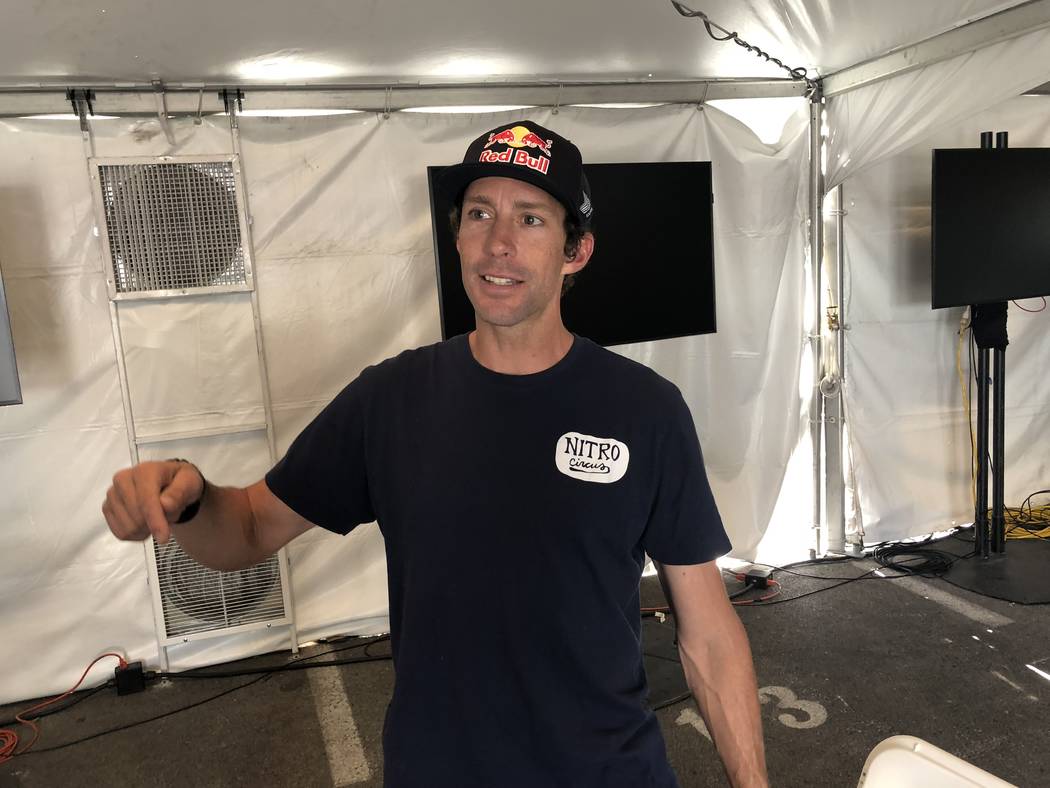 Nitro Circus should never be confused with Cirque du Soleil.
Cirque strives for acrobatic perfection. Nitro Circus just lets it fly.
"Nitro is about capturing the imagination, like Evel Knievel did so well," motor sports star, daredevil and noted imagination capturer Travis Pastrana says. "In Las Vegas, we have Cirque du Soleil and all that stuff, but Nitro is all about the stunt aspect, where you can make mistakes. It's not about doing things perfectly. We have airbag landings soft enough to crash nightly, and hopefully get back up."
Pastrana speaks specifically of the new Nitro Circus stage show coming to Bally's in the spring of 2019. As Pastrana energetically describes, the show will invoke the finer elements of motorcycle and BMX daredevil stunts for a Strip audience. Riders will perform high-flying jumps and loops on ramps installed inside Jubilee Theater, where feathered showgirls one soared.
Motorcycle jumps in a Vegas showroom? It can be done. For a frame of reference, Pastrana uses Josh Sheehan's landmark triple-back flip jump from "Pastranaland," Pastrana's own backyard daredevil course.
"When Josh did that triple-back flip, he only went 25 feet in distance but he went 100 feet in the air," Pastrana says during a chat inside a tent at the site of Sunday's "Evel Live" daredevil event at Caesars Palace. "That's what we're kind of doing, taking that information and going quadruple on a bicycle, or a motorcycle doing a double-back flip. When the audience in a theater sees that happening above them, it'll be a pretty amazing show."
Pastrana, who won't actually be performing in the new production, is expected to announce the show to a national TV audience Sunday during the "Evel Live" telecast. The made-for-TV spectacle is co-produced by History channel (which airs the three-hour event live at 5 p.m.) and Nitro Circus.
The upcoming production is a partnership between Base Entertainment, Caesars Entertainment and Nitro Circus, the action-sports brand co-created by Pastrana nearly a decade ago.
"My main job on Nitro is creative and safety, which are kind of two very contradictory things," Pastrana says. "The Bally's theater is mind-blowing, and one of the few theaters where we have no ceiling-height issues. We had width issues, but we can just make the jump steeper, which has been an interesting trial and error."
Pastrana says producers are still coming up with a name. There is an effort to include his name in the formal title, but he'd rather have the Nitro Circus brand stand — and fly — on its own.
"If you're name's on it, people expect you to be there all the time," Pastrana says. "I love Vegas, but I want to be home more. So I'm trying to got that route, (the co-producers) are trying not to, so we'll see."
"Evel Live" is a rumble down memory lane. The 34-year-old Pastrana will to jump 50 crushed cars, then 16 Greyhound buses in the modified parking lot behind Bally's, Paris Las Vegas and Planet Hollywood. The topper is jump over the Caesars Palace fountains, a tribute to Knievel's ill-fated attempt on Dec. 31, 1967 — and also Gary Wells' failed jump 13 years later. Mike Metzger and Evel Knievel's son Robbie Knievel also succeeded in their own versions of the fountains jump.
Piloting an Indian Scout FTR750, a near model of Knievel's original Harley Davidson, Pastrana is going full Vegas by wearing a caped outfit with high-heeled dress boots. He'll start his Caesars jump at a location Knievel certainly would have approved of: The bar outdoor bar at Roman Plaza between the Absinthe tent and Gordon Ramsey's Hells Kitchen.
"This is a tribute to when men were men and bikes weren't meant to fly," Pastrana says. "In order to get to this point, Evel Knievel had to convince people he could fly a motorcycle … This is a great opportunity, with History, to show my dad's generation, the stunt man's not dead."
John Katsilometes' column runs daily in the A section. Contact him at jkatsilometes@reviewjournal.com. Follow @johnnykats on Twitter, @JohnnyKats1 on Instagram.