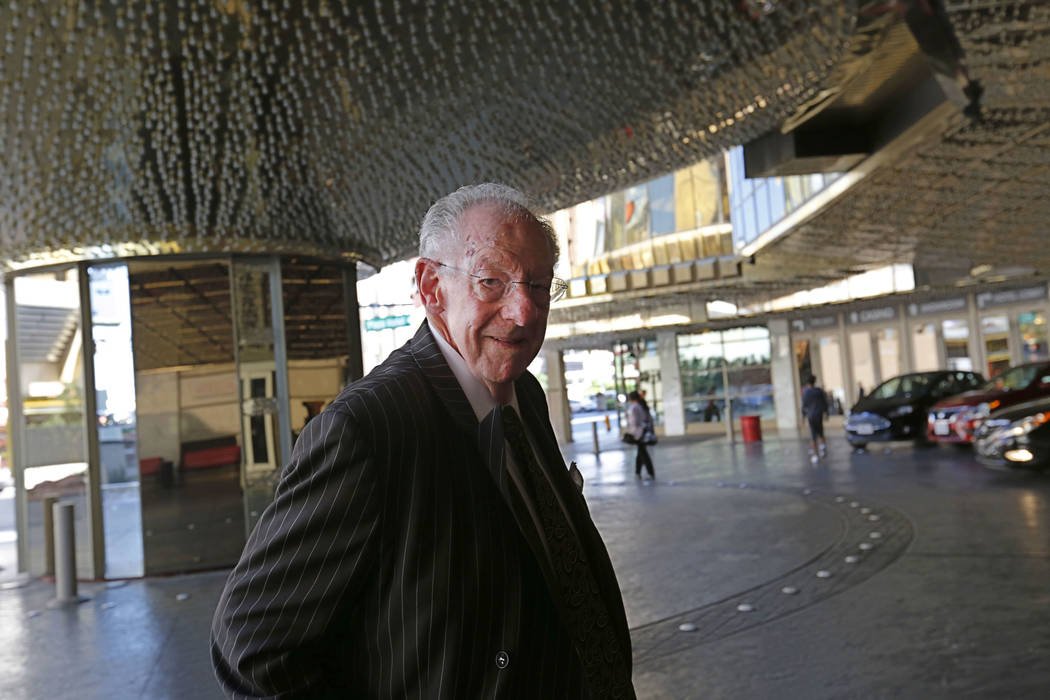 The "mob lawyer" is portraying a mob mouthpiece in a new downtown stage show.
Oscar Goodman, the city's former mayor and storied attorney for several reputed mafia figures, is to appear in the upcoming musical "A Mob Story." The production has set an opening date of July 11 at a refurbished Plaza Showroom. Goodman is to work as an understudy for lead narrator Michael Franzese, the longtime Colombo crime family overlord who has since reformed as a popular motivational speaker.
Goodman is acutely interested in the subject matter, of course. He's also a fan of musical theater — an investor in "Something Rotten!" on Broadway — and a galvanizing figure in downtown Las Vegas through his eponymous restaurant (also at the Plaza).
"I'll appear periodically, in Michael's place, telling the story in a show that's full of music and dance," Goodman says. "I think it will be a giant hit for old-timers, for Millennials, for everyone."
How much Goodman sings and dances, if at all, is yet to be determined (the terms "spoken word" and "restricted choreography" come to mind).
Goodman says the show's marketing team will stage "a full-court press in social media" to reach a younger ticket-buyers. The show's producer, Jeff Kutash, has piloted such famous Strip shows as "Splash" at Riviera and "Enter the Night" at the Stardust.
The test for "A Mob Story" is to regenerate a measure of those shows' success for a new generation of tourists and locals inhabiting downtown who might not appreciate the unique mix of "mob" and "musical."
"We are taking on a great responsibility with this," Goodman says. "I might even be a co-producer, in that I'll be an official ambassador and spokesman for the show."
Goodman's next Dinner Series appearance is also booked. The 21st installment is 6 p.m. May 10 in the speakeasy room at Oscar's Steakhouse. Fittingly, Franzese is his scheduled guest.
"Michael will participate and share his experiences," Goodman says. "We might get one of the cast members to do a number from the show, too." Should that happen, it would mark the first time one of Goodman's reputed mob figures actually sings.
'WOW' at 250
The cast of the watery stage show at Rio was treated to 250 cupcakes and a post-show visit from director Hanoch Rosenn on Sunday night. Celebrating the 250 mark is somewhat unconventional — shows commonly mark birthdays in the hundreds or at 1,000, but Rosenn promised more celebrations — and more cupcakes — as the show chugs along.
He made that comment to Caesars Entertainment Vice President of Entertainment Operations Damian Costa, who dropped by the party.
"It has taken us six months to figure out Las Vegas," Rosenn said. "But we knew that when we opened. We are not going so up-and-down anymore. We are steadier. We have a five-year contract here, and we plan to finish that and even add to it."
The show is especially popular with kids and has connected with families through group discounts. Rippling with corny humor (groin kicks are fun for the entire family), a pirate dance act, synchronized swimmers, juggling, a wonderful Chinese pole duo, a plate-spinner, and expert archer Sylvia Sylvia, the show unspools at a crisp clip. The LED screens are dazzling. There is a lot to like in the show, which already has survived far longer than skeptics thought it would when it opened last October.
"I ask people leaving, 'Where did you hear about our show?' " Usually it's from others who have seen it," Rosenn said. "We always tell people, 'If you like what we do, share it with your friends,' and so far, they have."
Magic from Murray
Murray Sawchuck has signed for another year at Sin City Theater at Planet Hollywood. He opened his 4 p.m. magic production at the mezzanine-level venue in December 2014.
Away from his stage show, Sawchuck is trumpeting his ongoing YouTube success, with more than 500 million views on his channel since partnering with video maverick Seth Leach.
Sawchuck has never missed an opportunity to keep his name and signature shock-blond locks in the public eye. In the weeks before he signed with Planet Hollywood (and after he left Laugh Factory at the Tropicana), Sawchuck visited 30 hotels on a promotional campaign for his new venue. He stopped at such hotels as M Resort, Wild Wild West, Palace Station, even Casablanca in Mesquite, before settling on Sin City Theater.
Today, he says, "I am honored to still be with Planet Hollywood Resort and Caesars Entertainment. If you are a magician, the Caesars family is the place to be."
No doubt of that. The company is positively brimming with magicians, including Xavier Mortimer (also at Sin City Theater), Penn & Teller at the Rio, Mac King at Harrah's, Mat Franco at the Linq, "Masters of Illusion" at Bally's, and Piff the Magic Dragon at Flamingo Las Vegas. With Criss Angel expected to descend on Planet Hollywood Showroom just across from Sin City Theater by year's end, keeping all these illusionists happy will be a piece of magic.
Cool Hang Alert
Lon Bronson and Brody Dolyniuk are teaming for "Bronson, Brody & The Music of Steely Dan" at 7 p.m. and 9:30 p.m. at Myron's Cabaret Jazz at The Smith Center. Bronson (of Lon Bronson Band fame) and Dolyniuk (founder of classic-rock band Yellow Brick Road) have been mainstays of the Las Vegas lounge scene over the past two decades.
Thursday's first show is sold out; a few tickets are left for the 9:30 set. The musically rich Steely Dan catalog is not for the meek, and Bronson and Brody are a couple of bold artists.
John Katsilometes' column runs daily in the A section. Contact him at jkatsilometes@reviewjournal.com. Follow @johnnykats on Twitter, @JohnnyKats1 on Instagram.