Pat Christenson's new book is sure to rock Vegas
Updated July 1, 2017 - 10:09 pm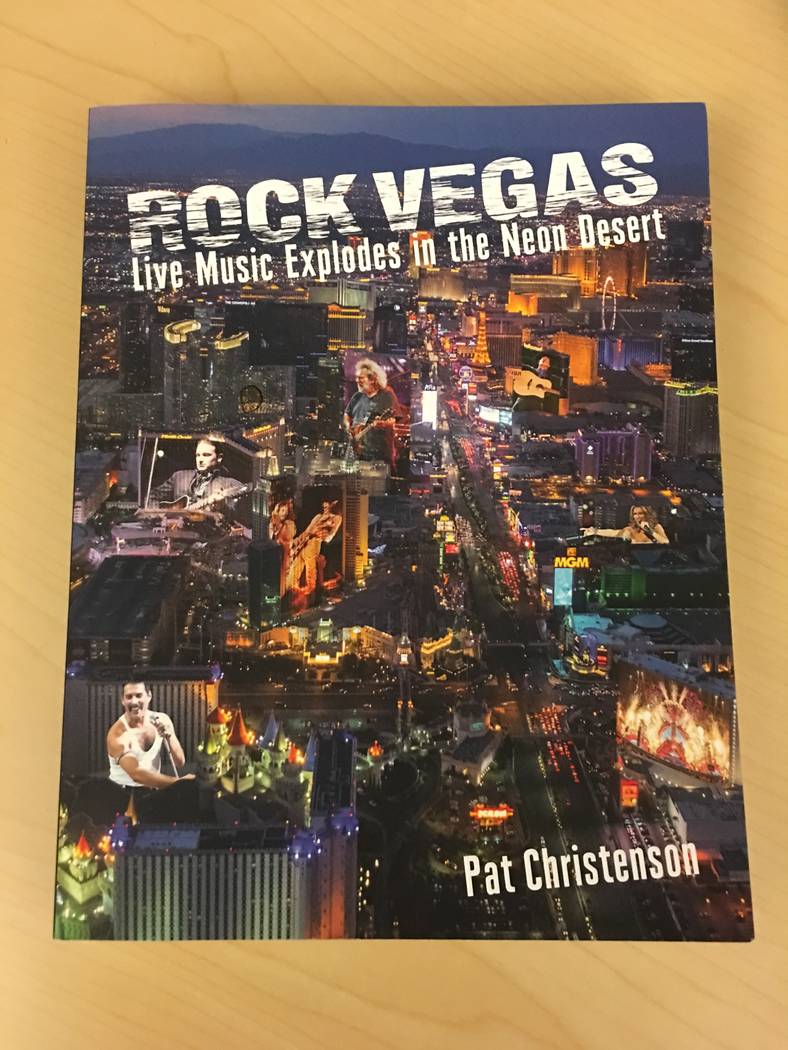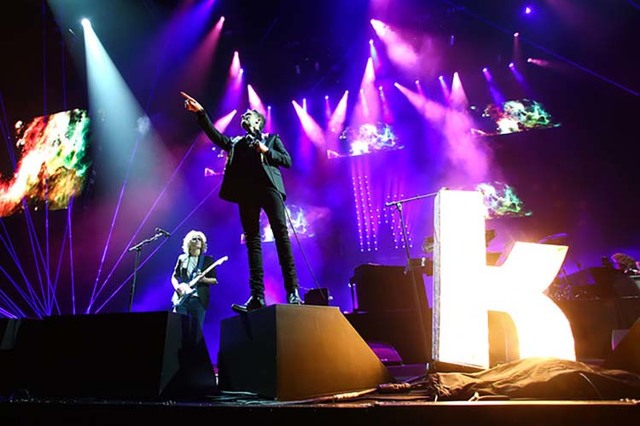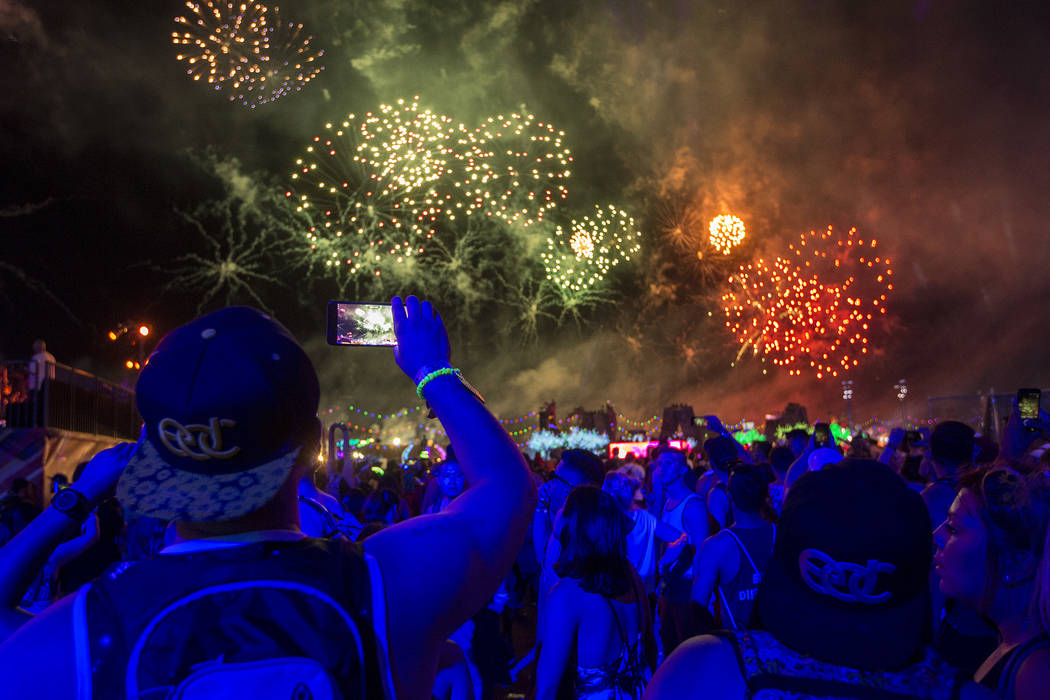 As a collegiate athlete, Pat Christenson won a the NCAA 167-pound wrestling championship for the University of Wisconsin.
Even today, he approaches new challenges with the same tenacity he used to take down opponents.
Christenson has pinned in his latest project, the new book "Rock Vegas: Live Music Explodes in Neon Desert." Centered on the history of live music in Las Vegas, the book is published by Huntington Press of Las Vegas and is available on Amazon.com.
A Las Vegas events planner since 1981, most recently as president of Las Vegas Events, Christenson has helped develop events of all ilk across the valley (including the annual National Finals Rodeo, a quartet of NCAA conference basketball tournaments and the Vegas Sevens international rugby tournament). But the evolution of Las Vegas as a live-music destination over the past 25 years caught Christenson's' fancy.
Then he started writing.
"I had to start looking at live-music events as a fan, an entertainment experience, instead of just being interested in production and management," Christenson said during a recent chat over coffee in the Arts District of Las Vegas. "I wanted to preserve the history of these events, and write an outline of how the city has really grown at the live-entertainment capital of the world."
Christenson started knocking around the idea of the book in his head about seven years ago, and started his interviews four years ago. One of his earliest of his more than 100 interview subjects was renowned promoter Danny Zelisko, whose Danny Zelisko Presents still books shows in Las Vegas. Christenson had anticipated writing 320 pages; he turned in 480. Credit his editor at Huntington Press, Deke Castleman, for wrangling all that verbiage and for the company's founder, Anthony Curtis, with providing a book a platform.
In his writing, Christenson sets many of the tent posts that have led to Las Vegas growing as a concert destination. The phenomenon is comparatively recent. The city was devoid of permanent, open-air concert venues through much of its formative era as a tourist destination. The Las Vegas Convention Center (where the Beatles played in 1964) and Aladdin Theatre for the Performing Arts (where such bands as Boston, the Doobie Brothers and Chicago headlined in the mid-1970s) were long the city's standout concert venues, but they were limited in scope
The top national stadium touring bands of that era — the Rolling Stones, The Who and Led Zeppelin never played Vegas in those days, when the leading rock 'n' roll star was Elvis at the Las Vegas Hilton, and Frank, Dean, Sammy and Wayne Newton still lorded over the Strip. The city was wonderful for fans of "Folies" and Siegfried & Roy, too, but was not a rock haven.
"Our focus for a long time was on star headliners, production shows, and not on music for the masses," Christenson says. "What was thought at the time was Las Vegas was the place bands went to die."
The trend shifted in 1991, when Christenson was working as an events coordinator at UNLV, he helped book and promote the groundbreaking Grateful Dead shows at Sam Boyd Stadium (then known as Sam Boyd Silver Bowl). The event was the first national touring rock act to play a stadium in Las Vegas, and in the early 1990s the Dead played 14 concerts at Sam Boyd.
A series of rock stars, including Paul McCartney and U2, played Sam Boyd over the next two decades. The grounds were also home to the annual JuneFest music festival, jammed with such classic-rock acts as Joe Walsh, Sammy Hagar and Joan Jett and the Black Hearts, from 1994-2002. The Vegoose rock festival was also staged at Sam Boyd from 2005-2007.
Christenson has since charted the development of the 15-acre Las Vegas Village across the Strip from Mandalay Bay and Luxor, and the 50-acre Las Vegas Festival Grounds on the southeast corner of Sahara Avenue and the Las Vegas Strip. Organizers have found their place in the Vegas music landscape through trial and error – country's Route 91 Harvest sells out annually on the cozier Village grounds, but Rock in Rio flamed out after one year at the vast Festival Grounds and has not announced if it will ever return.
"More than anything, the festival business is a learning curve," Christenson says. "The festival experience in Las Vegas is a unique experience. It is customized, because people who come to festivals here are so exposed to other forms of entertainment. I think in the case of Rock in Rio (which has hundreds of thousands of fans to shows in Rio de Janeiro), you learned you can't just pick something up and put it somewhere else and have the same results. It has to be customized."
Christenson links his own, vast institutional knowledge of the city with persuasive statistics reflecting Las Vegas' advancement as a concert mecca. Example: In 1993, Las Vegas sold less than 200,000 tickets for live music. In 2016, it sold than three million tickets. Leading the arena explosion have been Thomas & Mack Center (where Christenson booked shows for more than a dozen years), MGM Grand Garden Arena, Mandalay Bay Events Center and — finally — T-Mobile Arena.
The corner of the Strip and Tropicana alone offer nearly 50,000 arena seats, and more than 70,000 when the Thomas & Mack and Orleans Arena on West Tropicana are added. A Christenson says in his pages, the city can deliver top events just with its collection of arenas.
The relocation of Electric Daisy Carnival to Las Vegas Motor Speedway in 2011, and development of downtown's Life is Beautiful festival in 2013 pushed that number skyward. Christenson is quick to note the demand for live entertainment has led to the advent of Strip venues Colosseum at Caesars Palace (artists ranging from Celine to Reba and Brooks & Dunn to The Who), The Park Theater at MGM Grand (Bruno Mars, Cher and Ricky Martin), Axis theater at Planet Hollywood (Britney Spears, Backstreet Boys, Pitbull and Jennifer Lopez); Chelsea at the Cosmopolitan (Bob Dylan, Linkin Park, Empire of the Sun) and such off-strip music halls as The Joint at the Hard Rock Hotel (Journey, Motley Crue and Guns N' Roses among many mini-residency headliners), House of Blues (Carlos Santana and Billy Idol) and Pearl Concert Theater (Kiss, Alice Cooper and Blondie over the years). Brooklyn Bowl (Elvis Cosetello, Jack White and Phil Lesh and Friends) and the Foundry (Adam Lambert, Garbage and The Cult) are active players on the Strip, too.
Aside from Axis, the old Aladdin Theatre for the Performing Arts, all of those venues were built in the past 20 years. And we might as well fold the Smith Center for the Performing Arts, which has hosted Ringo Starr and His All-Starr Band at Reynolds Hall. Even Venetian Theater and Encore Theater, both of which were built for production shows but have showcased John Fogerty and Diana Ross over the past two years, are in the live-music game today.
As Christenson has concluded, "Las Vegas has the best venues in almost every category. Any venue we have in this city is a 4- or 5-star venue." It is not uncommon to catch Christenson at a show of any size – he opens his book with his experience at the splendid Steely Dan show this year at Opaline Theater at the Venetian. He's attended EDC with Insomniac Events founder Pasquale Rotella, tourning the LED-laden LVMS grounds among 140,000 EDM fans. Raiders Stadium will add yet another opportunity to bring such enormous stadium-ready touring shows as Bruce Springsteen, Coldplay and U2 to the Strip.
"Whether you're looking at 300 to 70,000 seats, we'll have it," Christenson says, "and because it's in Las Vegas, it will automatically be an exceptional experience. I'm certain that whatever direction live music goes, the city will be prepared. We're built for it."
John Katsilometes' column runs daily in the A section. Contact him at jkatsilometes@reviewjournal.com. Follow @johnnykats on Twitter, @JohnnyKats1 on Instagram.